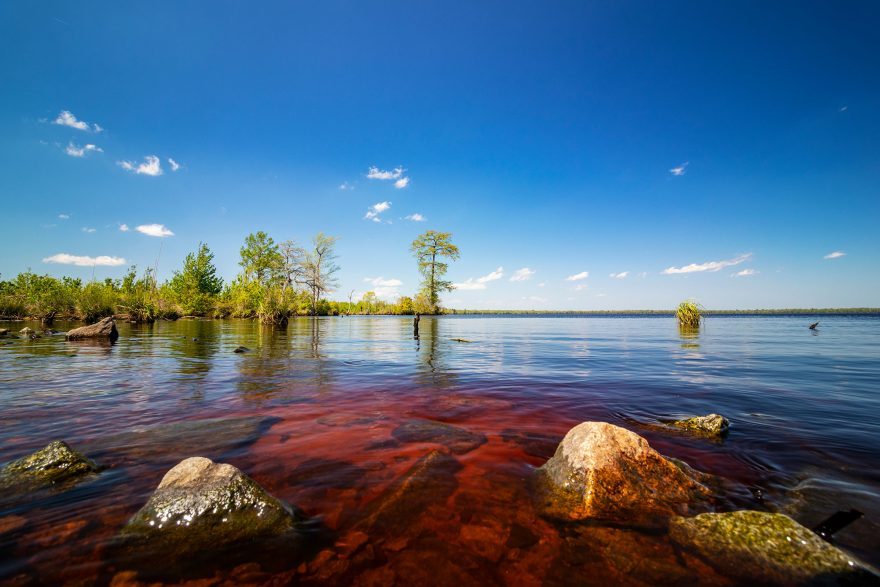 The Southeastern United States, or simply "the Southeast," is a large, scenic and geographically diverse region. It's loosely defined as Arkansas, Louisiana, Mississippi, Alabama, Florida, Georgia, Tennessee, Kentucky, West Virginia, Virginia, North Carolina and South Carolina. The area is best known for having a laid-back lifestyle, vibrant food and live music scenes, and an abundance of outdoor recreation.
Watersports — and in particular, kayaking and stand-up paddle boarding (SUP) — are wildly popular outdoor pursuits in the Southeast. That should come as no surprise, given the miles and miles of coastline, major rivers, and countless lakes in this area. Florida alone has over 3,000 lakes, while Arkansas has over 2,300!
Whether you prefer to paddle on the ocean, the gulf, or one of the thousands of lakes or rivers, the Southeast has some pretty epic places to kayak and SUP.
Things to know before heading to the best places to SUP and kayak in the Southeast U.S.
Before you finalize your plans for the best kayaking spots in the Pacific Northwest, there are some important things you should know.
Familiarize yourself with local boating laws. In many places, paddlers don't need to do or have anything special in order to launch a SUP or kayak, but in others, they do.
Wear a life jacket or personal flotation device (PFD). Even if they aren't required in the area you're paddling (and they very well may be; see bullet point above), PFDs can very literally be the difference between life and death. There are many low-profile options available today designed specifically for paddlers.
Consider getting an inflatable kayak or SUP. Hauling your own kayak or paddleboard, particularly when you're traveling, comes with a number of challenges. And not all of the best destinations for paddlers rent them onsite. Investing in a quality inflatable model bridges that gap, giving you a great deal of flexibility.
9 places to kayak and paddleboard in the Southeast
This list is by no means exhaustive. In fact, it barely scratches the surface of all the amazing SUP and kayak destinations in the Southeast, and we had one heck of a time narrowing it down to 9! But it is a great start, and certainly enough beauty and history to inspire your upcoming outdoor adventures!
IN ARKANSAS
 

 

View this post on Instagram

 
Big Piney Creek
Earning its nickname of "The Natural State," Arkansas has 9,700 miles of rivers and over 2,300 lakes. Plus, over 50 percent of the state's land is forested. Needless to say, you don't have to look hard for awesome places to go kayaking and paddle boarding.
Big Piney Creek, a designated National Wild & Scenic River, runs 67 miles right through the world-famous Ozarks and offers a variety of rapids for all types of paddlers. The first couple of sections are calm and beginner-friendly, but the third section, an 8-mile run between Helton's Farm and Longwood Campground, is notoriously challenging. If you're a newer kayaker, be aware of your bearings and pull out well before you reach this stretch. With names like "Cascades of Extinction" and "Surfing Hole," this run is very clearly meant for experienced paddlers.
---
IN FLORIDA
 

 

View this post on Instagram

 
Merritt Island National Wildlife Refuge
It was challenging trying to decide on just one of the best kayaking spots in a state with so many bodies of water. However, the specialness and very unique geography of Merritt Island National Wildlife Refuge (NWR) made it a clear winner.
Merritt Island is a large barrier island that houses over 140,000 acres of natural preserve, as well as the Kennedy Space Center. Hundreds of wildlife species live here and you get to see several unique coastal ecosystems up close. What really makes Merritt Island one of the best places to kayak, though, are the bioluminescent plankton and comb jellyfish in the water. At night, these creatures glow when they're disturbed — such as when a paddle enters the water nearby.
---
IN GEORGIA
 

 

View this post on Instagram

 
Chattahoochee River
Georgia has over 70,150 miles of rivers, but none are as iconic or accessible as the Chattahoochee. The river spans 430 miles, traversing the state and forming a large section of the Alabama-Georgia, as well as some of the Florida-Georgia border. The section of the Chattahoochee we're focusing on, however, is the Chattahoochee River National Water Trail, which runs right through Atlanta. Fun fact: the Chattahoochee was the first-ever designated National Water Trail in the US, established in 1968.
This 48-mile stretch of river is exceptionally still, making it one of the best SUP and kayak destinations. There are several boat ramps and launches along the water trail, as well as waterfront parks. Start at Chattahoochee River Park, just a few miles from the city. Head about 4 miles to Morgan Falls Overlook Park, exploring the hidden coves and tiny islands on the way.
---
IN LOUISIANA
 

 

View this post on Instagram

 
Lake Pontchartrain
New Orleans isn't exactly well-known for outdoor recreation, but just 20 minutes away lies one of the most unique places to kayak or SUP in the entire country: Lake Pontchartrain. The massive lake (which, by the way, is technically an estuary) is the second-largest salt water lake in the U.S., behind only Utah's The Great Salt Lake. Lake Pontchartrain also lays claim to the world's longest continuous bridge over water, the Lake Pontchartrain Causeway. It's nearly 24 miles long!
Because the lake is so big, there are many places to go kayaking or SUP. There are marinas and dedicated launch points, but you can also just put-in anywhere along the shore. Something to note about Lake Pontchartrain is that it's rather shallow, with an average depth of just 12 feet. That means conditions are near-perfect for paddling most of the time, but can also change quickly. Keep an eye on the weather and use your best judgment.
---
IN MISSISSIPPI
 

 

View this post on Instagram

 
Bear Creek
Mississippi isn't generally regarded as one of the best places to kayak or SUP — and that's exactly why we're including it. Situated inside Tishomingo State Park, Bear Creek is a lesser-known kayak destination, often overlooked in favor of more popular (i.e., crowded) larger rivers.
The state park is unusually scenic for this part of Mississippi, with thick forest and towering, moss-covered bluffs lining the creek. Bear Creek has nice calm water, so this is a perfect paddle for all experience levels. Tishomingo charges a $2 entry fee per vehicle and hosts a canoe float daily at 9 a.m. and 1 p.m. If you want to go out on your own, avoid launching at these times.
---
IN NORTH CAROLINA
 

 

View this post on Instagram

 
Roanoke River
The 410-mile Roanoke River runs from southern Virginia through northeastern North Carolina, all the way to the Atlantic Ocean. It has two extremely unique features: the eerily still black water and the 20 or so unique raised camping platforms right on the river. The platforms span a 140-mile stretch of the river between Weldon and the Albemarle Sound, creating the Roanoke River Paddle Trail. The current along the trail is mostly very calm, with a few sections of more challenging rapids, so this is an excellent place to kayak for just about everyone. There are also several access points up and down the trail, so you can take on as much or as little of the trail as you'd like.
We highly recommend paddling to the Devil's Gut area, near Jamesville. Don't be intimidated by the name; it has more to do with the color of the water than the rapids. There are a couple of launch points nearby that each make for an approximately five-mile trip — a perfect afternoon paddle. If you want to make an overnight trip out of it, reserve one of the two river camping platforms, called Barred Owl Roost. Whether you'll be on the water for a few hours or the whole weekend, bring plenty of drinking water and your fishing gear. Bass fishing is excellent on this stretch of the Roanoke!
---
IN SOUTH CAROLINA
 

 

View this post on Instagram

 
Congaree National Park
The Cedar Creek Canoe Trail is easily one of the most peaceful places to kayak in the Southeast. It runs 15 miles through Congaree, highlighting what the Deep South is so well-known for: old-growth forests with enormous Spanish moss-draped oak trees (including some of the tallest in the eastern US!) and an abundance of wildlife.
Don't be surprised to see turtles and snakes on logs, particularly in sunny areas. Yes, there are some venomous snake species here (most notably water moccasins, also called cottonmouths, as well as copperheads and Canebrake rattlesnakes) — but avoid them as best as you can, and they'll leave you alone, too.
This is a beautiful, relaxing paddle and the national park even offers free guided canoe tours. It does not rent any gear, however, so bring your own or rent a yak in nearby Columbia.
---
IN VIRGINIA
 

 

View this post on Instagram

 
Great Dismal Swamp/Lake Drummond
The brackish flatwaters of Virginia's Coastal Plains are ripe with rich history — after all, the region has been host to human cultures for nearly 13 millennia. The Great Dismal Canal was a man-made project commissioned by George Washington in pursuit of a lumber enterprise, and a journey down the canal there leads to Lake Dummond, which is surrounded by ancient cypress trees and is the largest freshwater lake in the state. The region, spanning 112,000 acres, was often used in the mid-19th century as a hiding spot for escaped slaves, and today plays host to many outdoor enthusiasts every year.
According to Adventure Kayak Tours, a local tour company, the Great Dismal Swamp has 200 species of migratory birds, 47 species of butterflies, 70 species of reptiles and amphibians and a wide variety of animals including black bears, bobcats, otters, beavers and whitetail deer. On a trip down the canal, you'll see turtles sun themselves on log while snakes linger in trees, soaking up rays a few feet above the water line. The water itself has a strangely inviting amber hue to it, which is due to tannic acids from the bark of the juniper, gum and cypress trees, prohibiting growth of bacteria. According to the local visitors center, "Before the days of refrigeration, water from the Swamp was a highly prized commodity on sailing ships. It was put in kegs and would stay fresh a long time. People spoke of the magical qualities of the Swamp's tea-colored water and how, if it were regularly drunk, it prevented illness and promoted long life."
Don't be afraid to jump in for a swim!
---
IN WEST VIRGINIA
 

 

View this post on Instagram

 
Upper Cheat River Water Trail
One of three distinct sections on the Cheat River (affectionately referred to as simply "The Cheat" by locals), the Upper Cheat River Water Trail is a 40-mile stretch of incredibly calm water. The trail is tucked into the rugged Allegheny Mountains in northern West Virginia and while it's easily accessible, the simple fact that getting there requires more effort means less people. If you're looking for peace and quiet, the Upper Cheat is one of the best places to kayak.
The water trail starts in Hendricks and ends in Rowlesburg, and has nine access points. If you don't have your own kayak or SUP, you'll find plenty of outfitters renting gear in the small river towns. Oh and bring your fly fishing gear, because the Upper Cheat is renowned for its trout fishing.
Want more inspiration on epic places to kayak and SUP? Check out our guides on the Pacific Northwest and the Upper Midwest!
Taryn Shorr is an avid outdoor enthusiast, frequent traveler, and wannabe photographer based in southern Arizona. She lives for the opportunity to explore The Great Outdoors, both at home and in new destinations, and firmly believes that nature is a form of both therapy and religion.
Feature image by Kate Scott, Shutterstock