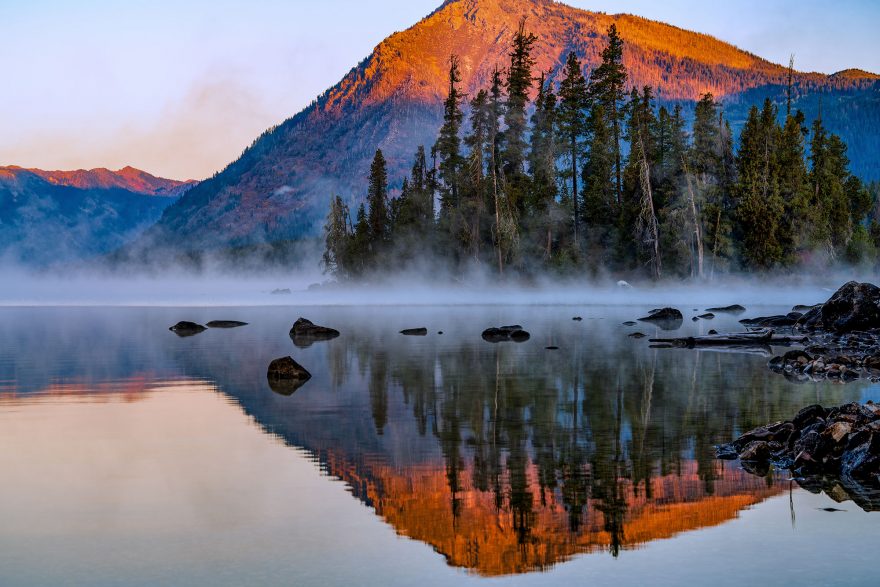 The Pacific Northwest, or simply "the PNW," is world-renowned for a number of reasons. There's the stunning diverse natural beauty, the coffee and craft-beer cultures, and yes, the rainy climate. It's also a hub for every type of outdoor recreation imaginable. There happen to be a lot of bodies of water in the PNW (a LOT), including rivers, lakes, and of course, the Pacific Ocean. This creates the ideal recipe for an abundance of the best places to SUP and kayak.
Whether you prefer to be in an ocean kayak along the coast or standing atop a paddleboard on a calm mountain lake, the PNW has plenty to offer. Best of all, these kayak and SUP destinations are generally easily accessible. This makes it easy to get up close and personal with some of the best scenery in the U.S. on a day or weekend trip.
Things to know before heading to the best places to SUP and kayak
Before you finalize your plans for the best kayaking spots in the Pacific Northwest, there are some important things you should know.
Familiarize yourself with local boating laws. In many places, paddlers don't need to do or have anything special in order to launch a SUP or kayak, but in others, they do. For example, Oregon requires a Waterway Access Permit for non-motorized boats longer than 10 feet.
Wear a life jacket or personal flotation device (PFD). Even if they aren't required in the area you're paddling (and they very well may be; see bullet point above), PFDs can very literally be the difference between life and death. There are many low-profile options available today designed specifically for paddlers.
Consider getting an inflatable kayak or SUP. Hauling your own kayak or paddleboard, particularly when you're traveling, comes with a number of challenges. And not all of the best destinations for paddlers rent them onsite. Investing in a quality inflatable model bridges that gap, giving you a great deal of flexibility.
IN WASHINGTON
 

 

View this post on Instagram

 
Lake Wenatchee
Nestled in the heart of the Cascades about 2.5 hours east of Seattle, glacier-fed Lake Wenatchee is stunningly beautiful. The region also enjoys over 200 sunny days a year and substantially less rain than the coast, so it's easily one of the best places to SUP and kayak in the Pacific Northwest.
The entire Wenatchee Valley is a hub for outdoor recreation, so you certainly won't be alone on the water. However, the lake is huge — five miles long — so it's easy to find some solitude. Lake Wenatchee is 244 feet in places, so it's especially popular with boaters and windsurfers. Stay closer to the shore if you prefer calmer waters or you're a beginner paddler. SUPs and kayaks are available for rent at the lake.
---
 

 

View this post on Instagram

 
Lakes-to-Locks Water Trail
The greater Seattle area is well-known for having several picturesque bodies of water (aside from the Pacific Ocean, of course), including Lake Sammamish, Lake Union and Lake Washington. The Lakes-to-Locks Water Trail goes through all three, with over 100 public areas to launch kayaks and SUPs. It eventually ends at the Hiram M. Chittenden Locks, where the saltwater Puget Sound meets the freshwater of the lakes.
In a single paddling session, you can see the Seattle skyline, elaborate floating houses, beaches, hidden coves, and some of the sweeping mountain ranges the PNW is famous for. That's exactly what makes it one of the best places to SUP and kayak.
---
 

 

View this post on Instagram

 
Quillayute River
Also spelled "Quileute River," this river in the Olympic Peninsula is formed by the confluence of several others. It also empties directly into the Pacific Ocean near La Push but is surprisingly calm, making it one of the best kayaking spots in the PNW.
There's a small marina at the mouth of the river to launch your SUP or kayak, and you'll notice the distinct lack of boats. The water in the Quillayute is so shallow that it's only suitable for kayaks, paddleboards and rafts. That means there's an excellent chance you'll have the river mostly to yourself! Between the lack of traffic and the brackish, shallow water, tons of salmon and flounder live in the Quillayute. Keep your eyes peeled and consider doing some kayak or SUP fishing.
---
 

 

View this post on Instagram

 
San Juan Islands
The San Juan Islands in northwestern Washington are one of the best SUP and kayaking destinations anywhere. Although there are four main islands (San Juan, Orcas, Lopez, and Shaw), the San Juans are technically comprised of 172 named islands. Needless to say, there is a ton for paddlers to explore!
To get to the San Juan Islands, take a ferry or seaplane from either Seattle or Anacortes. Regardless of how you get there and which island(s) you spend time on, there are many calm, quiet coves and beaches to explore. And fortunately, you don't have to worry about hauling your SUP or kayak on the ferry. There are several rental and tour companies on each island.
One of the best parts about the San Juans as a kayaking destination is the prevalence of orca whales. You may spot them any time of year, but peak whale-watching season is from March through October.
---
IN OREGON
 

 

View this post on Instagram

 
Clear Lake
Described by the U.S. Forest Service as "one of the clearest and coldest lakes in the Cascades," Clear Lake is one of the best places to SUP and kayak anywhere. The calm water is almost unbelievably clear, with visibility up to 200 feet in some areas.
If you get the sense that you're paddling on top of an underwater forest, well, you are. Clear Lake was created by a volcanic explosion that essentially petrified the forest, and the exceptionally cold lake water preserves it remarkably well underground. It's a very unique experience, and this alone makes Clear Lake one of the best kayaking spots in the PNW. Magnificent Mount Hood looming in the distance certainly doesn't hurt the situation, either.
Motorized boats aren't allowed on Clear Lake whatsoever (in order to preserve the incredible water quality, in case you're wondering), so paddlers enjoy a truly serene environment. Bring your own yak or SUP — and $5 for the launch fee, as the Clear Lake Resort only rents rowboats.
---
 

 

View this post on Instagram

 
Columbia River Gorge
The iconic Columbia River Gorge, which forms much of the Oregon-Washington border, is without a doubt one of the best SUP and kayaking destinations in the country. The gorge is world-renowned as a hub for watersports and recreation, but it has a reputation for being a wild, mighty and challenging river. While that's certainly true in some stretches, there are also many idyllic sections of the Columbia River Gorge. That's actually what makes it such a great paddling destination: There's something for everyone!
The Lower Columbia River Water Trail allows paddlers of all experience and skill levels to experience the gorge. Running 146 miles between the Bonneville Dam and the Pacific Ocean, the trail goes right through the hearts of both Portland and Vancouver. It also passes by islands and through wildlife preserves, like something out of one of those pick-your-own-adventure books, but in real life.
While paddlers can travel the entire water trail, most people opt for day trips. There are several put-in points along the trail, with many in and around Portland proper. Because of the accessibility, you can easily find outfitters renting SUPs and kayaks if you don't have your own.
---
 

 

View this post on Instagram

 
Deschutes River
The high desert climate of Bend, in central Oregon, is unlike what most people picture when they think of the Pacific Northwest. While it isn't a coastal city, Bend enjoys proximity to the Cascade Mountains, as well as numerous rivers and lakes. It's a scenic haven for outdoor enthusiasts and especially paddlers. In fact, Outside Online has named Bend the Best SUP Getaway in America on numerous occasions!
The Deschutes River runs right through Bend and the Cascade Lakes area of the Deschutes National Forest is just 30 minutes outside of town. Collectively, the 12 Cascade lakes make up one of the best places to SUP and kayak in the entire PNW. Picturesque Mount Bachelor overlooks the region and there are numerous flatwater paddling opportunities for every skill level.
In town, River Bend Park and the Deschutes River Trail are popular kayak and SUP destinations. Start at Drake Park, where you can rent a paddleboard or kayak if you don't have your own, then head upriver along the trail or downriver toward the Old Mill District.
---
 

 

View this post on Instagram

 
Willamette River
The Willamette River is one of the largest and best-known bodies of water in Oregon, flowing 187 miles from Eugene to Portland. Thanks to the Willamette River Water Trail, much of it is accessible to paddlers of all experience and skill levels.
No matter where you choose to put in, you'll pass numerous mountain landscapes, farmland, greenbelts, and wetlands. The wildlife viewing opportunities on the water trail are spectacular, so consider bringing a pair of binoculars — and fishing gear. Aside from this being home to bald eagles, otters, osprey, beavers, and several species of deer, chinook salmon and steelhead are plentiful.
If you're a beginner, some of the best SUP and kayaking launch spots are Wallace Marine Park, the William L. Finley Refuge, and anywhere near Portland, Peoria and Harrisburg.
---
IN IDAHO
 

 

View this post on Instagram

 
Sawtooth Mountains
Because it's not on the coast, Idaho often gets overlooked as a Pacific Northwest destination. However, the state has an abundance of hidden gems (is that how Idaho got the nickname "The Gem State?"), including the rugged Sawtooth Mountains. The Sawtooth range is in central Idaho and has several alpine lakes with perfectly calm water, perfect for launching a SUP or kayak.
Redfish Lake is arguably the most popular among paddlers because of its natural beauty and accessibility. It's also fairly shallow and crystal clear, though it is a notoriously cold lake. Don't plan to swim (or tip over!) here! There's a small beach area and campsites, and the Redfish Lake Lodge Marina rents a variety of kayaks and paddleboards. There's even a 7-person "Squatch SUP!"
If you're looking for a bit more solitude and tranquility, Pettit Lake is another of the best places to SUP and kayak. It's not far from Redfish Lake, but receives far less traffic and is just as beautiful. There's a small beach area and a day-use area where you can launch from. Note that there are no rentals here.
Taryn Shorr is an avid outdoor enthusiast, frequent traveler, and wannabe photographer based in southern Arizona. She lives for the opportunity to explore The Great Outdoors, both at home and in new destinations, and firmly believes that nature is a form of both therapy and religion.
Feature image by CHARLES MORRA, Shutterstock