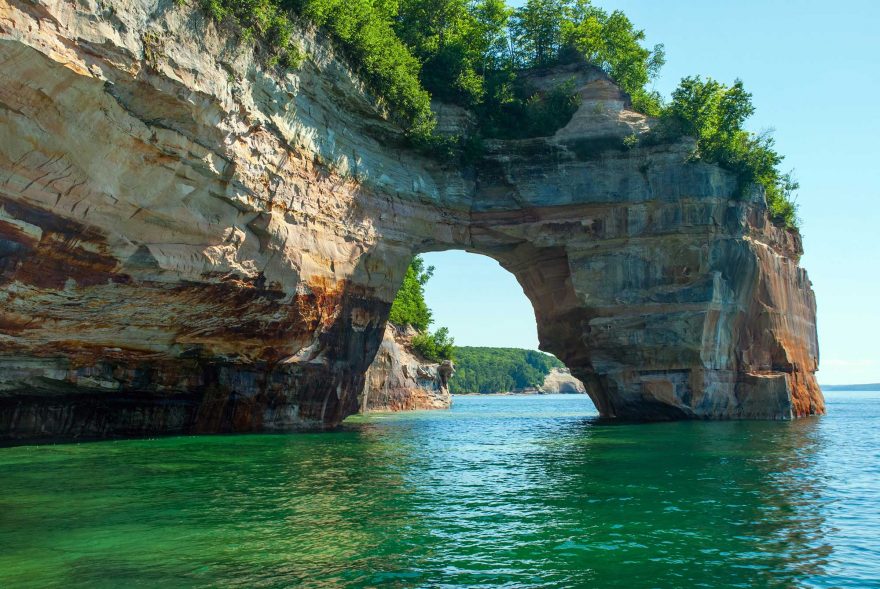 Water recreation is serious business in the Upper Midwest, also often referred to as the Great Lakes Region. It seems to be something people are born with, both the desire and skill to spend their time out on the water. This is especially true of paddling, whether it's sitting in a kayak or standing on a paddle board.
Aside from the Great Lakes themselves, the Upper Midwest is home to a mind-boggling number of lakes and rivers — nearly all perfect for paddling. Wisconsin alone has over 15,000 lakes and more than 43,000 miles of rivers! With so many options, it can be a bit overwhelming just deciding where to launch your boat or paddle board, let alone determining the best places to go kayaking!
To help narrow it down, we've rounded up 10 of our picks for the best kayaking spots in the Upper Midwest.
Things to know before heading to the best places to SUP and kayak in the Upper Midwest
Before you finalize your plans for the best kayaking spots in the Pacific Northwest, there are some important things you should know.
Familiarize yourself with local boating laws. In many places, paddlers don't need to do or have anything special in order to launch a SUP or kayak, but in others, they do. For example, Oregon requires a Waterway Access Permit for non-motorized boats longer than 10 feet.
Wear a life jacket or personal flotation device (PFD). Even if they aren't required in the area you're paddling (and they very well may be; see bullet point above), PFDs can very literally be the difference between life and death. There are many low-profile options available today designed specifically for paddlers.
Consider getting an inflatable kayak or SUP. Hauling your own kayak or paddleboard, particularly when you're traveling, comes with a number of challenges. And not all of the best destinations for paddlers rent them onsite. Investing in a quality inflatable model bridges that gap, giving you a great deal of flexibility.
Are you looking for a rural paddling destination that lets you "get away from it all," or do you prefer an urban setting? Either way, one of these best kayaking spots is sure to be a great fit.
---
IN MINNESOTA
 

 

View this post on Instagram

 
Boundary Waters Canoe Area Wilderness
We're starting our list of the best places to go kayaking in the Upper Midwest somewhere about as "upper" as you can get. The Boundary Waters Canoe Area Wilderness is a massive area within the Superior National Forest situated along the Minnesota-Canada border.
The 1.1 million-acre wilderness area has over 1,100 rivers and lakes, accounting for about one-fifth of the total area. Needless to say, there are lots of options for paddlers. There are no designated routes, so you can map out a route or simply wing it. However, it's important to understand that Boundary Waters is a true wilderness area — it's very remote, services are limited, and you'll be trekking (and paddling, of course) through some spectacular backcountry. You must also get a permit in advance, and you'll need to enter at the exact entry point and date for when you apply.
---
 

 

View this post on Instagram

 
Rum River State Water Trail
They don't call Minnesota the Land of 10,000 Lakes for nothing; there's water everywhere! That means it's easy to hit the water for a day of paddling even when you live in the heart of the city. The 145-mile Rum River State Water Trail spans 145 miles between Lake Mille Lacs and Anoka, just northwest of Minneapolis.
Before joining the Mississippi River, the water trail meanders through several lakes and thick, scenic forest. The Minnesota Department of Natural Resources website offers route options, broken down into manageable segments. Whether you tackle one section or the whole trail, the waters are very gentle and fishing is exceptional, so be sure to pack your gear!
---
IN WISCONSIN
 

 

View this post on Instagram

 
Long Lake Canoe Trail
Can you imagine a better paddling destination than one of the largest and most iconic rivers in the world? The 4.5-mile Long Lake Canoe Trail near Trempealeau, Wisconsin, runs through the Mississippi River and Upper Mississippi River National Wildlife and Fish Refuge. The water here moves extremely slowly, making the trail perfect for paddlers of all experience levels.
What really makes this one of the best places to go kayaking is the abundance of wildlife. Hundreds of species of birds, reptiles, and mammals call the refuge's network of islands, marshes, and channels home — and there's no more perfect way to experience it up-close than from a kayak or paddleboard.
---
 

 

View this post on Instagram

 
Kickapoo River
Known as "the crookedest river in the world," the Kickapoo runs 125 miles between Wilton and Wauzeka. Interestingly, the surrounding Kickapoo River Valley is also one of the oldest in the entire world. The Kickapoo is incredibly scenic and easily navigable (despite the somewhat-intimidating nickname), making it one of the best places to paddle board and kayak in the Midwest.
The most striking feature of the river is that it's surrounded by steep limestone cliffs — not your typical Wisconsin geography. While the entire river is beautiful, the most scenic stretch is the 22 miles from Ontario to La Farge. There are several rental outfitters along the river, so you can easily paddle as much or as little as you want.
---
IN MICHIGAN
 

 

View this post on Instagram

 
Pictured Rocks National Lakeshore
We can't possibly discuss the best places to go kayaking in Michigan without mentioning Lake Superior. As the second-largest lake in the world (behind the Caspian Sea, fascinatingly), Lake Superior is a paddler's dream come true.
Pictured Rocks National Lakeshore is a 15-mile stretch of land with towering, colorful cliffs, waterfalls, beaches and sand dunes. There are several places in the area to rent kayaks or paddleboards, but it should be noted that Lake Superior is notorious for experiencing rapidly-changing weather conditions. Consider going out with one of the guided tours for extra security while also getting to see the most picturesque sections of the lakeshore.
---
 

 

View this post on Instagram

 
Indian River Canoe Trail
Michigan is world-famous for its enormous lakes, but some of the best places to go kayaking in the state are actually on its rivers. Located on the Upper Peninsula in the Hiawatha National Forest, the 51-mile-long Indian River Canoe Trail is one such place.
The Indian River is a federally-designated Wild and Scenic River, primarily because of its exceptional water quality. Paddlers of all skill levels can take on the trail, but the U.S. Forest Service strongly recommends scouting your route in the springtime, when the water flows fast and high due to snowmelt. There are numerous campsites along the trail only accessible by boat, so feel free to make this a multi-day adventure.
---
IN OHIO
 

 

View this post on Instagram

 
Marblehead
The Marblehead area is a small village and peninsula situated on Lake Erie near Sandusky. It's one of the best places to go kayaking and paddle boarding in the entire state because it's incredibly scenic and easily accessible.
There are several public access points, as well as places to rent a kayak or SUP from if you don't have your own. The water is considerably more calm than Lake Superior, so paddling here offers a relaxed, leisurely experience. Take your time and explore the many hidden coves and beaches. And of course, don't miss the iconic Marblehead lighthouse!
---
 

 

View this post on Instagram

 
Mohican River in Mohican State Park
Situated almost perfectly between Cleveland and Columbus, Mohican State Park is one of the best kayaking spots in Ohio. The Mohican River is generally only 1 to 4 feet deep, even after heavy rains or during spring snowmelt, and the water flows very gently. Because of this, the Mohican is an excellent option for less-experienced paddlers or those looking for a more leisurely outing.
There are two main stretches of the river for paddling: a 7-mile stretch and a 15-mile segment. Both can be done in one day. If you're not going out with an outfitter, note that there are relatively few public access points on the Mohican River.
---
IN INDIANA
 

 

View this post on Instagram

 
Sugar Creek
Western Indiana's Sugar Creek runs for 93 miles and goes through Turkey Run State Park and Shades State Park. It's widely considered one of the most scenic waterways in Indiana, lined with thick canopies of trees and home to many wildlife species. Autumn on Sugar Creek is especially picturesque as the leaves change colors.
The water in Sugar Creek is notably calm, so this is one of the best kayaking spots for beginners and families with young children. Several companies offer kayak and SUP rentals, as well as guided tours. Some, like Sugar Valley Canoes, also provide shuttle service if you have your own yak or board.
---
IN ILLINOIS
 

 

View this post on Instagram

 
Chicago River
There aren't many places where you can paddle right through the middle of one of the biggest cities in the country. You can on the Chicago River, though! The scenery is a bit different; instead of wildlife sightings and thick forest, you'll paddle through skyscrapers and waterfront parks. That certainly isn't a bad thing, however. It's a unique experience and gives city-dwellers an awesome outdoor recreation opportunity.
Plenty of companies offer kayak and SUP rentals, lessons, and classes like Paddleboard Yoga, so just show up and paddle! One thing to note is that the Chicago River is an extremely busy waterway, particularly when the weather is nice. It's well worth the "traffic" for the unique experience, just be safe and mindful of others!
Taryn Shorr is an avid outdoor enthusiast, frequent traveler, and wannabe photographer based in southern Arizona. She lives for the opportunity to explore The Great Outdoors, both at home and in new destinations, and firmly believes that nature is a form of both therapy and religion.
Feature image by Oleksandr Koretskyi, Shutterstock