The 5 Top-Rated Inflatable Kayaks
The best inflatable kayaks on the market are ultra-durable and rugged, and they help you avoid the storage and transportation issues of a traditional kayak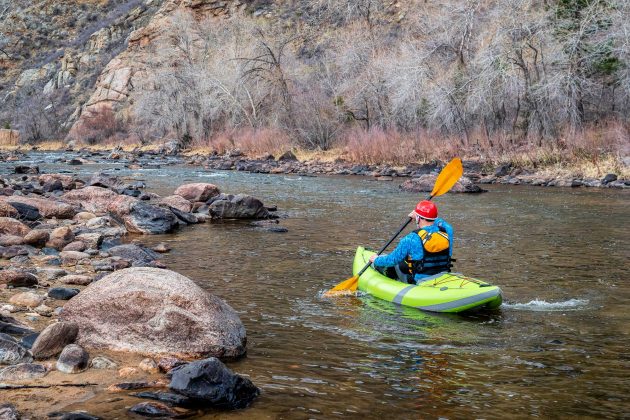 Kayaking is awesome. That may not be the most eloquent way to state it, but it's the truth. In a very literal sense, kayaking is awe-some. As in, you'll be in total awe as you paddle your yak around, getting into places you never could by car or even on foot.
In spite of their many benefits, kayaks do have one slight drawback: They're bulky. That means storing and transporting them requires some extra thought and planning. Or does it? Inflatable kayaks solve those problems. And that's all the more reason that we've wanted to help you sort through which are the best inflatable kayaks for you to take on your future adventures.
In case you've never seen one, an inflatable kayak is exactly what it sounds like: You inflate it before use, then deflate it when you're done. It compresses and folds so you can store it virtually anywhere, like an air mattress. If you're picturing a kayak made from pool float-esque material, think again — top rated inflatable kayaks are ultra-durable and rugged, typically made from reinforced PVC or high-denier nylon. It's reasonable to wonder if inflatable kayaks can truly hold a candle to traditional ones, so let's dive into that.
Why inflatable kayaks?
One of the biggest and most common barriers to purchasing a kayak is its sheer size. For people who live in smaller homes or have limited (or no) storage space, or those who don't have a garage to safely store a kayak, owning a traditional one may be out of the question. Then there's the issue of transporting a traditional yak, which most often involves investing in a specialty vehicle rack.
Even if you can overcome those hurdles, inflatable kayaks still have a number of advantages over hard-sided models. One of them is independence; the ability to pack your inflatable kayak into a backpack means you don't have to rely on anyone else for help loading or unloading it.
Finally, it may seem counterintuitive, but top rated inflatable kayaks are actually better in the water than traditional ones in many situations. The "give" their soft-sided hulls have allows inflatable kayaks to navigate shallow water with precision. They can also essentially bounce right off of rocks and debris, then stabilize again quickly. This is especially true of the best inflatable kayaks for fishing and the best whitewater kayaks.
Taryn Shorr is an avid outdoor enthusiast, frequent traveler, and wannabe photographer based in southern Arizona. She lives for the opportunity to explore The Great Outdoors, both at home and in new destinations, and firmly believes that nature is a form of both therapy and religion.
Feature image by marekuliasz, Shutterstock
We are committed to finding, researching, and recommending the best products. We earn commissions from purchases you make using the retail links in our product reviews. Learn more about how this works.