Choosing the Best Snowshoes for Beginners
Here are one expert's recommendations for six of the best snowshoes for beginners -- from children's snowshoes to adult snowshoes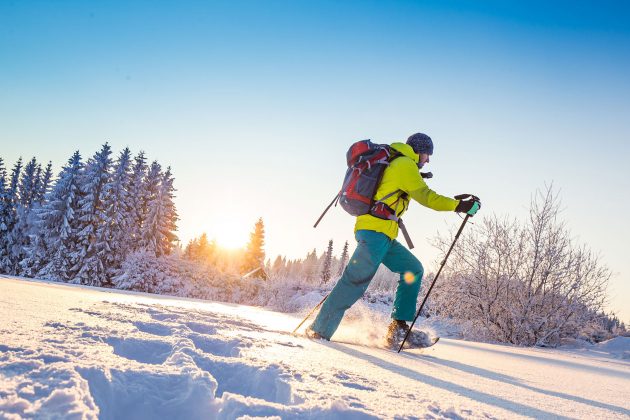 I've heard a lot of people say, "If you can walk, you can snowshoe." And that's true to some extent. But from my experience, I've found that snowshoeing can be a little more complicated than just walking. I think a better phrase would be, "If you can hike, you can snowshoe." And that goes for having the right footwear, including the best snowshoes for beginners.
There's some advantage to having hiking experience in the sport of snowshoeing, like knowing when to tackle a steeper hill or how to navigate rugged or backcountry terrain that's not the same as simply walking on a paved road or a cleared trail with little-to-no obstructions.
If you're new to snowshoeing, you'll want to start by exploring marked trails. You need to have a good set of snowshoes that are the right fit for your height and weight. You'll also need sturdy poles with snow baskets (which are essentially snowshoes for your poles). It's also important to have a good set of winter snow boots that are comfortable, waterproof and, preferably, have good ankle support.
Yes, snowshoeing can be as easy as hiking if you have the proper gear. When I first snowshoed, I started in my yard after a good snow fall in my home state of Montana. I tested out walking normal, then walking up small hills, then walking down small hills. I tested walking over a down tree and falling and getting back up again.
I've learned that when you're snowshoeing downhill, you should keep your body upright with your knees slightly bent like you're riding an escalator. Lift your feet and go slow. Don't rush. When you're going uphill, dig into the snow and pound out each of your steps a few times before transferring your weight. If the hill is steep, zig zag up the hill. When you're crossing a big log or down tree, step right up to the log, then step up on the log at the center of your foot while using your poles for security before you step back down on the other side.
If you're just starting out snowshoeing, you may want to start out with an easy 20- to 30-minute route and avoid crossing creeks. Another tip is to stay about two pole lengths between other snowshoers in case of falls so you don't get poked by someone else's pole. If you do fall, one tip I've learned over the years is to crisscross your poles evenly (making an X) and hold on to the crisscross in the center of both poles with your hand. Then, use the poles as a brace for pushing yourself up if/when you fall. This prevents your hand from plunging down in deep snow and gives you added support to push yourself up easier.
As with any backcountry or outdoor activity, research things before you go. Check the weather and avalanche conditions, plan your route, bring your first aid kit and make sure to dress in layers. Bring a GPS unit, a map, a compass and a cell phone. And of course, know how to use them. Always be aware of large stumps that could be hidden under the snow, keep it simple at first and stay on designated trails.
Here are my recommendations for six of the best snowshoes for beginners — from children's snowshoes to adult snowshoes, and those that can fit a variety of heights and weights, as well as rated for condition.
---
Suzanne Downing is an outdoor writer and photographer in Montana with an environmental science journalism background. Her work can be found in Outdoors Unlimited, Bugle Magazine, Missoulian, Byline Magazine, Communique, MTPR online, UM Native News, National Wildlife Federation campaigns and more.
---
Feature image by Lukas Gojda, Shutterstock
We are committed to finding, researching, and recommending the best products. We earn commissions from purchases you make using the retail links in our product reviews. Learn more about how this works.