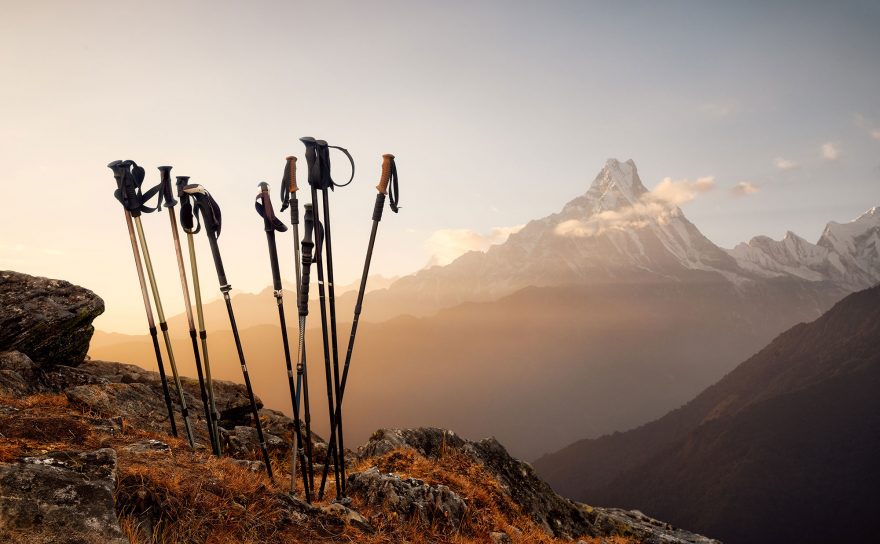 Like any piece of gear, getting the best trekking pole means exploring your options and finding what works best for your specific adventures
---
Trekking poles (also called hiking poles, walking poles or hiking sticks) can give you the extra balance, stride and speed you need while trail hiking. But with so many different hiking poles to choose from, a search for the right pair can easily become overwhelming. Like most outdoor gear, hiking poles range in price from the inexpensive to heavy budget poles.
I spent time talking with outdoor gear experts to see what made for the best trekking poles and factored in features such as shaft durability, grips and locking mechanisms in choosing the best ones. Here are 5 of the bests hiking poles, with descriptions to help you decide which poles may be right for you.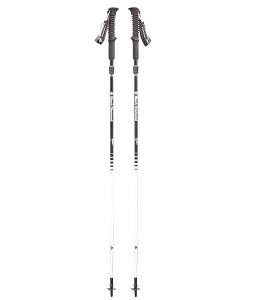 Best for trail runners
At close to $100, these aluminum Black Diamond hiking poles have a high end "one-pull" deployment, making them easy to unfold with one quick movement. They also fold down to 1/3 their full length for easier packing. They have interchangeable carbide and rubber tips so you'll have great traction even in icy conditions, and they minimize impact on the ground. These aluminum poles are very popular among ultra trail runners because they're so lightweight and incredibly sturdy. Overall, these poles are recommended for longer trail use and are ideal for trail runners. Note that the rubber tips can be awkward on pavement.
They boast what Black Diamond calls SlideLock technology to improve ease-of-use when locking the pole, as well as a three-section foldable shaft. There is a variety of maximum sizing available, with poles that have a max size of anywhere from 39 to 51 inches and a weight of anywhere from 11.4 ounces to 13.4 ounces, depending which of the four sizing options you choose.

---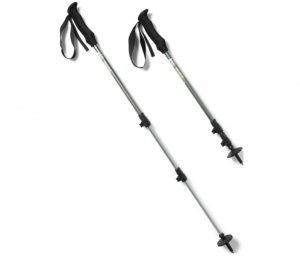 Best for beginners
You can pick up a pair of these aluminum poles for about $60. They're adjustable, collapsible and the hand grips are more comfortable than you'd expect. For a beginner, these hiking poles will last you a long time and should work well for hikes under 10 miles in moderate terrain. For steep hikes, you'll want to try a more rugged pair. Sometimes with more than 10 to 15 pounds of pressure (as when climbing a steep hill), the locks could give — causing the poles to slightly collapse. Overall, these are a good pair of hiking poles for the price. They'll do the job for you in moderate terrain and should last you many years.
These poles extend to 55 inches, with a good usable range being between 41 and 55 inches. They use an External Lever locking feature, and have rubber grips. Their weight is just over 1 pound.

---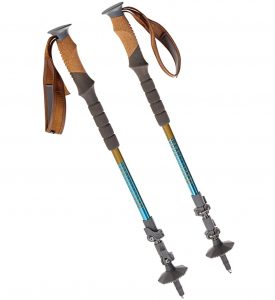 Tailored to women
With a lightweight aluminum tubing and a smaller comfortable foam grip, these hiking poles are smaller and designed more for a woman. They'll help take the weight off of your knees and hold up on longer hikes of 20 miles or more. The are very reliable, easy to use and pack away well. Overall, with a price tag ranging from about $50 to $70, depending on the retailer, these poles are a good investment for any avid female hiker.
Coming in at 17 ounces, with a max length of 49 inches, these poles usually come with a one-year warranty to give you a little extra peace of mind.

---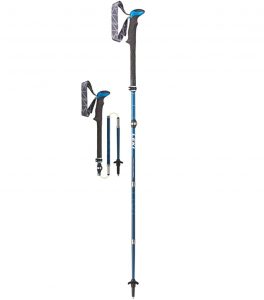 Top of the line
These three-section poles are ideal for the experienced through-hiker with a luxury price tag of $200. Considered the "Cadillacs" of ultralight trekking poles, they're adjustable and boast a comfortable foam grip called an AERGON grip, which features a hollow core construction to save weight and create an edgeless, rounded grip for comfortable gripping at all angles especially for "palming" on steeper terrain. These carbon fiber poles weigh in at just 16 ounces. You can easily adjust them with the metal flip lock. Overall, these poles are ideal for extreme hiking for long distance hikers encountering rugged and diverse terrain.
The poles use a PE coated, Kevlar reinforced tension cord for long term reliability and have an external locking device. The shaft adjusted for use between 43 inches and 51 inches.

---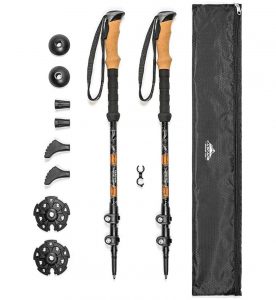 Best on a budget
You can pick up these aluminum lightweight and adjustable hiking poles on Amazon for just a little over $20, making them the most budget-conscious pair on this list. If you're just looking for some extra support and stability on easy or moderate short hikes, these poles will do the job. But they could bend under moderate pressure if you need to get up a rugged hill. The locks may need to be tightened a few times if you venture out on longer hikes. For the occasional hiker, these budget-friendly poles with cork grips will work just fine.
Each pole weighs 10.4 ounces, and they can be adjusted to between 26 (the collapsible length) and 54 inches.

Suzanne Downing is an outdoor writer and photographer in Montana with an environmental science journalism background. Her work can be found in Outdoors Unlimited, Bugle Magazine, Missoulian, Byline Magazine, Communique, MTPR online, UM Native News, National Wildlife Federation campaigns and more.
We are committed to finding, researching, and recommending the best products. We earn commissions from purchases you make using the retail links in our product reviews. Learn more about how this works.
Feature image by soft_light, Shutterstock; secondary images by the brands shown