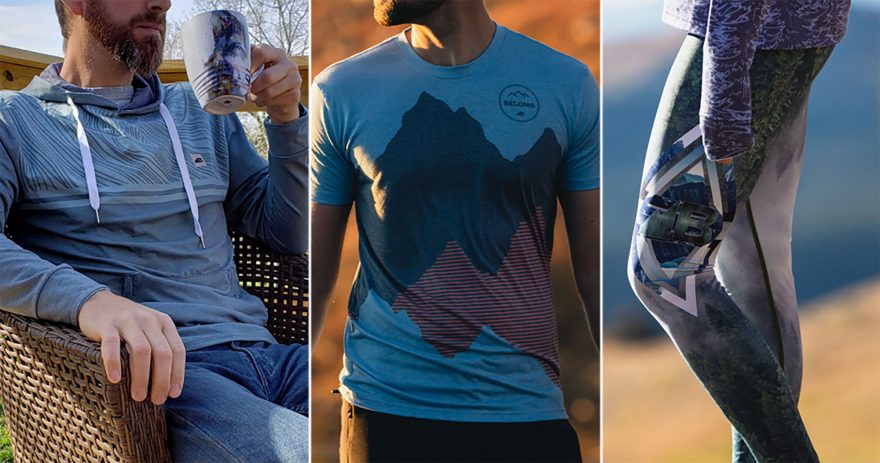 Belong Designs was founded in 2013 by three men fueled by creativity and harboring a passion for the Rocky Mountains
---
Rarely is a clothing company able to so completely capture the style and substance of the mountains as Belong Designs does. The Colorado-based brand infuses its product line with the look and feel of our elevated landscapes, while also successfully harnessing the performance aspects needed to actively enjoy the outdoors. It's a company inspired by the world around us and motivated to pay that inspiration forward to its customers. To go inside the brand and see what they're all about, we get Unpacked with Belong Designs.
Co-founders Ben Thomson, Shamus McNutt and Mark Grubbs created Belong Designs in 2013, fueled by a passion to be creative. Leading into the brand's launch, however, they weren't entirely sure how that creativity would manifest itself. Backed by a foundation of T-shirts that connected with adventurers in the Rocky Mountains, Belong Designs grew into a company that creates a wide range of clothing for both men and women, including hoodies, shirts, shorts and leggings.
"Understanding how clothing represents somebody's beliefs or lifestyle or the things that they want to do" drives the team's approach to the business, Thompson said.
The Company's Story
Belong Designs sums up its philosophy as: "Follow your passion, do what you love, find where you Belong."
"When we started Belong Designs," Thomson told ActionHub, "we took a page out of Simon Sinek's book in that we started with 'why' before we started with 'what.' The ideology behind Belong was to capture both a moment as well as to be inclusive of all people and their passions. The moment when you Belong, is slated to the moments when nothing is on your mind but what you are doing right at that second (where you are immersed in that moment with nothing else on your mind). The idea of belonging for us, with inclusion, was with the idea that as long as you follow your passion and do what you love, you Belong."
He said the efforts to create this movement came at a time when many other brands were niched out to just one or two types of lifestyles — Belong, meanwhile, while doing so well to capture the spirit of the mountains, could also resonate through people other passions, whether it's taking time to paint after work, go on a bike ride, attend a kiddo's sporting event or jump100 feet off a cliff into the water. 
"Belong and the mantra behind it came to fruition together," he said. " 'Belong' seemed to sum up the mantra in a way that helped solidify what we wanted to work towards for our brand identity.
Belong Designs' Materials
At first touch, it's clear how Belong Designs' clothing stands out. There are several different fabric materials the brand uses in its products, and each one is striking in its fit and functionality.
"Each material has a specific story and intent in mind," Thomson explained. "The common thread of all of our materials is that we are always working on finding new materials and are always trying to learn and test ways to make them better. We want all of our apparel to be durable, comfortable and to have enough performance specs that it can be used for most activities you do during a day."
Some of those that really signal the brand's persona are:
VersaTek: This is a cornerstone fabric of Belong Designs that can often be found in their T-shirts and hoodies. VersaTek is a complex blend of polyester, customized rayon and spandex — all with the hope of nurturing the most sought-after characteristics of performance apparel. It's durable, comfortable, breathable, soil resistant, never shrinks and comes out of the dryer looking like it was freshly ironed. 
"When we developed VersaTek, we had the technical specs in mind for what we wanted: soft, comfortable, moisture wicking, good breathability, anti-microbial (where possible), anti-shrink, anti-wrinkle and with enough polyester to be able to sublimate our designs so that we could curate the designs more closely than with simple screen printing or embroidery on every product," Thomson explained. "To get that result, we did sampling, testing and studying of materials and blends that were on the market. After doing some R&D, we came to a point where we felt we had the right material blends and that we had a high probability of success in making what is now VersaTek. "
PrimaFlex: Belong Designs' leggings are something to behold (see more below), and much of that is thanks to the blend of polyester and spandex that constitute the supple PrimaFlex fabric. PrimaFlex will keep you cool on a hot day as well as ward off some of the chill from a spring morning trail run. It's soft, it's stretchy, and it's about as perfect as you can get when it comes to leggings material.
Venterrex: If you're drawn to great board shorts, Belong Designs' durable, lightweight, moisture-wicking and breathable Venterrex material caps off its qualities with a flexible four-way stretch. It's hard not to see how this could take you from a swimming hole to a casual dinner all in the same afternoon.
"We have always wanted to work towards larger sustainability goals as a company, and our latest focus has been to start using more eco-friendly and sustainable materials and manufacturing practices," the co-founder told us. "One of our first steps towards this is in our newer version of VersaTek where we are using Repreve recycled polyester resin and bamboo rayon in our tech wear."
He said the company is exploring even more opportunities to become sustainable and eco-friendly.
Capitalizing on a Look
"What continues to motivate me is seeing others get inspired by what we do," Mark Grubbs said in a video by Belong Designs.
If you are inspired by the essence of the mountains, this brand has a lot of options worth exploring. Hoodie and T-shirt designs feature topo lines, mountain ranges and color blocking, making them stand out from anything else on the market — and making them conversation pieces. While many of these designs aren't subtle, per se, they're conceptual and cerebral — you see the pattern, you know it's the mountains, but the look draws you in to explore more of the details and intricacies.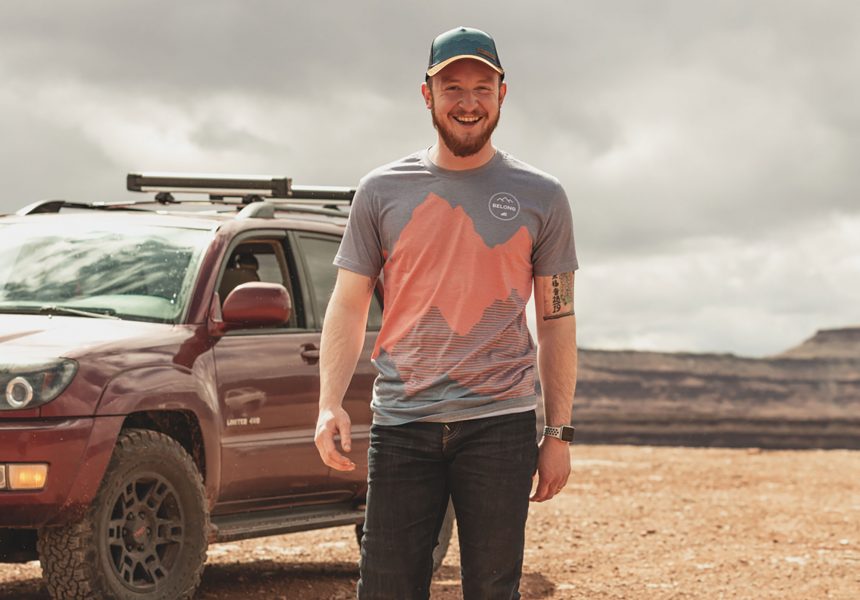 Notable, too, is that the clothing (namely the shirts, hoodies and jackets) is cut specifically for men's and women's bodies, so it's easy to find a good fit. ("We do focus our fits to be more athletic because of the technical components that our garments have as well as where our core demographic has tiered into," Thomson said.) And there's no shortage of options: there are 20 women's hoodie designs and nearly 30 for men; men and women each have 24 unique shirt designs, etc. 
Most of all for women, say goodbye to the standard one- or two-tone legging design. Belong Designs is in a class all its own with the variety of patterns on their leggings. These leggings feel like a second skin, moving with a woman's body and feeling soft inside and out. They're breathable, and the stretch material makes them adaptable to both short- and long-legged women, without blowing out the featured pattern. Belong Designs includes a snug hidden zipper pocket in its leggings, too — just enough to stash a credit card or a key while you take off on an adventure.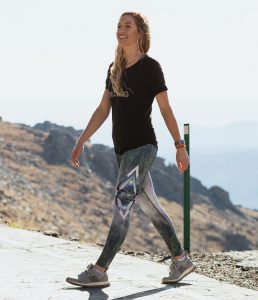 "We are tiny compared to most brands," Thomson said, but many customers are falling in love with the fit, feel and performance in Belong's gear. "It is then our goal to continue working on making clothing that will further enhance this with each line or new product that we make."
We at ActionHub only discovered Belong Designs late last year, and it feels like that was six years later than we should have. We're happy to have a good stock of Belong Designs clothing now.
---
Unpacked is a regular feature on ActionHub to help people discover new performance and lifestyle items that will amplify their adventures and outdoor experiences. This article was not sponsored by the brand or any PR/marketing agency, and all opinions are that of the ActionHub writer.