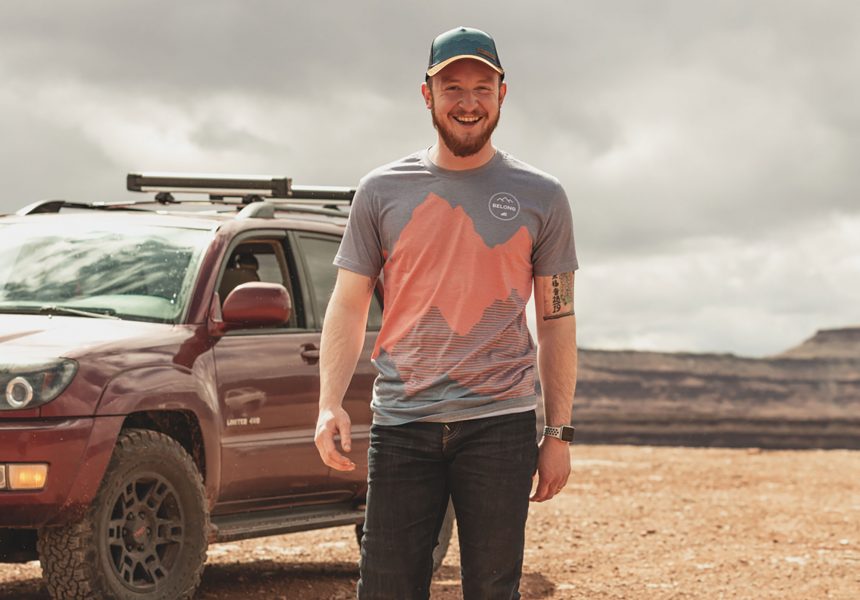 We explored major brands as well as niche brands to find some of the best mountain lifestyle T-shirts available for men
---
The mountains call to me often — I couldn't imagine what life would be like without the opportunity to climb and explore and, simply, to enjoy the topographical beauty around me. It's part of my lifestyle, no question. While there are many activities that I take part in, almost all of them are centered around the landscape. And I wear that love of the mountains with pride — literally, I have several shirts that feature mountain themes.
But a great T-shirt is about more than just the look — the materials that some of today's best shirts are being made out of highlight our drive for adventure: they breathe, they wick, the fit us oh-so-right. We looked around online at both uber-popular brands as well as niche brands to find some of the best mountain lifestyle T-shirts available for men.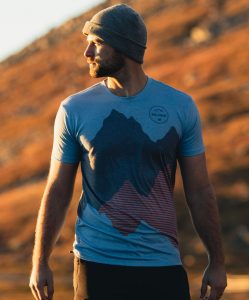 Editor's pick

Mountain Shadow T-Shirt, by Belong Designs
I love the way this shirt moves with me. The fit is somewhere between casual and athletic, not erring too far to either extreme, and Belong's very breathable VersaTek material (a blend of polyester, rayon, and spandex) allows it to dry and maintain a fresh feelings even if you've worn it recently on a rather warm day. Plus, the material is soil and wrinkle resistant, making it a particularly easy shirt to grab and go. The design from this Colorado-based company speaks to everything that the mountains are about, conjuring a sense of altitude and geometry every time I look at it.
Available in blue and gray base colors.
Vitals
VersaTek Material
Sublimated logos and graphics
Wrinkle resistant
Soil resistant
Silk pinch label
Screen printed neck label for comfort
60% polyester, 35% rayon, 5% spandex
Machine wash cold, hang dry
Belong Design's story: Belong was born out of the Rocky Mountains and built for modern day adventurers. Offering a variety of clothing and accessories for both men and women, the company's products feature premium performance fabrics, durable but soft sports apparel, and innovative designs. Whether you're training for a marathon, working on your latest passion project, or grabbing a cup of coffee with a friend, Belong apparel keeps you comfortable in any situation. The creators found where they Belong by making choices to follow their passions every day and live in the moment.
Listed price: $34

---
Backlit T-shirt, by Arc'teryx
Do you remember the first time you were out on a hike or a camping trip and you saw the sun peek up in the early hours over the mountain tops? It was that moment that you felt the world was far greater than yourself, that so much was out there begging to be discovered. Looking at the Backlit T-shirt from Arc'teryx, that's the memory that comes alive, and draws me to the garment. It boasts technical outdoor functionality, comfort and durability.
Available in black heather, hubble heather and white.
Vitals
Organic cotton
Regular Fit
Listed price: $45

---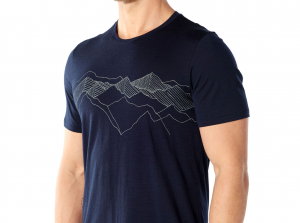 Tech Lite Crewe Peak Patterns, by Icebreaker
It's hard to shop for hiking gear these days without seeing Merino wool among the materials list. That material is the cornerstone of everything New Zealand-based Icebreaker does, and we've never seen another company embrace this wool so thoroughly. The Tech Lite Crewe is a highly versatile Merino wool tech T-shirt, providing stretch, comfort, breathability and odor-resistance for just about any adventure you can think of. It features corespun fibers with a nylon core wrapped in merino wool for added strength and durability. Merino wool itself is super lightweight, soft, non-itchy, non-clammy, warm in the cold and cool in the heat, and has a wonderful ability to resist odor — all while being renewable, recyclable and biodegradable.
Available in midnight navy, lapis and rocket colors.
Vitals
Merino wool
Corespun fabric for enhanced durability
Center back length: 29½ inches
Icebreaker's story: Driven by the belief that nature has the solutions, Icebreaker provides natural performance alternatives to synthetic based apparel to create a healthier more sustainable future for our species and the planet. Sustainability is built into this company's values and business model, not just into its products.
Listed price: $85

---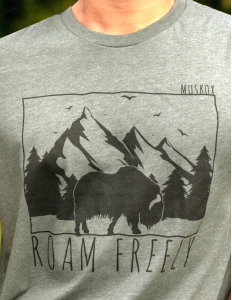 Roam Freely Tee, by MuskOx
It's hard not to find myself completely in tune with the "Roam Freely" sentiment that this mountain T-shirt speaks to. Nature and wildlife are perfectly captured in this design, and while this shirt looks good, it functions well, too. Simple, sleek and rugged, the cotton and polyester blend will make sure that you're always comfortable on your adventures. And as a bonus, MuskOx pre-launders their T-shirts, so it won't all of a sudden become extra tight when you get it out of the wash.
Available in military green.
Vitals
Short sleeve tee
Jersey, 4.2oz
52% Cotton, 48% Polyester
Printed in the USA
MuskOx's story: MuskOx was founded to harness the spirit of rugged adventure and bring a little piece of nature into your everyday life. We believe in the power of the wilderness — the warm sun on your back in an open meadow, the biting cold that burns but makes you feel alive, the sheer joy felt from jumping off a giant boulder into a mountain lake.
Listed price: $24

---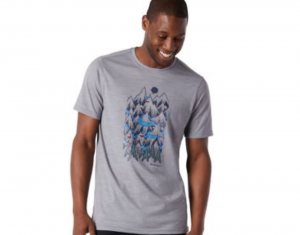 Merino Sport 150 Mountain Ventures Tee, by Smartwool
This Colorado-inspired design came from artist John Fellows, and it perfectly captures the heights each of us go to to experience the mountainous wilderness around us. I mean, every day is a great day to plan the next adventure in the mountains, and the Merino Sport 150 Mountain Ventures Tee reminds you of that. It uses ultralight fabric (including mostly Merino wool) to highlight moisture management, temperature regulation and odor resistance, while also bringing extra durability and quick-dry capabilities of polyester. This shirt has a UPF of 20+, helping to naturally protect against the sun's rays.
Available in light gray heather or moss green heather.
Vitals
Regular Fit
Flatlock seam construction designed to minimize chafing
Offset shoulder and side seams designed to increase comfort and minimize chafing while wearing a backpack
Artwork by John Fellows
Knit in Vietnam: 56% Merino Wool, 44% Polyester
Smartwool's story: The Smartwool community is a collection of people who believe that time outside is valuable, restorative, and essential for everyone. When the company started making socks back in 1994, its founders simply wanted to be able to ski longer without getting cold toes. Then they the benefits of Merino wool as a performance fabric. It was soft (softer than any wool they had ever felt), moisture-wicking, thermoregulating (warm when it's cold, and cool when it's warm), sustainable, and odor-neutralizing — helping to keep feet dry, comfortable, and warm for longer than the synthetic socks they were wearing at the time. It worked so well, in fact, that Smartwool now uses it in almost every single item it makes.
Listed price: $55

---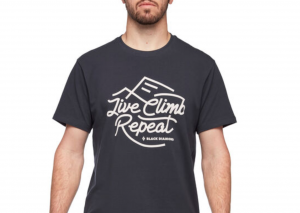 Live Climb Repeat Tee, by Black Diamond
If a day away from civilization involves rope and carabiners, then this shirt distills that ethos down to three simple words: Live, Climb, Repeat. What's not to love? Made using organic cotton, this comfy tee keeps those words we live by front and center.
Available in Eclipse, Red Oxide and Birch Heather colors.
Vitals
Organic Cotton Stretch Jersey (96% Organic Cotton, 4% Elastane)
Made in India
Black Diamond's story: At Black Diamond it's all about climbing and skiing. They share the same experiences that you do on rock, ice and snow. What began with a backyard anvil and a hammer has now grown into a global company with offices on three continents. Black Diamond is a company that's not just for rock climbers and skiers, but one that stands for the spirit of the sports we live, their values and goals, past, present and future. Since 1957, its innovative gear designs have set the standard in numerous areas.
Listed price: $35

---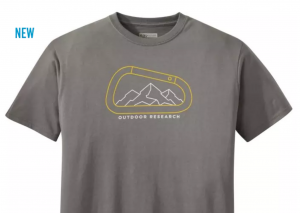 Rumney Tee, by Outdoor Research
This is a shirt that feels good every time you wear it out — it's got a roomy, casual fit to it. Plus it's soft, comfortable and ready for adventure — with the perfect graphic to capture a climber's mood.
Available in Retro Red, Olive and Charcoal colors.
Vitals
100% organic cotton
Center Back Length: 31 inches
Weight: 7.8 oz.
Outdoor Research's story: Outdoor Research built a company from a feeling: the urge to get out. It's what drives them. They love coming to work every day and inventing ever better solutions to what nature throws their way. But they're more than just the gear they build. They're part of a community of friends whose lives are connected by our common need to be outside. OR's tribe is devoted to exploring our outdoor passions and challenging ourselves in the mountains, water and deserts of the planet we love so much.
Listed price: $35

---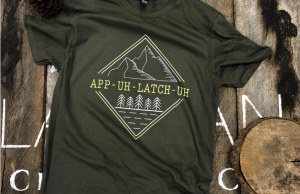 App-Uh-Latch-Uh Tee, by Lachian Clothing
Say it loud, and say it proud — just be sure to say it correctly! If your playground is the Appalachian Mountains, this T-shirt will speak volumes to the kind of person you are. It has a particularly nice slimmer fit to it, and is perfect for those summer days in the mountains and rolling hills of the eastern states.
Vitals
4.3-ounce, 100% combed ring spun cotton, 30 singles
50/50 combed ring spun cotton/poly (Heathers, Frosts, Neon Pink)
90/10 combed ring spun cotton/poly (Light Heather Grey)
Slightly slimmer body and shorter sleeves
1×1 rib knit neck
Tear-away label
Shoulder to shoulder taping
Lachian's story: They chose the name Lachian (as in "Appalachian") to pay homage to the region that they live, work, and play in. They see the area as a place with limitless potential and endless natural beauty. From mountaintop views, to waterfalls, to the people and culture that make it such a great place to be, we are constantly inspired by the region. Lachian's home base is in the heart of Appalachia.
Listed price: $20

Images are courtesy of the brands featured