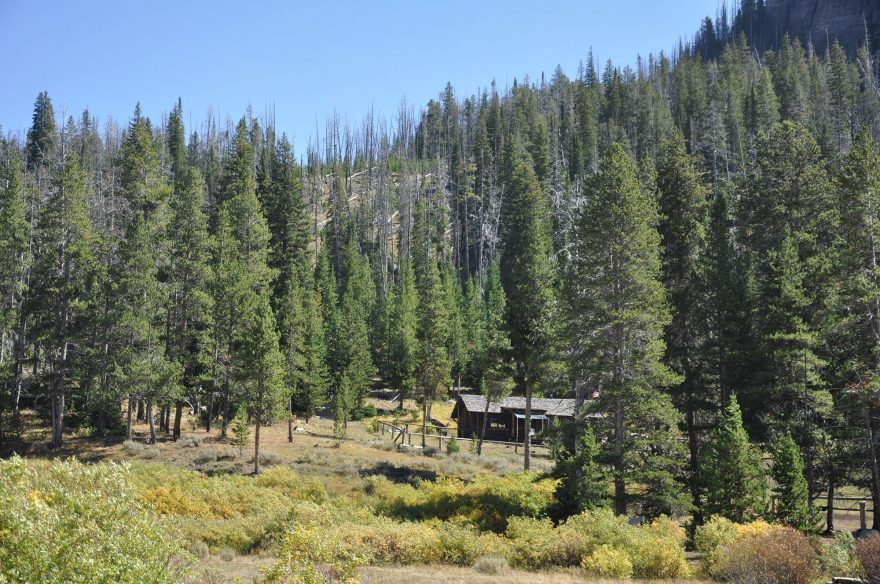 Across the United States, the U.S. Forest Service (USFS) provides hundreds of cabins that are available for rent. During the early 1900s, workers in the Civilian Conservation Corps built the majority of these rustic log cabin structures for seasonal forestry staff and forest rangers to use as offices. As civilization expanded, USFS staff needed these cabins less and less — eventually abandoning them altogether.
Today, these cabins let people enjoy the forest in a nostalgic way at an affordable price (typically $30 to $60 a night). To find and rent a USFS cabin, go to Recreation.gov. Then research. You can read about the different cabins offered in the state you want to visit.
There are nine Forest Service Regions in the United States, and each region covers broad geographic areas — usually including several states and encompassing 155 National Forests and 20 National Grasslands. Each region's federal manager has their own rental process online. But all of these processes have one thing in common — you'll get a detailed description of the cabin, you'll know what amenities will be available, and you'll find detailed directions on how to get there. Read more about the history of USFS cabins and what to consider before you book one.
Since Forest Service cabins are usually bare bones, you'll want to know what to expect. Some have bunk beds with worn-out mattresses, a table and a propane stove for cooking. Most have a wood stove for heat in the winter and some cooking utensils. Others have a variety of games that other guests have left behind. But they're all more luxurious than sleeping in a tent and eating dehydrated food out of a bag. Some cabins even have electricity and a shower, but they're the minority.
Forest Service cabins come in many different sizes, too. Make sure you know how many people you can fit or "sleep." Some cabins are small and fit only two people, while others can sleep 10.
Here are 10 tips to help you when staying at a Forest Service cabin:
1. Know How You'll Get There
Getting to some of the Forest Service cabins requires a snowmobile or ATV or a 3- to 5-mile hike. Others have winding gravel roads up a mountain that require a high clearance vehicle. And some cabins have smoother, more accessible roads that allow you to drive your car right up to the cabin. So do your research and choose a cabin that's accessible to you.
2. Pack Plenty of Drinking Water or a Water Filter
Although you'll find indoor plumbing in most of the Forest Service cabins, you typically won't find running water. Most of the cabins have a hand pump outside affixed to a well underneath where you can "fetch a pail of water" for doing dishes, cooking or rinsing off. But that water may not be the best to drink. So be prepared and bring your own water filter or pack in jugs of drinking water.
3. Be Prepared to Use an Outhouse
Typically, you'll need to use an outdoor bathroom with a vaulted toilet located near the cabin, so be prepared to go outside when nature calls. From my experience, these small outdoor bathrooms are clean and not over used. Remember to bring toilet paper, just in case.
4. Know How to Split Wood
You'll need some lumberjack skills when you stay at a Forest Service cabin in the mountains. Most of the cabins have a wood burning stove and a wood shed full of wood for you to split. Even in the summer, mountain weather can be cold at night, so you'll most likely need an indoor fire to keep warm. Usually you'll find a splitting maul in the wood shed, so be familiar with how to use it to split wood. A flannel shirt is optional.
5. Be OK with no Cell Service and Embrace Unplugging from Technology
Since the majority of Forest Service cabins are remote, you may not have a cellular signal to go online or make phone calls. Use this time to enjoy nature and the serenity of wilderness and enjoy unplugging from civilization. Downloading a movie or a music playlist on your device prior to your stay is a good way to plan ahead if you want some modern conveniences. Also, let someone know where you're going and when you'll be back — and tell your friends and family that you'll be out of touch.
6. Take Advantage of Nearby Trails
Areas with Forest Service cabins nearly all provide you with hiking, mountain biking, horseback riding, snowshoeing and/or cross-country skiing opportunities. So pack accordingly. Some cabins have trail heads directly adjacent to the cabin within walking distance, like the Porcupine cabin on the northwest side of the Crazy Mountains near Wilsall, Montana. This Forest Service cabin, situated at an elevation of 6,400 feet, has a nearby trailhead overlooking the grasslands of the Shields Valley below.
7. Use Offline Maps
Downloading a map of the area from programs such as Google Offline Maps, Gaia GPS or AllTrails to your phone or bringing a printed map will help you with directions in case you lose reception or something goes wrong with your satellite GPS. You can also visit the local ranger station if they're open and get a paper map of the area.
8. Bring Your Own Fire Starters
You'll typically find a fire ring outside for a campfire and a wood burning stove inside the cabin. You'll want to have matches, a lighter or some other way of starting a fire. You may also need a lighter to ignite the cabin's propane stove. Even in the summer, mountain weather at higher elevations can be cold at night, so it's best to be prepared.
9. Bring Your Own Bedding
Since the cabins are rustic and not "hotel style" cabins, you won't find bedding when you arrive unless a previous guest left some behind. You'll need to bring your own sheets, blankets and pillows. You can research each cabin online ahead of time to know what bed sizes will be available so you'll know exactly what you need.
10. Be a Good Steward
Other guests may arrive at the cabin shortly after your stay, so be a good steward. Make sure the cabin is clean and leave it at least as good as you found it. Take home your leftovers rather than leaving them in the fridge. Clean up the outside areas. Practice Leave No Trace. Simply put, Leave No Trace is a compilation of the best practices to follow to protect natural spaces while you're enjoying them.
Suzanne Downing is an outdoor writer and photographer in Montana with an environmental science journalism background. Her work can be found in Outdoors Unlimited, Bugle Magazine, Missoulian, Byline Magazine, Communique, MTPR online, UM Native News, National Wildlife Federation campaigns and more.
Feature image by Sasha Fenix, Shutterstock; secondary images by Suzanne Downing and David Taylor