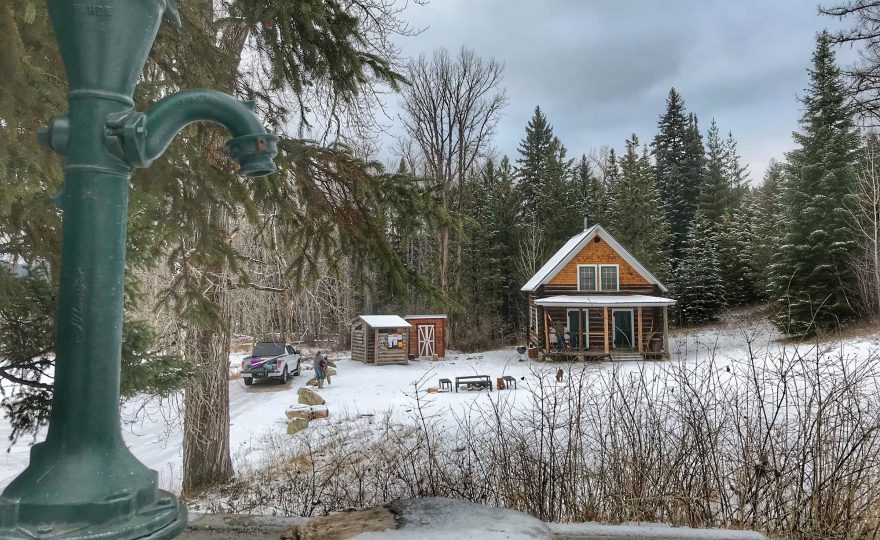 Staying the night in a rustic log cabin in the woods isn't for everyone. But if you enjoy getting away from civilization for a time while still having some modern conveniences (like a stove and heat), renting a U.S. Forest Service cabin may be for you.
The USFS (part of the U.S. Department of Agriculture) owns hundreds of log cabins across the United States. And the majority of them were built about a century ago by the Civilian Conservation Corps; others the USFS acquired. These rustic structures originally housed seasonal forestry staff, and forest rangers used them as offices. The cabins provided a roof over their heads and a place for them to cook, wash up and get a good night's sleep. But as civilization expanded, these rustic cabins were used less and less — eventually USFS managers abandoned them altogether.
Today, there are hundreds of these abandoned cabins for rent. In Montana, for example, you can choose from more than 115 USFS log cabin rentals. In Arizona, USFS managers have a "Rooms with a View" cabin rental program with locations ranging from the rim of the Grand Canyon to the red rocks of Sedona. Some are rustic. Some are more modern. In Alaska there are more than 100 USFS cabins for rent in the Tongass National Forest and a handful in the Chugach National Forest like the Beach River Cabin — a 12-by-16-foot rustic cabin on a 40-acre parcel on the Gulf of Alaska side of Montague Island that sleeps 6 and offers you a table, oil stove, wood stove, outhouse and rainwater catchment barrel.
Typically, a USFS cabin will cost you between $25 and $60 a night and sleep between 2 and 8 people, but each cabin is unique. In the summer, these rustic cabins are accessible by car, foot, mountain bike or off-road vehicle. Some log cabins are roadside, while others are nestled deep in the backcountry — creating an outdoor adventure in itself. 
No matter how you get there, staying in a historic rustic cabin will place you in a spectacular setting removed from civilization. Forest Service public relations managers even promote these cabins as "hidden treasures."
How to Find and Book a Forest Service Cabin
Finding the right log cabin in the woods for you can be a treasure hunt in itself. There are nine Forest Service Regions in the United States, and each region covers a broad geographic area — usually including several states(in total, there are 155 National Forests and 20 National Grasslands in the U.S.). Each region's USDA manager has their own rental process online. But all of these processes have one thing in common — you'll get a detailed description of the cabin, you'll know what amenities will be available and you'll find detailed directions on how to get there.
To find and rent a USFS cabin, go to Recreation.gov. Then research. You can read about the different cabins offered in the state you want to visit.
For example, if you want to rent a rustic USFS cabin in Arizona near the Grand Canyon, visit the Southwestern Region (Region 3) website to research which cabin is best. You'll notice the cabins are listed on the fs.usda.gov website by forest, and you won't have access to an easy "search" feature (thus the treasure hunt). A simple Google search will bring up some USDA cabins for rent near the Grand Canyon, like the Hull Cabin in the Kaibab National Forest. Here's what you'll find:
"Located just one mile south of the Grand Canyon, Hull Cabin is the oldest surviving historic cabin near the Grand Canyon's south rim. The rustic cabin was built in 1889 as part of a sheep ranch, and was acquired by the Forest Service in 1907 for use as a ranger station. In 1985, the cabin was listed in the National Register of Historic Place."
On the Recreation.gov website, you can type the state you want to visit into a search field and click "filters"/"Fire Lookouts/Cabins Overnight"/"Hide Filters" and you'll get a list of both cabins and fire lookouts. Then you can use the movable map to find a good location or click on any of the cabins listed.
What to Consider Before You Book
Once you find a cabin you're interested in, do more research. Look at what amenities are offered and measure that to your comfort level. For example, the Hull Cabin sleeps six people and has hauled water available with indoor plumbing — meaning you'll need to "haul" in your water with a bucket from a water pump. There is an outdoor shower house with stalls for your own solar shower attachments, an oven, stove, refrigerator with freezer, wood stove for heat and more. And you'll need to travel on a graded gravel road to get there.
Here are some things to consider:
Consider the size of the cabin
Forest Service cabins come in many different sizes. Make sure you know how many people you can fit or "sleep." Some cabins are small and fit only 2 people while others can sleep a lot more.
Consider the environment surrounding the cabin
You'll want to know what environment you'll be in. Do you want to use the cabin as a basecamp for hiking or cross-country skiing? Do you want to rent a cabin near a lake so you can easily get on your kayak or spend the day fishing close to your cabin? Find a cabin that fits the environment you want so you can do what you love during your stay.
Consider how you'll access the cabin
Know what you're in for before you book your cabin. Look at what the approach is like on a map or in the description. Some cabins are right on a road and you can easily drive up to them. Other cabins may require you to ski, snowmobile or snowshoe for a mile or more during the winter. Just getting to the cabin sometimes is a lot of fun.
Consider what amenities are available and pack accordingly
Once you know what amenities are available, you'll want to pack for a successful stay. You'll need to bring your own food and in some cases your own water. You'll also want to bring bedding as most cabins just have a mattress or futon. Each cabin is different, so study up and know what to expect.
You can rent a Forest Service cabin 180 days in advance. Weekends tend to fill up fast, so make sure to get your reservation in with enough time to secure a cabin on the dates you'll need.
Suzanne Downing is an outdoor writer and photographer in Montana with an environmental science journalism background. Her work can be found in Outdoors Unlimited, Bugle Magazine, Missoulian, Byline Magazine, Communique, MTPR online, UM Native News, National Wildlife Federation campaigns and more.
Feature image by Suzanne Downing; secondary images by the U.S. Forest Service; Sasha Fenix, Shutterstock; and David Taylor