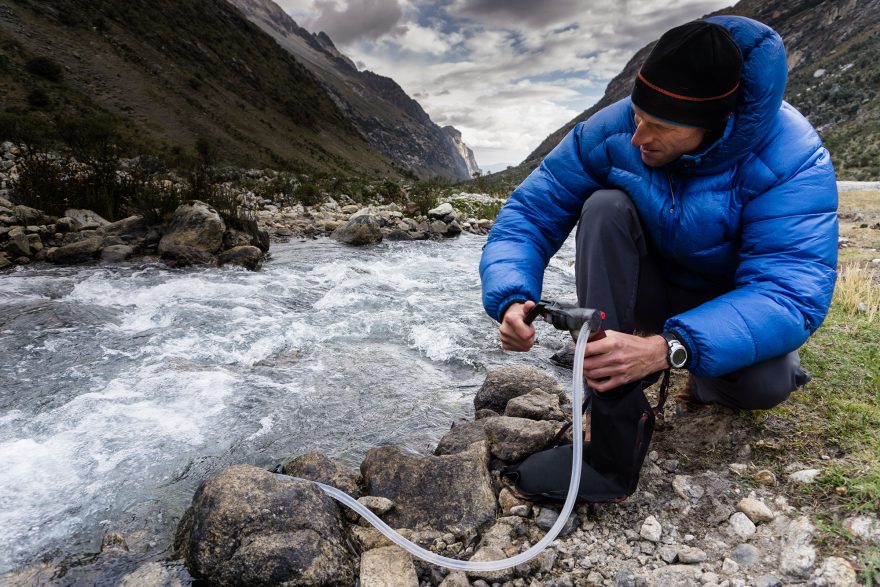 If you're planning on hiking light then knowing how to properly treat water is essential
Water sources can look great, but they're not all necessarily safe, and they can leave you feeling very unwell if not treated correctly through purification or filtration! Contamination can happen for a variety of reasons with fecal matter being a common cause, therefore you should absolutely learn how to purify and filter water in the backcountry.
Besides being handy for longer hikes or if you want to go light, knowing water filtration methods is a great survival skill to have in your arsenal. This article is going to cover some of the top water purification methods for hikers.

Boiling Water
Boiling water is one of the most reliable purification methods, and it's incredibly low-tech. You should aim to bring your water to a rolling boil for one minute under most circumstances, or for three minutes if you're above 6,500 feet.
Pros:
Cost-effective
Easy to achieve
Great back up method to your main filter
Cons:
You'll need fuel for a fire
Due to relying on fuel, your supply can run out
Can be time-consuming

Chemical Water Treatment
Another effective purification method is chemical water treatment, such as the Aquamira Water Treatment. You can either use this in drop form or tablet form, and it's designed to work against bacteria and viruses. To use, drop some in your water, shake, and wait the prescribed amount of time depending on the product.
Pros:
Super lightweight and small
Easy to use
Inexpensive
Cons:
It can take anywhere from 30 minutes to 4 hours for the chemicals to work
Can sometimes leave a chemical taste (sometimes, a secondary tablet can be bought to improve taste)
For lots of water, you either need to pack more chemicals or you'll run out
Iodine products can be harmful if you're pregnant

Pump
To use most pump filters, put the intake tube in your source, and the outlet hose in your bottle or container and pump away. The MSR MiniWorks EX Microfilter is a great long-lasting and lightweight option.
Pros:
Water can be pulled from hard to reach spots
Easy to use and clean
Durable and cost-effective
Cons:
Pumping the water can be a hassle, especially if you're already tired
Not as lightweight or portable some other methods
Pumps require maintenance

Gravity Filters
Fill a reservoir with water and find a good place to hang it. Then, wait for the system to do the work for you. The Platypus GravityWorks is known to be one of the top systems out there for ease of use, effectiveness and speed.
Pros:
Very easy to use (gravity works for you)
Good for group situations
Cons:
You need to find somewhere to hang the reservoir
Can be hard to fill the reservoir in shallow water sources
Slower than pumping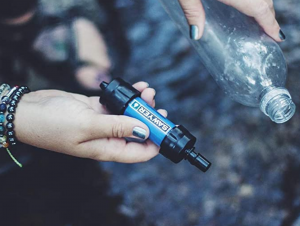 Straw Filters
The straw filtration method is one of the best ways to treat water while on the go. The cylinder has an in-built filtration system meaning you can drink directly from the source. The Sawyer Mini Filter is the go-to product for many keen hikers.
Pros:
Highly portable and lightweight
Cost-effective
Cons:
They aren't designed to store water
Only suitable for one person at a time
Often reported that sucking through the straw can be hard
Which One Suits You?
Choosing how to purify or filter your water depends on your personal requirements.
The methods listed above are all effective ways of treating water while on the go and you may decide you want something more lightweight vs. storing lots of water. Alternatively, if you're planning on camping, you can probably afford to take something that allows you to store more water. Other methods include bottle filters, squeeze filters, or UV purifiers.
Connor Mollison is a full-time commercial photographer with a passion for exploring the outdoors and a background in elite sport.
Feature image courtesy of makasana photo, Shutterstock; boiling water image by fotoliza, Shutterstock; all other photos courtesy of Amazon.com
We are committed to finding, researching, and recommending the best products. We earn commissions from purchases you make using the retail links in our product reviews. Learn more about how this works.