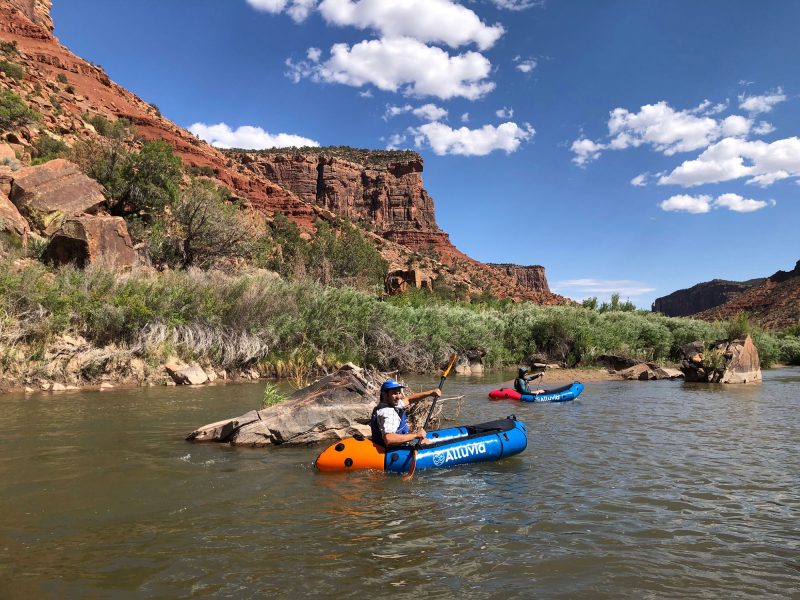 Put your holiday spending to good work this season — as well as throughout the rest of the year
---
It's taken far too long, but the outdoor industry is finally starting to appreciate — and even celebrate — Black, Indigenous, and People of Color (BIPOC) peoples who recreate outdoors. This groundswell of support and recognition has inspired some BIPOC outdoors people to launch new gear brands, while other brands, long in existence, are getting better exposure.
We're here to celebrate a few of those brands and hope that you'll seriously consider supporting them this season — and long into the future:
Alluvia Packraft
Founded: 2021
Sales via their website and Instagram and Facebook shops
Alluvia Packraft co-founder Mariana Cevallos grew up in an urban environment in Lima, Peru. But upon moving to Colorado in 2015, she fell immediately in love with the outdoors. Disappointed with the number of people of color that she saw recreating outdoors though, she was inspired to help start up Alluvia.
She says, "We make lightweight, packable, inflatable boats for adventurous explorers who want to include water sports in their outdoor activities. We want to be a more approachable option, positioning ourselves around urban/suburban use with easy access to water and provide gear that reduces the barriers of entry so we can all enjoy being outside in any way that we love."
Check out their Gunny Gorge whitewater packraft, which is designed to run up to Class III whitewater, or their Dirty Devil, which is designed for flatwater. They're also launching a new boat in the spring of 2022.
Find Alluvia Packraft online HERE
---
Alpine Parrot
Founded: 2019
Sales via their website
Alpine Parrot is committed to creating clothing that encourages and celebrates underrepresented people in the outdoors, particularly people of size and people of color. Founder and CEO Raquel Velez has almost two decades of mechanical engineering experience. After graduating from Caltech, she worked as a robotics engineer and then shifted over to software and engineering management.
But during a ski trip, she struggled to find snow pants that fit her plus-sized Latina figure. She eventually quit her tech industry job, moved to Denver, sewed dozens of prototypes, found a Latina manufacturing partner, and a brand was born.
She says that now she is, "Creatively tackling one of the oldest (and most polluting) industries by creating sustainable, inclusive clothing for a market of people who have so often been neglected in the outdoor space."
Check out their signature Ponderosa Pants, which come in two different fit styles and three colors — and is designed specifically for women size 14-24.
Find Alpine Parrot online HERE
---
Aurora Heat
Founded: 2015
Sales via their website and select outdoor specialty stores
Growing up in Canada's Northwest Territories as the daughter of fur trappers, Brenda Dragon knew a few things about staying warm. And when her nephew started to complain of cold hands and feet while snowboarding, she knew just what to do. She cut out some beaver pelts and inserted them into his gloves and boots and hand- and foot-warmers. His extremities weren't cold anymore and word started to spread. Soon after, Dragon founded her company.
Now Aurora Heat offers long-lasting, biodegradable, and sustainably sourced hand, foot, and body warmers, as well as cell phone covers. They are handmade by Indigenous women, crafted with wild beavers' fur that helps to preserve the cultural heritage of northern Indigenous trappers.
Dragon says that she started the brand, "To share traditional and sustainable ways of keeping warm. Also, to be a small example of what harmony with nature and economic reconciliation can look like. It's our vision to be an active contributor in the global shift towards sustainable ways of being for a shared future where humans value interdependency with the natural world."
The company offers reusable hand and foot warmers, thumb warmers, 'ultra' foot warmers and warmers for kids too, as well as cell phone covers that help maintain battery life in extreme cold. To dig deeper into this brand, check out ActionHub's Unpacked profile on Aurora Heat.
Find Aurora Heat online HERE
---
Dynamite Starfish
Founded: 2015
Sales via their website, some climbing gyms and Summit Hut outdoor stores
Leslie Kim has deep passions, including art, design, and rock climbing. After studying abroad in Asia and Australia, she walked away from a biology major to instead study different cultures. Now she's passionate about making art about shared human experiences and the company she founded offers designs on apparel, mugs, and gifts — all of which are carefully chosen for the least environmental impact.
She says, "We believe that to climb is to love, and we should approach our sport and our lives with mindfulness. The lessons we learn as rock climbers are important and transfer over into our everyday lives to help us better care for one another and build community."
Their best-selling items include unisex t-shirts with inspiring quotes like, "Keep Climbing" and "Keep Hiking," as well as variants for dog lovers that say, "Keep Climbing (And Pet All the Dogs)" and "Keep Hiking (And Pet All the Dogs)."
Find Dynamite Starfish online HERE
---
Iconi Leggings
Founded: 2019
Sales via their website and on Amazon.com
Sometimes, it's frustration that is the mother of invention and Iconi Leggings is an example of that.
While in the U.S. Air Force, founder Angle Johnson was disappointed in the workout wear that was available at the time. "I was tired of spending tons of money on activewear for it to be see-through in the gym. I wanted activewear that could serve as a motivational aid while I exercise."
The Charleston, South Carolina, native transitioned out of the Air Force, moved to Denver, and now runs the brand full-time. She remains passionate about fitness as well as volunteering and generally doing what she can to help make the world a better place for people.
Be sure to check out their Core Legging in Active Ash, Core Sports Bra in Active Ash and Persistence Legging in Black, as they're all hot sellers.
Find Iconi Leggings online HERE
---
Outdoor Element
Founded: 2012
Sales via their website and REI, Ace Hardware, Gander Outdoors, Amazon and "a bunch of awesome small mom and pop shops"
Mike Mojica was a mechanical engineer in the aerospace industry until a move from Texas to Colorado ignited his passions for the outdoors. His passion lit, he then founded his company, which makes adventure and survival gear.
He says, "I have a passion for the great outdoors, design, and the American Dream. With that background, the universe made me found Outdoor Element."
Mojica is Native American/Mexican American and, appropriately, his native name Bodaway means "fire-maker." Their Firebiner product is a one-ounce, fire-starting multitool carabiner. Backpacker Magazine declared it to be a Best Gadget, and it won the 2019 Radical by Design Award at Outdoor Retailer.
Find Outdoor Element online HERE
---
Ventum
Founded: 2014
Sales are direct to consumer only, with all orders custom built
Like most of the other founders highlighted here, Diaa Nour didn't start out in the outdoor industry. Previously, he was co-founder and president of a telecommunications provider, but the marathon enthusiast and avid cyclist saw a need for better bikes in the triathlon space.
He says, "I started Ventum because the service I received in most bike shops did not match the expensive price tag of the bikes. As such, I decided to create a bike company with a customer-first approach and to make sure the customer journey was second to none."
Nour assembled a team of athlete-engineers and entrepreneurs to create high-performance bicycles backed by innovative engineering. Now they produce gravel, road, and triathlon bikes that are designed, tested, and assembled in North America and delivered direct to consumers.
Be sure to check out the Ventum GS1. This performance gravel bike has climbed to become the brand's top seller just 10 months after its release.
Find Ventum online HERE
---
Other BIPOC outdoors brands
While we couldn't include all of the BIPOC brands that we found in writing this article, we wanted to make sure that you have these other brands on your radar as well as those BIPOC outdoors and adventure brands mentioned above:
---
'Chez' Chesak is an award-winning adventure travel writer, 20+ year veteran of the outdoor industry, Executive Director of the Outdoor Writers Association of America and chair of the Society of American Travel Writers' Central States Chapter.