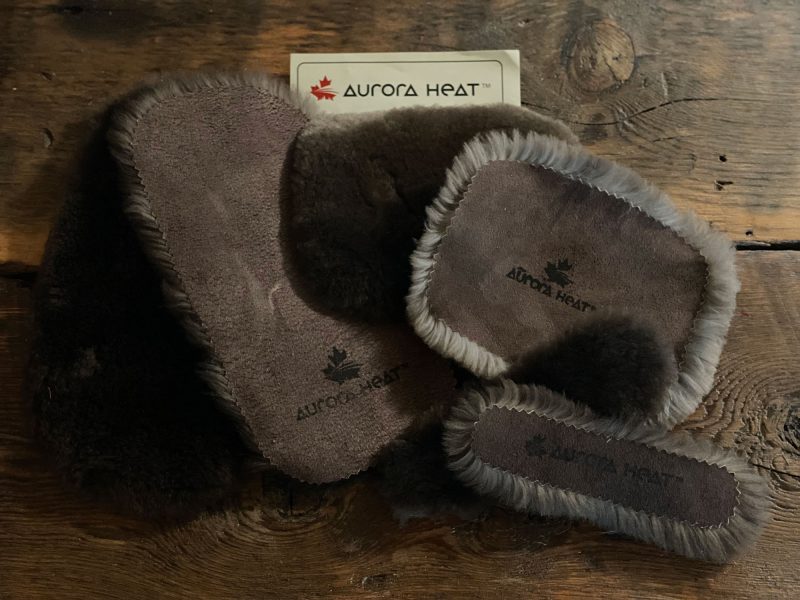 Canada's most loved reusable hand and foot warmers are 100 percent natural, velvety soft and can last you up to five years
---
If you've ever tried single-use hand or foot warmers, you know how good it feels to have pockets of warmth for your hands and feet when you're outside adventuring. But if you're out in extreme cold for long periods of time, those small single use inserts just don't seem to cut it and can easily fade from hot to warm. Even reusable small gel packs and battery or fuel-powered warmers can fade throughout the day. Aurora Heat's all-natural hand and foot warmers — handmade from sheared beaver fur sourced in Northern Canada — will keep you warm all day and can last up to five years. To go inside the brand and see what they're all about, we get Unpacked with Aurora Heat.
President and founder of Aurora Heat, Brenda Dragon, grew up in a large Canadian family who dressed in wild furs from their trapline. Her father came from a line of French Canadians who made their living harvesting furs in the Athabaskan delta of northern Alberta, Canada and settled in Fort Smith, Northwest Territories. Dragon's mom made all of her family's hats, mittens, moccasins and parkas, and her grandmother has sewn with furs and hides most of her life.
"We were healthy outdoor kids, and despite temperatures that often dipped to minus-40, we were never cold," said Dragon, who naturally turned to fur to keep her own family warm. "I raised my own children further north in Yellowknife where the winters are longer and even colder," she said. "I dressed our little kids in fur, and they thrived with a beautiful connection to the land."
Confident in a rich trapping heritage and the practicality of fur for warmth, Dragon created Aurora Heat in 2015.
She dreams of a world where humans are thoughtful about meeting basic needs, using natural and reusable products. A world where natural fur is the first choice for warmth, replacing single-use products, fast-fashion, and synthetic/petroleum-based materials.
"I am committed to Nature and the interdependency between all living things. I love designing and creating sustainable, new-to-market products. In our workshop at the end of each day, there is no garbage in our bin. We use all parts of our pelts in deep respect and gratitude to the land and to the beaver. It is this world view that has formed our company's slogan, 'Live in Harmony with Nature,'" added Dragon, who's mom, Jane Dragon is the company's lead cultural advisor.
Aurora Heat Reusable Hand Warmers
These ultra-light hand warmers are handmade in Canada — making every hand warmer unique. They are made of sustainably sourced 100 percent wild sheared beaver fur from Fort Smith, a town in the South Slave Region of the Northwest Territories in Canada.
And they are velvety to the touch. The soft pile of the dense undercoat of wild beaver is designed by nature to be warm, lightweight, and luxurious. Whether you're trail running, skiing, snowmobiling, walking, or building a snow fort, these hand warmers will keep your hands warm all day long. Each hand warmer measures roughly 5 inches by 6 inches.
To use, you simply place the fur side onto the palm or the tops of your hands and slide them inside your gloves or mittens (or even your pockets). The all-natural sheared beaver fur is extremely effective at maintaining and circulating your own body heat. After all, it's the same fur that enables the abundance of wild beavers in Northern Canada to stay warm all winter — even when they're swimming in frigid water.
When you hold one of these hand warmers in your hand, you start to feel heat right away. When I first tried these hand warmers on a trail run, I was impressed. Not only were they soft and not bulky in my gloves, but I also barely noticed they were there, and I didn't need to wear glove liners. The hand warmers easily maintained heat for more than an hour. When I arrived back home, my hands were still warm and cozy.
You can also transfer the hand warmers to your ears under your hats for instant ear warmers, then rotate them back into your gloves or mittens.
Aurora Heat Reusable Ultra Foot Warmers
These foot warmers provide extreme warmth and are much larger than the hand warmers. Measuring about 9 inches by 5 inches, they are made to cover the entire top of your foot under thin socks — enveloping your toes in a cocoon of silky-soft sheared beaver fur.
I used these foot warmers under thin wool socks (inside winter snow boots) and my toes stayed warm and toasty all day while outside cutting and stacking firewood.
To use, simply place the fur side on top of your toes inside socks or boots. They are best worn with snug fitting socks, so they don't slide around while you're on the move. And just like the hand warmers, these foot warmers are handmade in Northern Canada — making each one unique.
Aurora Heat Reusable Thumb Warmers
If you're engaged in activities like snowmobiling, dog sledding or ATV riding in the winter, the Aurora Heat reusable thumb warmers are a nice addition to the hand and foot warmers. They are roughly 5 inches by 2 inches and made of the same velvety soft sheared beaver fur used for all of Aurora Heat's products.
To use, place the fur side on your thumb and wrap it around the top and bottom so both sides of your thumb are covered. Then simply slide your hand into your glove or mitten as normal. You'll instantly feel the heat. Even at fast speeds and high winds, my thumbs didn't freeze like they normally do while riding my ATV, and I was able to extend my time on the trails.
Care and storage
The team at Aurora Heat recommends that you avoid getting your hand and foot warmers wet. If damp, shake out excess moisture, gently reshape the leather and allow them to air dry. Don't use direct heat, which can damage both fur and leather. Also, prevent contact with lotions, perfumes, etc. and store your hand and foot warmers in a well-ventilated, cool area.
About Sheared Beaver
Sheared beaver fur is made of roughly 10,000 fur fibers per square inch with remarkable insulating properties. Indigenous people have used beaver fur for hundreds of years In Northern Canada to keep warm. Today, the fur trade is strictly regulated, and beaver fur is abundant and sustainable. And still today, sheared beaver is recognized as one of the warmest fur available as it naturally stores and circulates body heat.
Additionally, since sheared beaver fur warmers are 100 percent biodegradable with a lifespan of upwards of five years, they do not harm the environment and are incredibly safe to use. Overall, their ability to maintain heat, extreme comfort, and flexibility to be removed when you become too warm makes them highly adaptable hand and foot warmers.
"There is something about having a piece of nature next to you, in your hat, mittens or socks that grounds and connects you to the natural world," said Dragon who wants everyone who uses Aurora Heat products to feel good enjoying the warmth and comfort of her Northern way of life in Canada.
---
Unpacked is a regular feature on ActionHub to help people discover new performance and lifestyle items that will amplify their adventures and outdoor experiences. This article was not sponsored by the brand or any PR/marketing agency, and all opinions are that of the ActionHub writer.