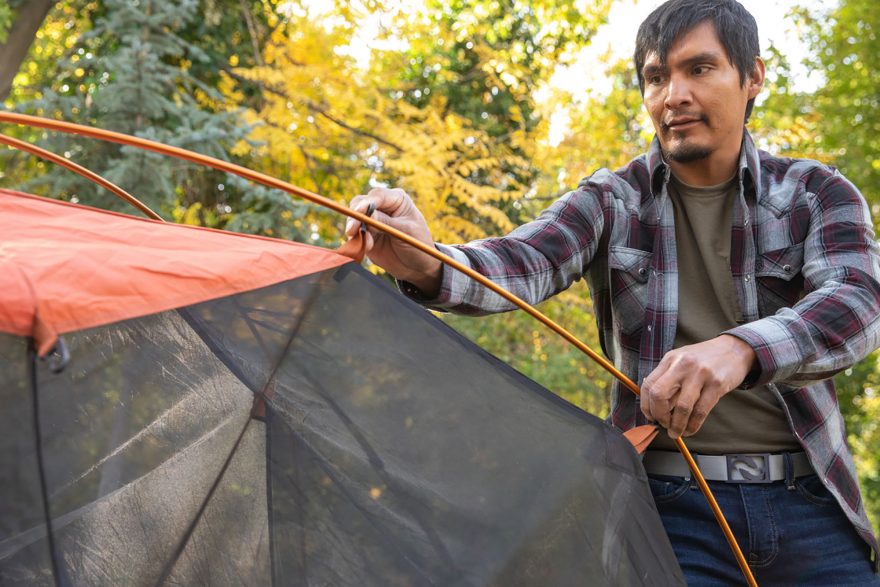 Grip6 excelled with a belt that was stunningly simple in its design and full in functionality. That approach is taking the company down new paths today.
---
When you hear stories of companies starting modestly in a basement or a garage, that captures the thrust of Grip6's origins going back to 2007. Founded with the vision for a wallet — one that could hold six cards, hence the name "Grip6" — it turned out to be a simple yet functional and unique belt design that has catapulted the company. Only a couple of years ago, Grip6 had 15 employees. Today, they sit at over 100, and their penetration into more and more retailers nationwide has been the result of savvy and targeted marketing and an opportunity to elevate the belt market.
To go inside the brand and see what they're all about, we get Unpacked with Grip6.
"It's something you use everyday, and mundane things like belts and wallets and socks can be fun," said Jason Livingston, national sales manager for Grip6. 
He talked about the early days of Grip6 and how a Kickstarter campaign pulled in more than $400,000 in just a couple of hours, changing the trajectory of the brand for the better. (Today, they have grown to using robots and lasers in their manufacturing processes.)
Founder BJ Minson previously worked designing machines for the medical field. He had a passion for trinkets and used his skills to look at common items — those items you touch, wear, or otherwise use every day — and improve upon them. While he initially tried to reimagine the wallet, it was a belt that began the brand's boom.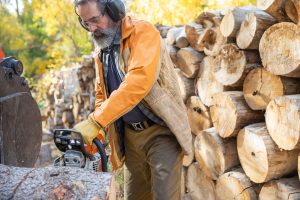 Grip6 Belts
Minson wasn't keen on the belts that were already on the market — often basic leather with holes punched into them and a flap that had to be tucked into a pant loop.
"For him, what was available out there wasn't really cutting it," Livingston explained about the founder. "He felt he could do much better."
Minson liked the idea of nylon webbing, and he wanted a belt that wouldn't slip. He also sought to create something that has a flap that gets tucked away out of sight and maintains a low profile.
He used the Kickstarter money to get the business rolling.
"The buckle goes through many, many processes as it gets made, and he had to build those machines to get it created," Livingston said.
The end result is a completely new way of "fastening" a belt and is stunningly creative in its simplicity. While functionality was more important than aesthetics, the buckle options from Grip6 have a variety of clever and outdoor-centric designs, from trees and mountain peaks to wood grain and gunmetal styles. 
While the company's earliest buckles were 100 percent carbon fiber, Grip6 has experimented with other metals, including copper, stainless steel and titanium. Right now, most of the Grip6 buckles use 6000 series aluminum. 
The buckles can easily be swapped out and inserted onto another color webbing — webbing is available in either 1.1-inch, 1.5-inch or 1.75-inch widths and in more than a dozen colors. 
"People are attracted to our belts because of the functionality, but also because of the uniqueness of the look," Livingston said. With so few moving parts, "There's just nothing to go wrong."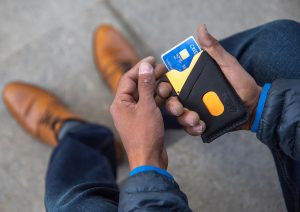 Grip6 Wallet
Even though the wallet concept may have been what laid the foundation for the company, it was at the 2021 summer Outdoor Retailer Show that the Grip6 wallet really got its grand opening.
The wallets have been online for about a year and a half but only recently have been made available to retailers.
"Making the wallet was a daunting task. For [Minson] to make the wallet, as an engineer, was doable, but making it profitable and in the volume he needed was tough," Livingston said.
Grip6's wallets are minimalist and have a small lever on the side that ejects the cards from the top. The cards can then be pushed back down to lock them between two RFID-blocking aluminum walls. The wallet's materials are corrosion-resistant, and Grip6 says that it has tested the lever to well over 500,000 uses.
Aside from the tiny screws used to construct the metal exoskeleton, every piece of the wallet is directly manufactured by Grip6. 
For a little flair, there is an optional finger loop that's intended to make front-pocket access even easier … but really I've found also doubles as a fidget-spinner alternative (I very much like it!). You can also pick up a leather sleeve for the wallet, perfect to stash a couple of bucks into or a receipt if necessary.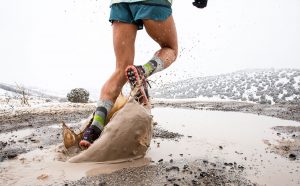 Grip6 Socks
The socks are the newest additions to the Grip6 catalog — in fact, they won't be available to retailers until 2022 though they can be purchased online.
These socks are exceedingly comfortable (and yes, I have an above-average affinity for great outdoors socks). Grip6 uses a wool/nylon primary blend for its socks (the wool is U.S.-sourced Rambouillet Merino), with a small percentage of spandex for flexibility. They feature a full terry bottom and no terry in the upper foot or leg of the sock, resulting in a sock with a full but light feel, perfect in shoes and boots, and in cold and warm weather. Par for the course, Grip6 likes the functionality of a sock being usable in all four seasons.
They deliver on all of the features that you would most expect from a premium performance sock: wicking, breathability, stretch, and insulation, with antimicrobial properties. They hold their comfort and shape on long hikes or on trail runs.
Building Upon Grip6
Grip6 offers an unlimited lifetime warranty on its products, and it displays its made-in-the-USA branding with pride. It is a way for the company to maintain absolute control over the quality of everything it ships to retailers and customers.
"One of the most important things to our business model is USA-made. That is a major focus, a major effort," Livingston said. "We will pay a little bit more, we will do whatever it takes to make sure that it remains USA."
The company has recently purchased a new building to expand into, and they continue to look for market opportunities. For example, one of the company leaders is deeply interested in disc golf, so they have begun to partner with that demographic and make a name for themselves there. They even went so far as to be the main sponsor of the Professional Disc Golf Association World Championships this year.
Products that function and that last are great, but as Livingston notes about everything Grip6 is involved in, "We also want it to be fun." 
---
Unpacked is a regular feature on ActionHub to help people discover new performance and lifestyle items that will amplify their adventures and outdoor experiences. This article was not sponsored by the brand or any PR/marketing agency, and all opinions are that of the ActionHub writer.
Images by Grip6