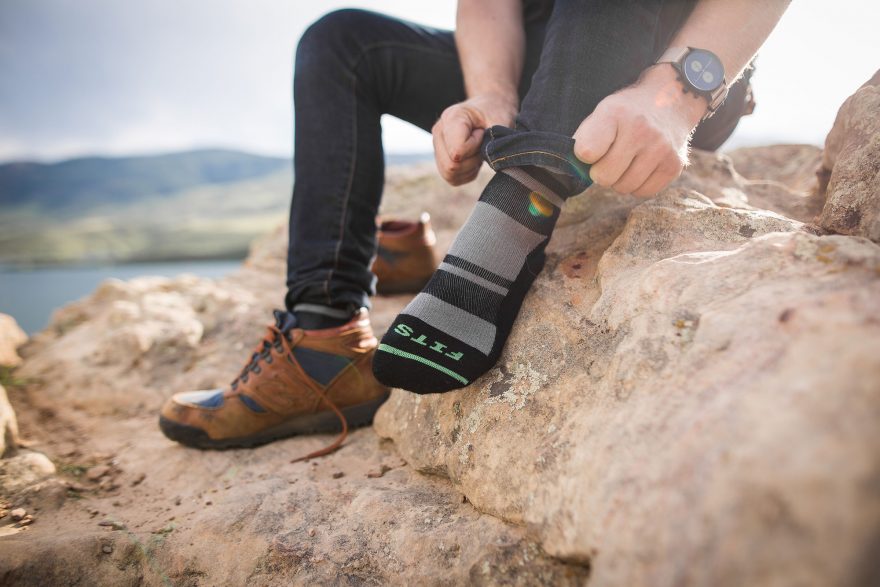 A marriage of comfort and performance is going to be found in the outdoor market's best hiking socks, but it's important to know exactly what to look for
---
It's not hard to imagine the tail end of an all-day hike, your body having exerted itself for hours climbing mountains and navigating stream crossings. Your foundation, literally every step of the way, is your feet. And while people spend hours researching and trying on a great pair of hiking shoes or boots, less attention tends to be paid to choosing the best hiking socks for your outing.
Significant advancements in hiking sock design and materials have emerged over the past decade — which means the six-pack of discount cotton tube socks your parents or grandparents might have worn to enjoy the outdoors aren't your best options anymore. And it's more than just comfort that's at stake. The right pair of hiking socks can keep your feet from getting blisters, which means you stay more mobile and focused on your surroundings. In short, you stay safer.
Having spent more than 15 years doing wilderness search and rescue along the Blue Ridge Mountains, I know well that a main reason search teams are called out is because people venture into the wilderness or away from marked trails without the proper gear or nutrition. In fact, I've seen that it's less about having the best or most expensive gear on the market, but rather it's having the right gear for your situation.
And there are very few instances where any real wilderness journey should be approached without taking care of your feet. Because body shape and performance needs vary so much from one adventurer to the next, there's no single hiking sock that is perfect for everyone. However, there are a variety of things to consider when looking to buy a pair of hiking socks.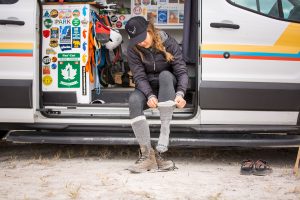 Combining years of personal hiking and backpacking experience with advice from experts at performance sockmaker FITS, a company who's brand was built on the objective of creating the ideal medium-weight hiking sock, I was eager to explore this topic.
"If you're walking into an outdoors store, you're on the cusp of doing something great," said Caleb Bethea, with FITS. "You're at the beginning of a story, so you'll want something that can carry you to the end of that story, without a lot of interruption."
From the sock material, to the stitching and seams, to the depth of the heel or width of the toe, these tips should help you narrow down the best hiking socks for the journey ahead.
The Basics of the Perfect Hiking Sock
The simplest answer to "what makes the best hiking sock?" is to find a sock that strikes the right balance between comfort and performance. It's a lofty goal that many companies strive for, and because the definition of "performance" can be so specific and dependent on the intended task, we are left with a footwear market that has socks custom-made for running, hunting, hiking and tactical feats, among so much more.
Most people who begin shopping for socks are going to seek comfort first and foremost — it's the kind of thing that makes the outdoor experience seamless and more enjoyable.
"You shouldn't have to notice your feet during your activity," Bethea said.
Part of that means having a hiking sock that fits well around your toes, has sufficient cushioning, doesn't slip inside your boot and doesn't fall down your calf.
Though comfort — or, perhaps more specifically, the freedom from the foot pain sometimes associated with hiking — is at the forefront for shoppers, finding a way to marry that goal with your performance needs is vital.
This is where a hiking sock's construction materials come into play and how that blend impacts wicking ability, durability and any sensitivities or reactions you may have.
The Takeaways
• Find a sock that can blend both comfort and performance
• A specialty hiking sock is likely going to be superior to an all-purpose sock
---
The Comfort of a Hiking Sock
A comfortable sock is going to hug your feet in all the right ways, especially around the toes and heel, and it won't bunch up at the arches.
Some of the key things to consider about comfort are:
How soft it feels: This is going to probably be part of your first impressions of a hiking sock.
Avoid a hiking sock that's too tight: Inhibiting circulation is going to be a major problem over a long outing.
The cuff (top opening) of the sock functions well: It should be snug enough to keep out debris and not slip during a hike but not so aggressive that it causes pain or hinders blood flow.
Appropriate temperature and moisture control: Wicking characteristics are common in modern performance socks, and they should perform well no matter the weather.
Those are the big-picture aspects to look at, because when it comes down to it, comfort is subjective. But as we drill down into the key features of hiking socks, the basics of comfort start with sizing.
Look for a pair of socks in which each size covers no more than the equivalent of two full shoe sizes — this ensures that you have a sock that can conform to your foot shape. For example, FITS' Men's Large is made for U.S. shoe sizes 8.5 to 10, so there's a 1.5 shoe-size range. A Women's Medium at FITS is for U.S. shoe sizes 7.5 to 9.5, offering a range of two full shoe sizes. Anything more than two full sizes, and the sock could be setting you up for failure.
It's obvious to anyone who's been professionally fitted for shoes that their feet are unlikely to be the same length. So, what do you do if you have one foot that's a size 10 and the other that's a 10.5, which may straddle different sock sizes? Simple enough: Go with the more snug fit.
"If it's a high-quality sock, it's not going to be cutting off your circulation, even if it's sized a bit smaller than your shoe recommendation," Bethea said. "But if it's too big, even just slightly too big, you're going to find yourself getting blisters out on the trails."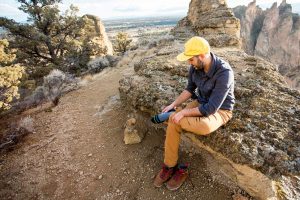 Beyond the basics of sizing, however, there is much that goes into comfort. Particularly in the hiking sock market, where there's very rarely a left- and right-specific sock structure (unlike what is often found in running socks), people probably don't think much about the styling that goes into the toe cup, the heel lock or other features. Premier companies such as FITS even have patents on some of these designs.
For example, at the toe, FITS has created a "dynamic toe cup" that uses less material but has a lot of cross stretch, so there is no bunching in the hiking boot. It also incorporates a "Y" knit in the toe to give wiggle room for your toes, and there's no tugging on the sock even when the toe box is stretched out, explained FITS' Luke Eldridge.
Pay attention to the seams around the toes. Many sockmakers are finding ways to incorporate a seamless structure into their products, and a lack of seams limits areas where fabric inconsistencies or changes can cause discomfort.
Good hiking socks likely have some amount of cushioning built into them, and depending on the range of products available from a sockmaker, you can come pretty close to customizing the pairing of cushioning (high-impact/low-impact) and weight (ultralight/light/medium/heavy) you want in a hiking sock.
In the heel, look for a deep heel lock, one that's truly able to secure the sock around the rear of your foot and keep it from sliding. This prevents the socks from slipping down into your shoe or pulling out of the back of your shoe. "Think about how many times you have seen the heel of someone's sock hanging out of the back of their shoe," Eldridge said. Now imagine that after eight hours in the backcountry.
A deep heel lock also prevents the fabric from being stretched excessively tight over the skin (think of it as being "pulled thin") — which is something that can cause blisters or hotspots or can contribute to premature wear in the hiking sock.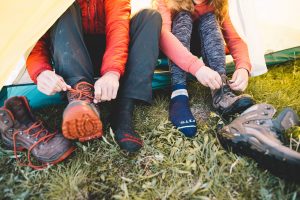 It is also important to have proper gradient compression throughout, and this extends to crew, boot or over-the-calf socks, all of which climb up your leg. From an activity and performance standpoint, it's ideal to have the heaviest compression in the arch (at the center of the sock) and then decrease toward the toe and heel and up the calf.
The leg of the hiking sock should also be tighter at the ankle than it is at the calf, because this helps the sock stay up your leg naturally. Be wary if a sock is constructed to be tightest at the cuff in an effort to hold it up your leg — while this might be easier on the manufacturing end, it's also a cheap work around and is not nearly as effective once the mileage adds up.
The Takeaways
• The right hiking sock starts with the right sizing
• The heel lock and toe cup vary drastically from sock to sock
• Good cushioning and compression will improve your hiking experience
---
The Performance of a Hiking Sock
Imagine wrapping silk around your feet and setting out on a hike. Sure, it might be amazingly comfortable (at least at first), but it will fail spectacularly in terms of performance. Which is why hikers should value the performance capabilities of a sock just as much as they do comfort.
Across a variety of sockmakers, Merino wool has become the market standard. It is a superior fabric that will keep your feet cool in the summer and warm in the winter, while also having odor-reducing properties.
"Merino essentially meets you at your temperature, as far as regulating your body," said Bethea, whose company uses a Merino blend in every hiking sock it creates. It's what you'll find from other major brands, too, such as Darn Tough or Smartwool. (Some of FITS' light and ultralight styles and some of Farm to Feet's lighter variations even use a super-fine-spun Merino wool.)
It's very likely that you'll also see elements of nylon, polyester, and/or lycra (elastane) in the premium socks on the market, all of which can be blended to create unique levels of stretchiness and temperature control in a hiking sock. They add to the action-oriented cocktail of the sock's fit. Still, Merino is typically going to own the greatest percentage of a hiking sock's composition.
And, for anyone who still has 15- or 20-year-old pairs of socks in your drawer, it's important to recognize that the industry is far beyond the era when wool was considered "scratchy." Today, wool can channel high levels of comfort along with its performance.
Wool, in general, is loved by adventurers because of its insulation properties even while wet. A hiker's feet are in their most delicate state when they're wet — whether that comes from an external water source or from your own sweat. But having wool — in this case, specifically Merino wool — water will get wicked away from your foot, allowing your feet to hold up longer on some of the toughest journeys. That helps with your foot's temperature, and it's hard to argue with having one less thing to worry about in the wilderness.
"I think temperature regulation is something that a lot of people miss when looking at the comfort and performance of their sock," Bethea said. "They'll go into a store, try on a sock, and it'll feel good on their foot. But that doesn't necessarily translate into the elements or over the long term.
"You can have the most comfortable sock in the world, but if it's too hot, you're not going to be having any fun," he said.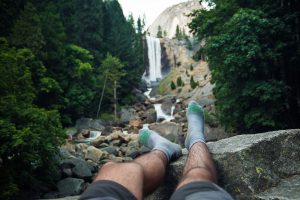 Choosing the right sock weight also impacts its performance success. It's no surprise that a summer hiking sock is going to be lighter than a winter hiking sock. Finding a medium-weight sock will provide a lot of versatility across the seasons.
Having a heavier sock isn't going to limit a sock's wicking abilities. While it may take longer to pull the moisture completely through the sock, due to the physics of having more layers to go through, the wicking capabilities are still there and the layer touching your skin should be able to dry sufficiently. (Still, the ability to wick moisture quickly isn't a substitute for making a common-sense decision not to wear a heavy hiking sock during the height of summer, for example.)
Maximizing the performance capabilities of a sock "will all come down to personal preference on the amount of cushioning, type of boot/shoe, and activity," Eldridge said.
The Takeaways
• A Merino wool blend is sought-after among adventurers
• Sock weight is important for temperature regulation, but even heavy socks can wick moisture well
---
Finding That Perfect Fit
It's not uncommon for a hiker to find a brand of sock that he or she likes and stick with it for years — or even decades. Just like with packs or tents or climbing gear, there is a sense of loyalty to a brand coupled with a familiarity of expectations. But as more companies spring up to serve the outdoor space, it's worth it to explore what else is out there from time to time and to determine if there's anything available that better serves your activity or lifestyle.
I've long been amazed that someone can spend hours researching the "best shoes" but then grabs the closest socks on the rack without a second thought. What goes between your sole and your skin is just as important as what touches the ground.
After a long day of trekking, it's nice to have a pair of socks that you don't feel compelled to strip off right as you get back to camp.
Ryan Tipps is Managing Editor for ActionHub and has years of experience in a variety of digital and print media. Ryan lives along the Blue Ridge Mountains, is an avid hiker, backpacker and runner and has been a part of the wilderness search and rescue community since 2005.
We are committed to finding, researching, and recommending the best products. We earn commissions from purchases you make using the retail links in our product reviews. Learn more about how this works.
Images courtesy of FITS