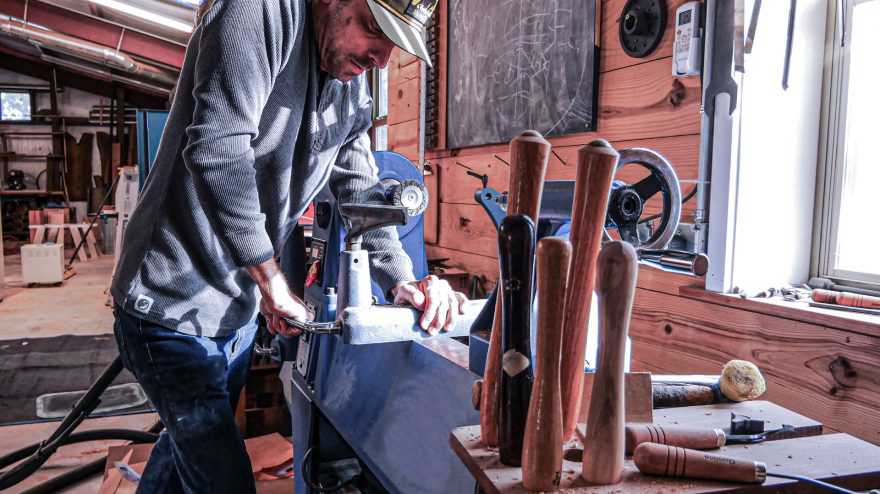 MuskOx's apparel taps into man's sense of adventure and knows the drive to embrace the ruggedness of wilderness and water
---
The longevity of a piece of clothing is often found in something as simple as … well, it's simplicity. It's the notion that back-to-basics styling will carry it through season to season, while being enhanced with some subtleties of modern luxuries (like hidden zipper pockets, thumbholes and sunglasses holders) as well as performance components. These are the kinds of features that startup menswear brand MuskOx delivers in its line of flannels, pullovers and, most recently, sportswear collections. To go inside the brand and see what they're all about, we get Unpacked with MuskOx.
If the company isn't on your radar yet, it may be because the brand was founded as recently as 2019 — but it has expanded its offerings in just a short time. MuskOx founder Brad Hoos said that his target audience — the herd of "MuskOx Men," as they're called — consist of adventure-seekers who brings a spirited approach to their journeys and to life. It's why Hoos infuses technical features into the clothing designs, while also focusing on a fit that will make men look good along the way. 
"We build our brand to fit our customers' needs, not necessarily to make an outlandish statement. MuskOx men appreciate simplicity in design and functionality in our features," the founder says. "We promote a culture that is steeped in functionality, versatility and genuinity (yes this is a word). MuskOx Men are the type of guys to put their head down and get the job done. No flash required."
I can vouch for that. I wore MuskOx's American Hoodie on a camping trip in early March, where it got so cold that snow dusted the top of my hammock fly and my shoe prints below solidified into ice. The hoodie, classically styled with a kangaroo pocket, helped insulate me well that evening. It was is wonderfully soft, both inside and out, which is something that doesn't necessarily translate merely by looking at photos. But that's just it with MuskOx — these are clothing items that you should feel and wear to fully appreciate.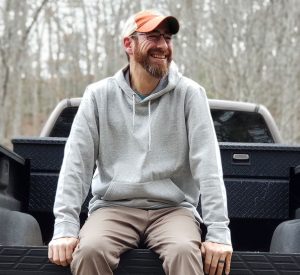 What the MuskOx Brand Stands For
MuskOx knows the drive that we all have to discover and embrace the natural world around us. No matter how successful we become or where we choose to call home, the wilderness will beckon. It's the concept that's built into MuskOx's "Roam Freely" mantra — that need to find even the smallest ways to escape to nature everyday.
"We're all so damn busy with so many things going on — and at MuskOx we work hard every day to simplify the lives of men and help keep their spirit of adventure burning bright," Hoos says. "We build quality clothes that last — and clothes that look good in different settings so men can get out and seize that opportunity to enjoy nature whenever and wherever it may occur."
Comfort is a key driver in all of MuskOx's apparel, but there's also a keen understanding that while comfort may be king, the clothing still has to hold up to an active lifestyle. So while some garments might be primarily or fully cotton, other pieces tap into a poly blend. The items are designed in Detroit, distributed from Texas and manufactured in half a dozen countries around the world, including the U.S.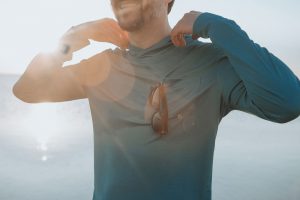 MuskOx's Collections
Much of the excitment happening at MuskOx recently revolves around a summer line, which delves into more lightweight designs than previous collections, without straying too far from what has proven successful for the brand.
To emphasize the dynamic in styling, one only has to look at what's popular among warm- and cold-weather MuskOx fans:
Among summer products, the Charleston Performance Hoodie, a sun hoodie made for outdoor adventures near the water, is the most popular. It is constructed with a technical, lightweight performance fabric that keeps you 14 percent cooler. This hoodie is designed with UV blocking, moisture wicking and quick-drying fabric, and it comes equipped with a unique sunglasses holder so you don't ruin your day by losing your cool.
For chillier weather, the Grand Flannel stands tall. This button-up is a high-quality double-brushed flannel that is surprisingly soft and strong enough to keep you going everyday. "Simply put, it's the best flannel out there," Hoos says.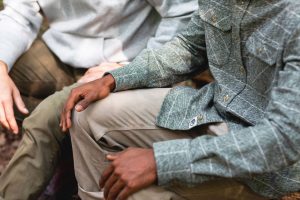 And there is so much in the details of these items that are worth noting. As a startup, the company pays particularly close attention to customer feedback and to what its ambassadors (primarily YouTube and Instagram creators who are steeped in outdoors pursuits) have to say. For example, MuskOx found that many people, upon removing their sunglasses, would place them in either the neck of their shirt or in their breast pocket. Yet, in those instances, when those people would bend over, it's almost like the glasses jump out of their shirt. So, in MuskOx's newest collection, they added a sunglass loop to the breast pocket of some shirts to keep those expensive shades safe from scratches and breaks.
Yet another example is through master woodworker Andy Rawls (who's shown in the main image on this article). Rawls showed MuskOx that men in his craft often store their pens or pencils in their breast pocket. But that means the utensil can slip around there, so the company added a pencil slit in the breast pocket of the Rawls Work Shirt (named after him, of course), making it easy to store and access writing instruments.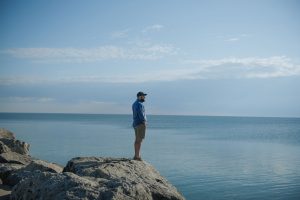 Embracing a Vision
Many of us these days aren't content to drop our hard-earned cash on the closest henley or hoodie we can get our hands on. Rather, we want to feel like we're part of a unified vision of adventure, fashion, ruggedness and lifestyle. It's about being part of a culture. A shirt doesn't always have to be more than shirt, but the fact is, it can mean more than just a shirt.
I appreciate clothing and brands that can live up to the activity I put them through and that can be highly versatile and durable along the way. And I like to know that there's a greater mission to the company ethos than just meting out quarterly dividends.
Hoos says: "We set out to make life easy for men by crafting clothing that rises to every challenge, like the men we build them for."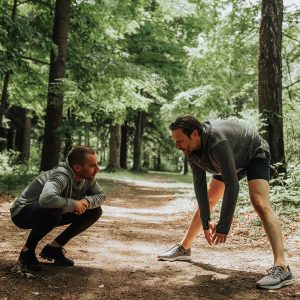 Unpacked is a regular feature on ActionHub to help people discover new performance and lifestyle items that will amplify their adventures and outdoor experiences. This article was not sponsored by the brand or any PR/marketing agency, and all opinions are that of the ActionHub writer.
Primary images by MuskOx; American Hoodie image by Ryan Tipps