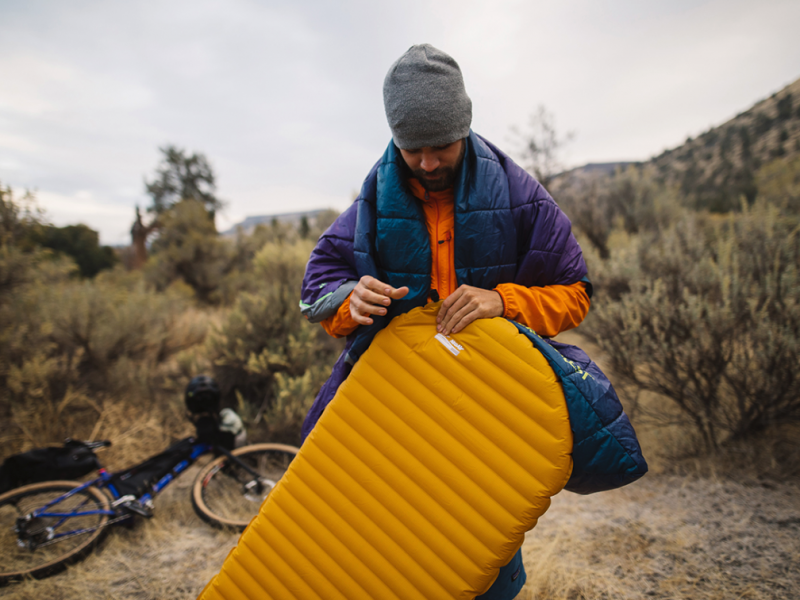 Camping can be an amazing experience for any lover of the outdoors, but even the most experienced campers know that camping doesn't always come with comfort.
These camping essentials, however, can help you get a good night's sleep in the great outdoors.
Sleeping Bags
Of course, you can't sleep well while camping if you don't have a sleeping bag, but there are countless sleeping bags available, so how do find the right one for you?
Be sure to pick a camping bag that's appropriate for the temperatures you will be camping in. You don't want to stay awake all night shivering or sweating just because you picked the wrong sleeping bag.
You also don't want a sleeping bag that's too heavy. Find one that suits your camping style.
An example of a good sleeping bag is Patagonia's 850 Down Sleeping Bag. The bag is mummy-style with a front zipper and has the flexibility for its camper to move around at night, so it's not as restricting as many sleeping bags.
Sleeping Pad
You have your sleeping bag, and adding a sleeping pad can make your camping experience even more comfortable.
Therm-a-Rest's NeoAir XLite is a great sleeping pad. Its largest size, a long, is a just a pound; its regular size weighs 12 ounces; and its short size weights just 8 ounces. The mattress also folds into the size of a one-liter bottle. Its weight and size make it easy for campers to transport
The Therm-a-Rest NeoAir XLite sleeping pad is 2.5 inches thick and features a special reflective layer that helps return body heat back to the user.
Inflating the Therm-a-Rest NeoAir XLite is easy too; it takes just two minutes to blow up.
The sleeping pad also has positive reviews: Outdoor Gear Lab gave the Therm-a-Rest NeoAir XLite pad 5/5 stars and said that "it wins our Top Pick Award for Ultralight because for 12 ounces you won't have to sacrifice a thing when it comes to comfort and packed size."
Camping with a comfortable sleeping pad is proof that you don't always need a bed to get a good night's sleep.
Pillow
Of course, a pillow can make any sleep better. It's not practical to bring a normal pillow camping, but inflatable pillows can do the trick.
A good inflatable pillow is the MontBell UL Pillow, which keeps your head comfortable at night and is easy to deflate for storage.
Ear Plugs and Eye Mask
If you are sensitive to noises or light, don't forget to wear ear plugs or an eye mask.
You can have the most comfortable sleeping situation possible, but if nearby campers are making noise all night or the sun rises bright and early, you could sacrifice sleep.
Camping and a good night's sleep don't have to be an either/or choice. You can have the benefits of both good camping and good sleep.
We are committed to finding, researching, and recommending the best products. We earn commissions from purchases you make using the retail links in our product reviews. Learn more about how this works here.
Image is courtesy of Thermarest