[starreviewmulti id="2" tpl="20" style="nethub"]
Trusted Review™ Scorecard
Average Score: 4.5 out of 5.0
Each product or service is rated on Quality, Reliability, Price/Value, and Referability. Each area has an individual score, and creates an overall Trusted Review™.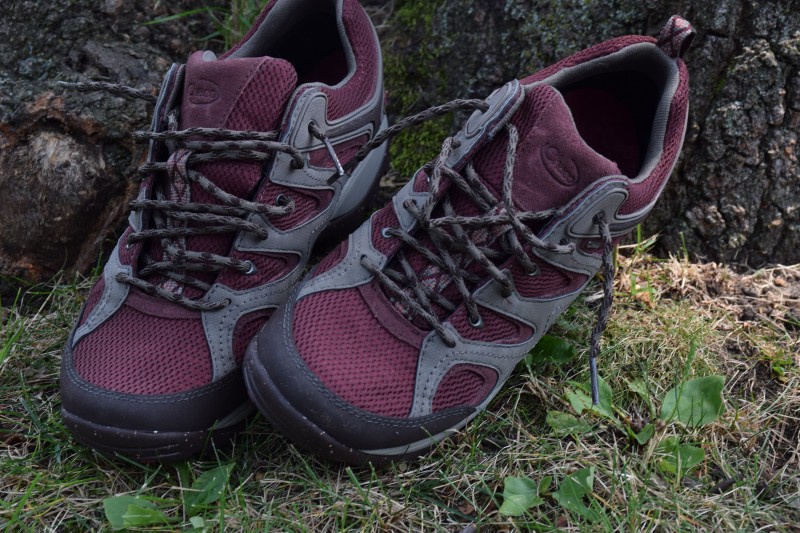 I was first able to check out the Chaco Layna Waterproof shoes a few months ago at the Outdoor Retailer Winter Market. I was immediately drawn to the style because, although they're perfect for light hiking, they look more like an everyday tennis shoe. Always impressed by versatile gear that can work on and off the trail, I was eager to test them out. When Chaco sent me a pair to review for ActionHub, it didn't take long for me to plan a few short hikes so I could see how they would perform.
While I own a number of hiking boots as well as several lightweight tennis shoes, I didn't have anything that was in between the two. My rugged hiking boots are ideal for those northern Michigan camping trips I do a few times each season, but they're kind of overkill for the light hiking I do in the Detroit area—and yes, there are hiking trails around here. But without mountains, or even big hills for that matter, the ankle support is somewhat unnecessary. Although the Laynas aren't necessarily advertised as solely a light hiking shoe, that's primarily the environment in which I wore them.
The shoes feature deeper lugs, more rugged outsoles, waterproof PU-coated leather, the LUVSEAT PU footbed, and molded rubber heel stabilizers. "To keep feet grounded on rough terrain, a deeply lugged, non-marking EcoTread 25 percent recycled rubber outsole provides excellent traction," the product description reads. They're basically super tough tennis shoes that are perfect for a variety of activities outside, but are fashionable enough to wear on a daily basis.
I first used the shoes on several shorter hikes near my house. Having reviewed several pairs of Chacos in the past, I was well aware the initial strange feeling of the LUVSEAT footbed would soon become my favorite feature of the shoes. Although initially uncomfortable, you will quickly get accustomed to the feel as your feet sink in—your feet will also thank you after long wear.
I've started checking out some new parks and trails, and some have surprised me with paved paths. On these occurrences, I felt a bit ridiculous with tall hiking boots on. These shoes were the perfect combination of my boots and gym shoes, preparing me for both dirt hiking trails or paved paths through wooded areas.
Although the shoes are prepared for rugged terrain, they aren't too heavy. Walking was extremely easy, and I always felt like I was floating in each stride because of the thicker sole. I wore the shoes with a mid-height hiking sock—a pair that normally sits in the bottom of my dresser drawer because they're too short for my traditional hiking boots. Overall, the shoes were great. I didn't experience any rubbing or irritation around the ankle because I was wearing the right sock and although the shoes were a bit large (not a sizing error, just me going with a larger size because that's what was available at the time), they still performed well. I simply tightened the laces a bit more than usual.
In addition to easy hiking, I wore the shoes on a bike ride around town, during which I noticed how great the traction really is. I'm accustomed to my shoes sliding on the pedals since I mainly ride my bike in sandals (dumb, I'm aware) to a nearby grocery store. Upon arriving home from work at around 5:30 each weekday, I sometimes feel trapped from being inside an office building all day. On days like this, I like to take a walk around my neighborhood, which is quite large and connects to the downtown area of the city. I wore the shoes on a number of these days, and was impressed by how well they functioned as an everyday walking shoe. Again, without looking like overkill but at the same time providing way more comfort than my minimalist running and gym shoes.
As far as style, I usually go with neutrals and earth tones. While I normally wouldn't choose burgundy, I fell in love with these shoes and the color. Not only does the burgundy allow for the shoes to transition well into daily wear, but they spiced up my collection quite a bit.
I had my mother—the first person to teach me the positive impact the outdoors has on overall health—test them out as well. We wear roughly the same size shoe, but she's about a half size bigger and prefers thicker hiking socks. Because the shoes were a bit large on me, I opted for the Chaco Azula Mid Waterproof Hiking Boots while she wore the Laynas, which fit her perfectly. I lent her the shoes for a hike we went on together, and it's safe to say she was impressed—she still hasn't returned them.
I love my mother but I'll be honest in saying that if she doesn't like a product, especially shoes, she'll shout it from the rooftops. She's very picky about it having good arch support, comfort, and stability. Luckily, she was very happy with the Laynas. "There's instant comfort, yet very good initial support as well," she said. After a few wears, she was confident in saying, "Bottom line: The absolute best combination of comfort and support I've ever experienced in a shoe or boot that I hadn't broken in."
The shoes are available in Dark Shadow, Black, and Cabernet (my pair), and they also come in a men's version—the Holbuck Waterproof, which are available in Dark Shadow and Bungee colors.
The Chaco Layna Waterproof will officially be available for purchase within the next week or so. To browse other shoes, visit the Chaco website and stay tuned to the ActionHub Outdoor Retailer Summer Market landing page, where I'll report on the newest styles from Chaco and a variety of other brands at the convention.
Images by Ariel Black