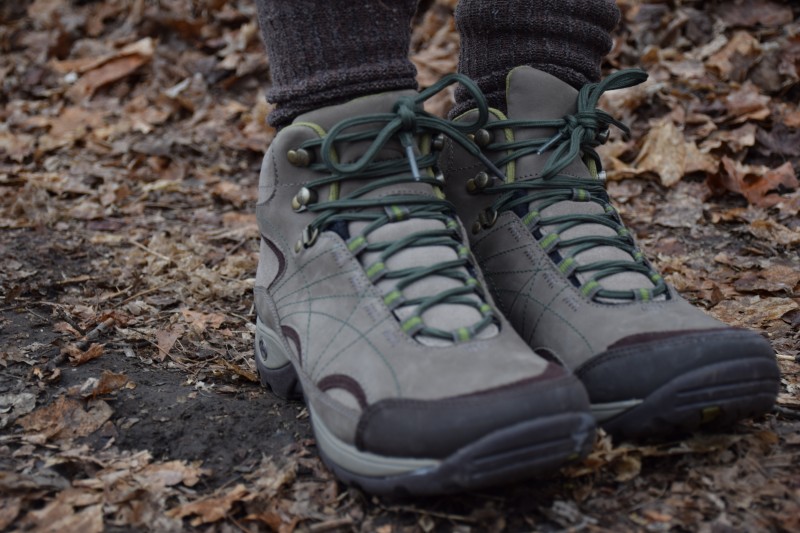 I was recently sent a few pairs of Chaco shoes to review for ActionHub, and as soon as spring appeared, I decided to test out the Azula Mid Waterproof hiking boots. Although a bit of rain took over what was supposed to be a sunny day, the conditions on my second day of reviewing provided a better means by which to test the boots' waterproof capabilities.
While the shoe is available in both a waterproof version and a mid-mesh version ($125), I'd suggest spending the extra few bucks and going with the waterproof ($140). Even on a two-hour hike that was close to civilization, I found myself attempting to hop over mud puddles quite a few times. Keep in mind I reviewed the shoes this spring in Michigan, so it all depends on where you'll be hiking primarily.
Before we move on, let's take a look at the Chaco boots specs:
Upper:
Premium water-resistant nubuck and water-resistant suede upper with gusseted tongue to keep out debris
Durable rubber toe cap and heel, polyester jacquard webbing pull tab, and antiqued metal hardware
Seam-taped waterproof bootie
Polyester mesh lining
Midsole:
Removable, mesh lined, women's specific LUVSEAT™ polyurethane footbed
Lightweight, cushioned EVA midsole with ESS shank for support and stability
Outsole:
• Non-marking Active Adventure outsole with EcoTread™ rubber and 25% recycled content
• 5mm lug depth with all-purpose tread design and versatile trail-ready grip
As far as ordering the correct size, Chaco is pretty spot on. I reviewed the size I normally wear for my day-to-day shoes, and there was a bit of extra room—just enough for a hiking sock of medium thickness (I wore Farm to Feet's Madison). After several uses, you can begin to tell the shoe is forming to your foot. Because of this, loaning the boots to friends isn't recommended. 
I tested the boots on two occasions, the first of which I sustained a small blister on my left heel. Because this was my first time hiking since January (when I wore my broken-in Sorel boots), coupled with it being my first time wearing the Chaco boots, I believe blistering wouldn't be a common occurrence with the shoes. Also, my left foot is slightly bigger than my right, which most likely was the main factor.
The only other thing I found a bit uncomfortable was when I failed to secure the tongue of the boot directly in the middle of the laces. The upper of the shoe began to rub on my foot, but once the tongue was secured again in the middle, the problem went away. Just make sure your laces are tightly done up in the first place so the tongue doesn't shift mid-hike.
One of the only problems with the fit is that the shoe seems to fit well for narrow to normal feet, which worked for me, but are probably too small from the middle to toe section of the shoe to accommodate wide feet. If you have wider feet, this probably isn't the shoe for you, although that problem may be solved when the shoes get broken in and become molded to the feet.
The main difference between the Azulas and other hiking boots I've worn in the past is the LUVSEAT. I'm accustomed to the increased structure, especially around the ankle, that is offered by hiking boots, but often times the cushioning is lacking. With these Chacos, your foot receives a great combination of soft cushioning and structure. 
"Every single Chaco shoe is made with the LUVSEAT footbed—a PU footbed that cradles your foot beyond belief," said Kara Armano from Backbone Media. "It's certified by the APMA, which is the American Podiatric Medical Association. They really have a great footbed that supports your entire structure."
To learn more about Chaco, check out what the company has planned for its 25th anniversary beginning this month.