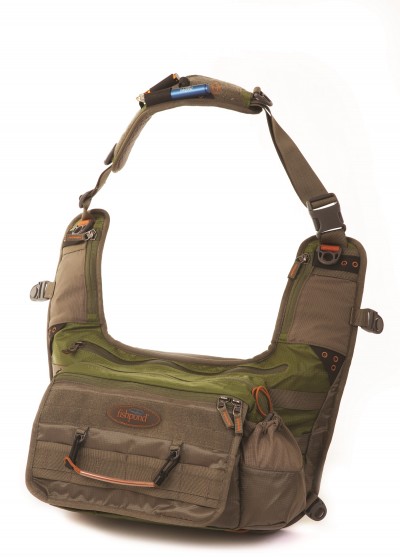 At last week's Outdoor Retailer Summer Market, I was able to check out the new fly fishing products from fishpond that are scheduled for release in 2015. In addition to its own products, fishpond has partnered with Chaco and VOORMI to create a collection of shoes and apparel, respectively, that are made specifically for anglers.
Chaco has been creating shoes for use in and around the water for years, so the partnership with fishpond seemed very natural, explained Kara Armano from Backbone Media. The cross-brand brainstorming resulted with the creation of the fishpond Chaco Flips ($70) and the fishpond Chaco Z/2 ($110). Both sandals feature the Vibram Megagrip non-marking outsoles, durable webbing, and Chaco's LUVSEAT footbed that is ideal for long days on the water.
"To make this collaboration even more meaningful, with each pair of fishpond Chaco Flips or Chaco Z/2 sold, $2.50 and $5, respectively, will be donated to the Western Rivers Conservancy (WRC)," fishpond's Ben Kurtz said in a news release. "WRC protects river ecosystems on over 50 western streams by acquiring critical habitat and providing public access for long-term conservation management, so river fiends like us see this partnership as a great benefit to the rivers and streams we love."
As for apparel, there are three fishpond VOORMI collaboration pieces featured in the line. All American-made products, the line includes the Men's Access Pullover ($199.95) and the Men's and Women's High-E Hoodie ($229.95). Although pricey, these items were made specifically for anglers, without a detail forgotten. The Chaco sandals will be available March 1, 2015 and the VOORMI apparel will be available November 1, 2014.
As for the non-partnership products from fishpond, there are a number of new items to announce for release in spring 2015. Also new is the introduction of CYCLEPOND, a fabric made from recycled fishing nets throughout fishpond's luggage, gear bags, packs, etc.
The fabric is included in the Westwater Roll Top Backpack ($149.95), which is a pack that is able to be completely submersed. It has fully adjustable straps and a snug waistband, which Armano said is great for not only fishing, but also on backpacking trips in wet regions such as the Pacific Northwest. In regard to how the product has been received in the industry so far, it won the Best Eco-Friendly Product award at the International Fly Tackle Dealers (IFTD) show in Orlando this summer.
Also new is the Delta Sling Pack ($149.95), which is military inspired and easy to switch between shoulders. It has a number of storage compartments and truly includes everything anglers need. "A magnetic front pocket holds fly boxes, rain jacket and lunch, and a built-in Velcro attachment in the main pocket accommodates a pistol. The structured mesh panel on the back helps comfortably carry heavy loads in hot weather," the product description reads. The Sling won the IFTD award for Best Chest Pack/Vest.
The River Bank Backpack ($149.95) is also a new addition, which combines an old-school look with new-school technology and features. It has a CYCLEPOND interior, Velcro laptop sleeve, and plenty of zippered pockets. It's perfect for a day hike or even for daily wear.
In the accessories department, fishpond will be introducing three new sizes from the Nomad Net Collection—the Nomad El Jefe ($199.95), the Nomad El Jefe Grande ($219.95), and the Nomad Native ($125.95). The El Jefe measures 41.5 inches in length and has a 13 x 21.75 inch head. The El Jefe Grande measures at 52.4 inches in length with the same size head. The Native is 25.5 inches long with a head size of 8.5 x 17 inches. The company will also be selling the fishpond Sushi Roll ($29.95), which can carry large streamers, the Headgate Tippet Holder ($19.95), and the Barracuda Aluminum/Razor Clippers ($29.95 and a replacement blade for $4.95).
In addition, the CYCLEPOND fabric is also being added into a number of existing fishpond products—Wildhorse Tech Pack, Wasatch Tech Pack, Vaquero Vest, Gore Range Tech Pack, Arroyo Chest Pack, Waterdance Guide Pack, Nimbus Guide Pack, Flint Hills Lumbar Pack, and Yellowstone Wader/Duffel Bag.
To learn more, read the ActionHub feature story about fishpond's owner, John Land le Coq and our review of the fishpond Ice Storm Cooler and lilypond tote. To check out more products, visit the fishpond website and look through the gallery of new products below: