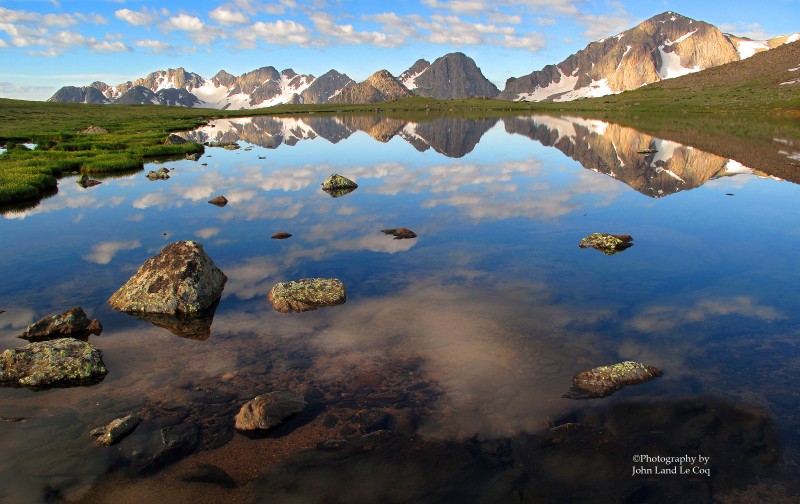 John Land Le Coq co-founded fishpond back in 1999, a company dedicated to creating fishing and outdoor gear, and since then has used the company as a voice to represent the outdoors.
Prior to starting fishpond, Le Coq was a commercial advertising photographer and founding partner of the company Case Logic that created audio storage units and has continued to revolve around today's technology. It "kind of revolutionized the whole music industry" because at the time there weren't iPods and products like that, he said.
"When I sold Case Logic in the '90s, I moved back to Colorado and bought a ranch in the mountains, which is just this magical place," he said.
At this time, Le Coq was traveling more than 200 days a year for his work as a photographer and began to sense his life was in need of a change. Getting back into product development appealed to him, and the outdoor industry is where he wanted to place his focus this time around.
"Because I loved fly fishing, I saw a lot of holes in the market. There wasn't a lot of innovation–it was mostly old-guy vests–so I worked with a lot of color and reinvented a lot of categories in the fly fishing industry," he said. "We grew the brand [fishpond] based on function and demand."
Le Coq did not leave his love of photography behind on his journey of growing fishpond, but rather combined the two.
"Photography is still a critical part of my life," he said. "I use those images to support our brand."
fishpond's co-founder and co-owner Dave Thompson sold his share of the company last year to Charles H. Kurtz and his family, and two brothers in the Kurtz family are now working with Le Coq to help fishpond cater to the market and grow into the future.
"I have two great new partners who are 27 years old, and they just get it," he said. "They understand the value of the brand and everything it's doing. They're young, new blood and they run our operation center in Denver."
Le Coq explained how shared processes in business are just part of life.
"I don't think there's any ownership in anything in life," he said. "You're always going to be influenced by other people. They have good input and they have good ideas."
He said inspiration for the products comes not only from others, but from paying attention to the market and looking in unique places for guidance.
"I listen to a lot of people along the way, and we build upon what we've done in the past," Le Coq said. "I look at the function, for sure, but from a style [perspective], our products just feel different. It's just a little more outward from an aesthetics standpoint. I'm constantly looking at other product designs, not just those in the outdoor industry.
"I think passion is a great word. You can see it. You can feel it. When companies are passionate, they build new things," he said. "They're not trying to chase a dollar. There's passion to create, and that's why they're so good."
But Le Coq's passion for the outdoors is not just apparent through fishpond's products.
"Not only does he design all of the products for fishpond, he is extremely active in helping make policy changes and push legislation through that will help protect the environments where fishpond customers spend their time fishing, hiking, camping, and the like," said Kara Armano from Backbone Media, who works closely with Le Coq.
Le Coq said after the company gathered a large following, he began to understand what other doors fishpond was capable of opening.
"From an environmental standpoint, fishpond is a voice to reach out to Washington," he said. "Habitat is the key word, I just want to make sure people are conscious of what it means. Not from a fly fishing standpoint, but in general. Habitat is dwindling in America."
He has made two recent trips to Washington to share his insight on effective ways we can help preserve nature.
"I was invited to the White House for a round-table with the Department of the Interior, Fish and Wildlife, etc. to discuss the economic impact of recreation," Le Coq said. "A report showed that $650 billion in economic revenue is generated by the outdoor industry, and agencies are really listening, because this means jobs."
In addition to making these trips to share his concerns, Le Coq also does his part.
"I'm lucky to live on an amazing ranch. I put it on a conservation easement and we sold all the development rights, so my place can never be developed," he said. "I started working with programs like that. Habitat and stewardship are key, because recreation is the footprint to open the doors. To recreate, you have to have places to recreate."
Although Le Coq has thrown himself into his passion of protecting the environment, he said that passion does not come at a cost to the fishpond brand.
"We don't want to just chase revenues. Growth has to happen really thoughtfully," he said. "We don't dilute who we are as a brand. We build products with a soul."
Visit Le Coq's website for more information about his work and to view his photography.
Image by John Land Le Coq