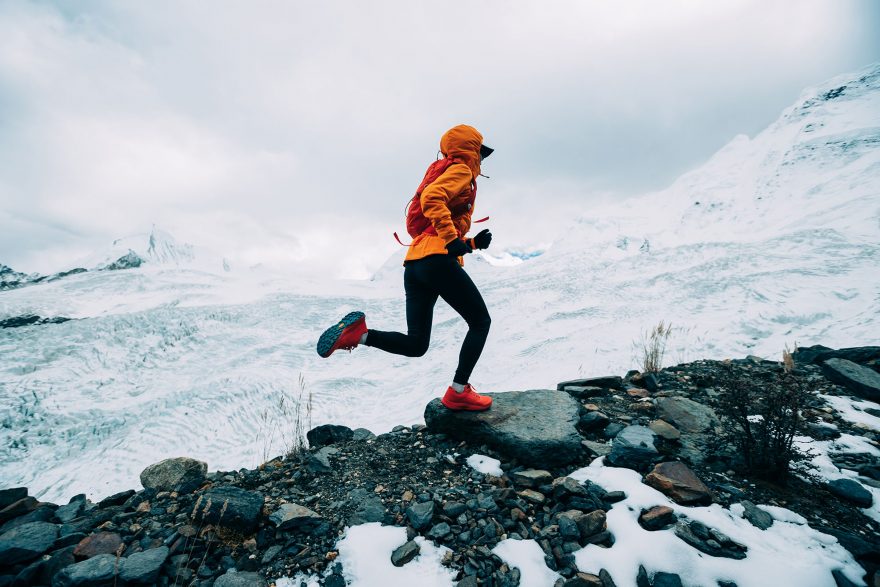 Running in cold weather affects your body vastly differently than a warm weather activity would. 
---
If you're a seasoned outdoor winter runner, you know how invigorating running in cold weather can be. You also know that keeping your head, core and hands warm are a few keys to a successful cold weather run — keeping frostbite at bay. 
For beginner runners, taking on the cold months to run outside has many surprising and proven benefits. It may seem a bit daunting at first, but if you prepare accordingly, you may just learn to love cold weather running. There are also a lot of physiological benefits to running in the cold.
Tom Holland, exercise physiologist and author of the book The Marathon Method, says, "The colder the weather, the less heat stress on the body, which makes it significantly easier to run."
From strategizing your outfits for an impactful outdoor experience to learning and understanding breathing in the frosty cold air, and exploring the physiology and benefits of running in winter months, there are many factors that will make for a great cold run.
Breathe and Pace Yourself
Breathe in, breathe out. In a runner's world, breathing and breath patterns are a huge part of having an effective workout. Having the proper techniques can set you up for an overall easier and more successful cold run experience.
Experts recommend inhaling through your nose and exhaling through your mouth during cold season runs. Breathing or inhaling through the nose can encourage the air to heat and moisten around you. Another benefit of nasal breathing is its effect on regulating your body's temperature.
But you'll want to pace yourself. One negative aspect of the nasal breathing method is not having enough oxygen circulating as mouth breathing would allow. So, you may want to opt out of intense runs during extreme cold to prevent shortness of breath or other breathing issues.
Wear Multi-Functional Headwear
Face masks, Buff brand multi-functional headwear, or balaclavas are a winter runner's "gold" as they can save your lungs and help keep you toasty. You may have seen runners on the trails or roads wearing face coverings as the weather starts to turn colder and wondered why they wear them.
Multi-functional headwear, made popular by the company Buff, is highly beneficial for runners. These products are versatile — you can wear them multiple ways like a hood or hat, facemask, bandana, or neck gaiter. They are lightweight, have UV protection, are quick to remove and dual serve as a sweatband around your head or wrist if needed. A good lightweight material to consider is Merino wool.
And one of the most important things multi-functional headwear does in cold weather in addition to keeping your neck and face toasty is heating and humidifying dry winter air. This prevents an unpleasant burning sensation that could happen in your throat and lungs.
Wear Base Layers and Gloves
When running, you want your gear and base layers to be as lightweight as possible. Layers are your best friend when running in the cold. Proper winter attire can make or break your workout and set you up for the most efficient run.
As we mentioned above, investing in a nice face covering can change your running game. But when it comes to dressing head to toe, think compression. You want clothing that is tight to hold in your body heat. Wearing form-fitting leggings and shirts will help blood flow and help with muscle support.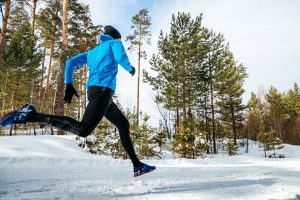 Base layer tights and shirts are always a key to staying warm and toasty. The best materials for base layers are nylon and polyester. Nylon is sweat-wicking, breathable and super stretchy, so you'll have a comfortable run. Polyester is nice as it's breathable, non-absorbent and durable.
We all know frostbite is never in style. Always cover your hands when running outside in the cold. Warm or cold hands will make or break a workout.
Lastly do not overdress; you want your body to naturally warm up. Overheating can lead to excess sweating causing sickness. You want to feel a little cold when starting your run. Always dress like it's warmer than it is.
Have Good Traction
One if not the most important running items for the cold season is shoes. Proper footwear is essential for winter runs. You need traction so you don't slip and fall.
Look for a winter running shoe with great traction that will help you be stable in snowy/icy conditions. And if it's slick out or icy on the trails, a great option is to wear spikes or "crampons." Crampons are traction devices that attach to the bottom of your regular running shoes and give you flexibility and good traction on your feet. For situations that aren't as extreme, choose a pair of shoes that have good lug depth.
Understand the Physiology of Cold Weather Running
In an article in Canadian Running Magazine, Brittany Hamilton unpacked the physiology of running in cold weather and how you can counteract those physiological adaptations.
First, cold temperatures affect your performance, muscle strength and metabolism — decreasing the strength of your muscles the colder it gets.
Second, cold weather can affect your cardiovascular system and VO2 max (the maximum rate of oxygen your body can use during exercise). Running in the cold can also increase your heart rate so you may feel fatigue quicker.
And lastly, Hamilton explained how cold weather can affect your running performance because it changes the way your body metabolizes fuel.
"When you run in the cold, your body uses up its glycogen stores at a much higher rate," writes Hamilton. "One reason for this is shivering, which can deplete your glycogen stores five to six times faster than the normal rate."
If you're a smart runner, you'll take measures to counteract these negative physiological adaptations. Do a proper dynamic warm up indoors to increase blood flow — like lunges and squats. Wear the right lightweight clothing and fuel up before heading out. Make sure you eat enough carbohydrates within 24 hours of your cold weather run. You could also bring gels or chews with you if you plan to be out a long time.
---
Suzanne Downing is an outdoor writer and photographer in Montana with an environmental science journalism background. Her work can be found in Outdoors Unlimited, Bugle Magazine, Missoulian, Byline Magazine, Communique, MTPR online, UM Native News, National Wildlife Federation campaigns and more.