How to Choose the Best Crampons for Your Outdoor Activities
Here are the best crampons for moderate hiking, advanced hiking, and trail running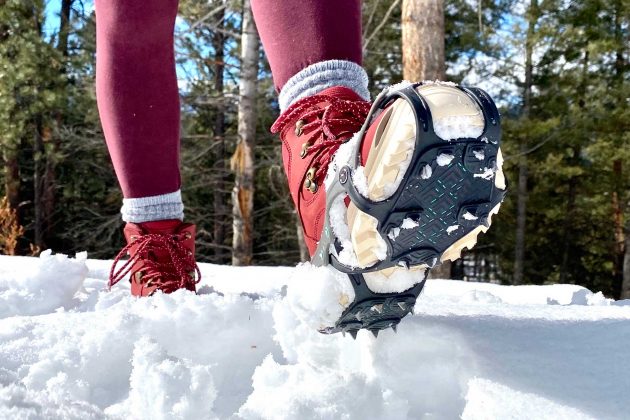 If you've ever slipped while hiking on icy trails in the winter, you'll appreciate the function of crampons– known more commonly as ice cleats, traction devices or microspikes. Hiking can be more challenging in the winter when trails accumulate frozen snow, especially if you're hiking with just trail shoes or hiking boots without any extra gear. Crampons can make a big difference in your stability on trails and give you the traction you need to help reduce your chances of slips and falls.
You can choose from a few different types of crampons as manufacturers offer strap-on bindings, step-in bindings and hybrid bindings. But the most commonly used crampons for hiking and trail running on semi-steep or flat terrain are flexible crampons, or strap-on bindings — which is what we'll cover in this article.
Over time, product developers have designed crampons for more specialized activities. For general hiking or "snow walking" in an inch or two of snow/ice, you'll want a strap-on flexible construction crampon with about 8 to 10 points. For more advanced hiking on steep terrain, you'll need a more rugged crampon with 10 points or more. For trail running, you'll want a crampon with a lot of flexibility to it so you can comfortably run while staying sure-footed on the trail.
If you're planning to hike on trails covered with soft and deep snow, you'll want to skip crampons altogether and consider wearing snowshoes. Here's an article on choosing the best snowshoes for beginners. If you're hiking on icy trails, you may want to consider a good pair of gaiters (an added fabric that goes over your footwear to protect you from the elements, like water, snow and mud) and a pair of sturdy hiking poles with snow bucket attachments.
Crampon frames
You can choose from a few different types of crampon frames: steel, stainless-steel and aluminum.
Steel crampons are ideal for general hiking and walking as the steel gives you great grip in icy terrain.
Stainless-steel crampons give you more corrosion resistance if you'll be using them heavily throughout the winter.
Aluminum crampons are ideal for more advanced use, like alpine climbs but will wear out quicker on rocky terrain.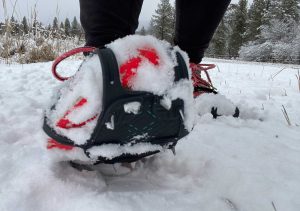 Here are seven slip-on crampon recommendations for moderate hiking, advanced hiking, and trail running:
Suzanne Downing is an outdoor writer and photographer in Montana with an environmental science journalism background. Her work can be found in Outdoors Unlimited, Bugle Magazine, Missoulian, Byline Magazine, Communique, MTPR online, UM Native News, National Wildlife Federation campaigns and more.
Feature images by Suzanne Downing
We are committed to finding, researching, and recommending the best products. We earn commissions from purchases you make using the retail links in our product reviews. Learn more about how this works.