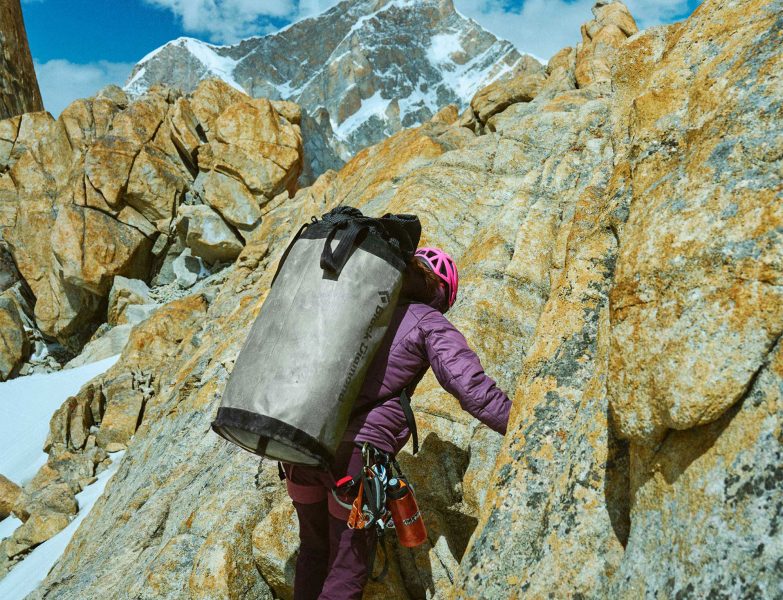 The climbing industry is out to prove that you can actually teach an old dog new tricks. Rather than let stalwarts from the past simply rest on their laurels, some of the most integral and influential brands in climbing are systematically updating old classics so that they can keep up with the modern age.
Companies such as Black Diamond, Petzl, and Misty Mountain, which all helped cement the very foundation of climbing culture, realize that there's far more value for everyone — both climber and manufacturer — in bringing these classics back to life than allowing them to fade into the background as nothing more than relics from their glory days.
Building a Better Mousetrap
Black Diamond has chosen to revisit its lineup of big wall gear, while Petzl is giving its quintessential Spirit carabiner and quickdraw a full makeover. Misty Mountain, one of the first established climbing brands in the history of the sport, has then overhauled its Ground Up series of harnesses in the name of efficiency and durability.
Going back and making changes to past releases instead of always focusing on cutting-edge innovations means adopting a progress-over-perfection mindset.
There's no such thing as the perfect piece of gear, and the need for a new version doesn't erase the impact of the original. If anything, it says that a brand created something worth keeping in circulation.
"When we launch a product," explains Luke Winkler, climbing product line manager with Black Diamond, "it's the best version of that thing that we can create after two, three, even four or more years of work and field test feedback loops. But fast forward five years, and styles or needs have changed. We can now build off of this awesome base that we've established, and get an even better product that fits today's — or better yet, tomorrow's — climber's needs."
Harder, Better, Faster, Stronger
In a sport like climbing that's seen massive growth in recent years (and looks nearly unrecognizable compared to its early days of swami belts and hip belays) updates aren't just desirable, they're necessary.
"So much has changed in the way people climb, even just in terms of big wall climbing," Winkler notes. "Faster ascents, harder routes, insane Meru-style expeditions. … Couple this with the material and manufacturing technologies available now compared to 15 years ago, and it's clear there were a lot of things that needed to be done in that lineup to bring it into the modern age."
Even if a product is technically still functional in today's climbing world, revisions can improve someone's experience so drastically that simply covering the bases doesn't cut it anymore. Comfort, longevity, sustainability, and portability all play into a climber's experience with a piece of gear in addition to just getting them to the top alive. Modern climbing often prioritizes performance on difficult terrain over mere completion, which means that the equipment that supports these endeavors has to up the ante as well.
What's In Store
Black Diamond's entire line of big wall equipment is coming back with fresh designs and new names to match. Of special note, the Perch Portaledge will replace the Cliff Cabana, complete with all new materials and features designed to increase usability in precarious circumstances at such great heights. You can expect lighter components like Dynex grid fly fabric, a quick-assembly frame, and more internal space while the packed size actually slims down.
Another key upgrade comes in with the Long Haul harness, a huge improvement on the original Big Gun from both an experience and safety perspective. This new version clocks in at 50 grams lighter with modern design details like a new colorway, infinity stitching around the belay loop, softer edging, thinner loops, and a lower profile back panel. Haul bags, ladders, ascenders, slings, and other tools round out the modernized collection.
Petzl has then redesigned one of their most outstanding items, the Spirit carabiner and quickdraw. The upcoming model will be smaller both vertically and laterally for a carabiner that fits better in the palm of your hand for easier, more seamless maneuverability. Smaller size also means lighter weight, with each carabiner alone weighing two grams less than the previous version and four to five grams less for a full quickdraw.
These differences seem insignificant on their own, but add up quickly when you're dragging a whole rack. They'll also be available in six different colors instead of just the standard orange and silver, for customization purposes and better organization in complex gear scenarios (on top of great aesthetics).
From Misty Mountain, look out for enhanced Bolt and Intrepid harnesses, the best bet for sport climbers from this brand. While Misty Mountain mainly focuses on burlier designs for longer adventures, these new designs make sure that they're still able to serve the whole spectrum of climber types for those that appreciate the brand's signature no frills, all function approach.
These fixed and adjustable leg loop models both feature gear loops in the contemporary style, pointed down instead of out and offset for more efficient racking. They're now more durable and supportive thanks to the addition of "tacware," a new material designed to help your harness better withstand brushes with the many elements climbers encounter even on single-pitch objectives. Misty Mountain also addresses one of the major complaints about lightweight, low profile harnesses like these: folding in on themselves from a lack of structure. The Bolt and Intrepid err on the stiffer side compared to other harnesses in this category, for a compromise between old and new school design mentalities.
Each of these new-and-improved releases roll out early next year in the Spring of 2023.
---
Lucie Hanes is an avid writer and adventurer on rock and trail with a passion for sharing her outdoor enthusiasms through journalism and mental strength consultation.