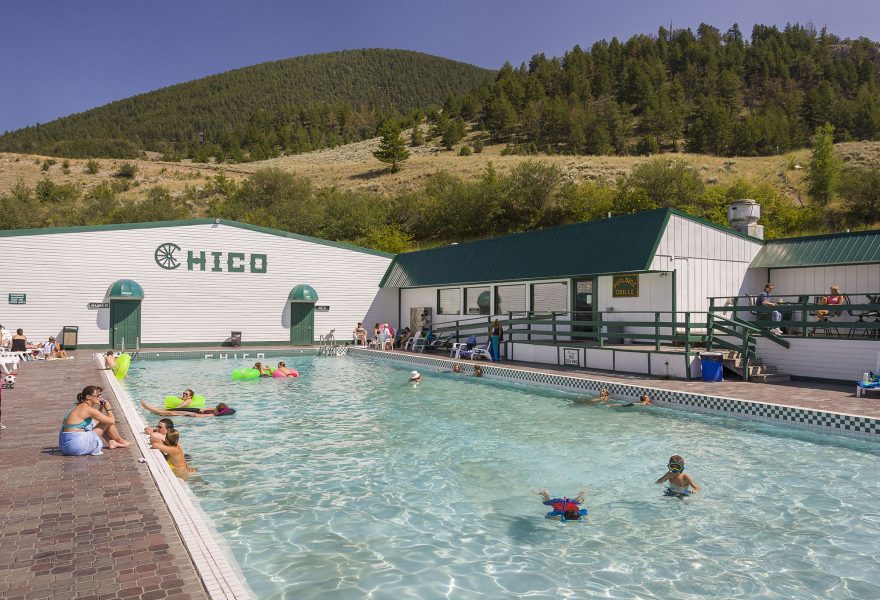 If you're visiting Montana, there's a lot to see. Known as "Big Sky Country," the state lives up to its name with an unobstructed skyline paired with minimal light pollution — even allowing you to enjoy a view of the Milky Way outside of the main cities like Bozeman, Billings and Missoula. And on a clear night you can stargaze while taking in the beauty of seemingly endless layers of stars. You can also visit two National Parks, explore more than 3,000 lakes and reservoirs and choose from thousands of miles of hiking terrain to get your boots dirty. Plus, can find some of the best hot springs around!
Many people don't realize that Montana is also home to 27 natural hot springs. And after a day outside adventuring, it can be nice to soak in a natural hot spring and rejuvenate. And even stargaze from the serenely lit pools.
Hot springs are geological wonders. These pools of water — warmed by geothermal heat rising up from the earth — range from warm to extremely hot. When collected into commercialized pools, these inviting natural hot tubs contain minerals that scientists report can have therapeutic properties. Some hot springs contain minerals like calcium that can benefit your bones and sulfate that can help rid your body of toxins.
The therapeutic properties of natural hot springs along with Montana's mountain landscapes add to the popularity of soaking in hot springs. You can purchase a day pass for most of Montana's hot springs, and the ones recommended here also offer lodging on site, so you can soak multiple days before heading home.
Whether you're curious what it feels like to soak in a natural hot spring, or you're a seasoned hot springs visitor, a trip to Montana to enjoy natural hot springs won't disappoint.
Here are my recommendations for a recovery day at one of Montana's three best hot springs:
Bozeman Hot Springs
Nestled just eight miles west of Bozeman, Montana, Bozeman Hot Springs is known as one of the best natural hot springs in the state. You can choose from 12 pools ranging in temperatures from 57 to 106 degrees, and you'll find both indoor and outdoor pools to soak in. Open year round, you can use the hot springs every season.
Enjoying the hot springs at night with lighted pools gives the hot springs an elevated feel. You can also try taking a polar plunge in one of the coldest pools or take a break in the dry sauna. The hot springs are family friendly, and if you schedule your visit right, you could get to listen to a band.
There's a campground next door to the hot springs where you can book an RV site, tent site or even a one- or two-bedroom cabin.
---
Fairmont Hot Springs Resort
If you're traveling with kids, Fairmont Hot Springs Resort in Anaconda, Montana, is a one-stop resort destination with natural hot springs paired with a 35-foot water slide, indoor and outdoor pools, guest rooms and suites onsite, in addition to a café and a fine dining restaurant all in one place. Located off exit 211 near Butte and Anaconda, the resort sits only a few miles from the highway. It's also a popular midway destination for people traveling between Yellowstone National Park and Glacier National Park.
The natural hot springs fill four pools for you to enjoy — two oversized Olympic swimming pools and two mineral soaking pools. All of the pools are fed by 155-degree natural hot spring water and cooled to various temperatures. There's also a fitness center, spa and a steam room so you can enjoy an entire therapeutic day in addition to soaking in the hot springs.
---
Chico Hot Springs Resort & Day Spa
Located about 30 minutes from Yellowstone National Park, Chico Hot Springs offers you a rustic Montana experience with two open-air natural mineral hot springs pools and a view of the Absaroka Mountains. It's also a great atmosphere for stargazing at night while enjoying the pools as the light pollution is minimal.
You can choose from different lodging accommodations and there is a historic dining room on site that gives you a feel of the West in addition to a poolside grill and an espresso bar.
In the late 1800s, miners working claims nearby began capturing the hot springs water into wooden tubs inside a small building, and the original owners, Bill and Percie Knowles, established the Chico Warm Springs Hotel in 1900.
And still today, you can enjoy soaking in the hot springs which have a variety of minerals like sodium sulfate, calcium carbonate and silica (known to help soften skin).
If you're interested in visiting undeveloped hot springs in Montana, you'll find more information on montanahotsprings.net.
---
Suzanne Downing is an outdoor writer and photographer in Montana with an environmental science journalism background. Her work can be found in Outdoors Unlimited, Bugle Magazine, Missoulian, Byline Magazine, Communique, MTPR online, UM Native News, National Wildlife Federation campaigns and more.