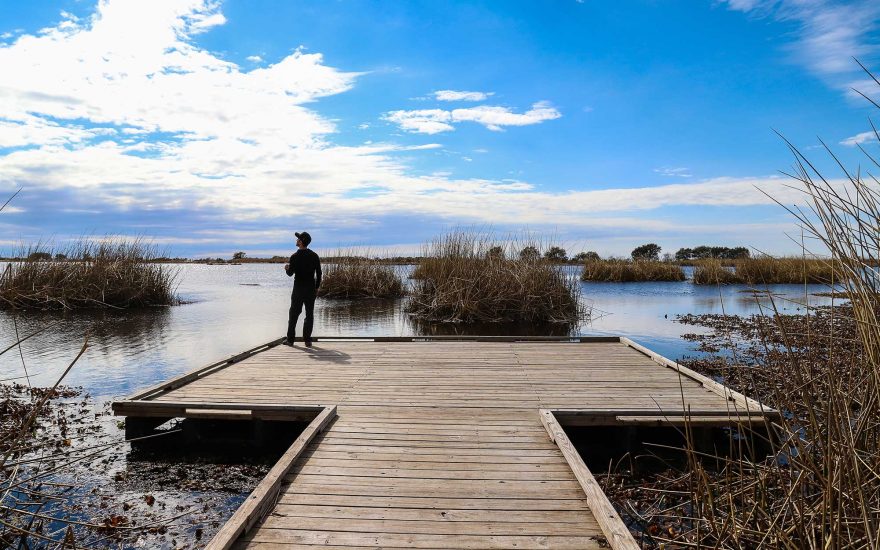 Right outside the iconic city of New Orleans, opportunities for outdoor adventures abound
---
The local had a simple question for us, "So, you all been to Louisiana before?"
I replied, "No. I mean, we've been to New Orleans before, but not Louisiana."
He paused for a second and then the light went on. "YES! That's it! Exactly!"
Now, New Orleans is fabulous and filled with incredible food, culture, history and … crowds. In 2019, nearly 40 percent of all visitors to the state went to New Orleans. But, as fine a city as it is, it doesn't embody the entirety of The Bayou State, as no one city can. Like many states with an iconic, revenue-driving and globally-recognized city, too many outsiders equate that city with the rest of the state — when the two are generally very different economically, socially and culturally.
The good news, though, is that renown tourist destinations like New Orleans have ample air access (Louis Armstrong New Orleans International Airport currently hosts 18 airlines that offer nonstop flights to more than 60 destinations), and flights are (generally) more affordable than harder-to-reach destinations. Thus, you can leverage all that access to create a launching pad for nearby outdoor adventures into the breadth of the state of Louisiana.
To start, just 45 minutes from downtown New Orleans and across the Lake Pontchartrain Causeway (the world's longest bridge), is St. Tammany Parish, which has dubbed itself "Louisiana's Northshore." It boasts some 80,000 acres of green spaces and waterways.
Kick off your adventures at Fontainebleau State Park, a 2,800-acre park located on the shores of Lake Pontchartrain. There's a beach, hiking and nature trails, plenty of opportunities for birding, a water playground and historical ruins of a sugar mill (and historic markers where slave cabins once stood). There are a variety of camping sites, 10 "glamping" tents (including an isolated one that you must paddle out to via canoe) and cabins on stilts that overlook the lake.
A railroad track that ran through the park is now part of the Tammany Trace rail-trail, which runs 31 miles through downtown Covington, passes through Abita Springs, and ends in Slidell. The trail accommodates hikers, bikers, rollerblading, and equestrians. Brooks Bike Shop is your one-stop shop for repairs or rentals and the veteran-owned business has locations in Covington, Mandeville, and Slidell. You can take the self-guided Old Mandeville Historic Tour, ride Lakeshore Drive or pedal to several stores, galleries, and gift shops (don't miss The Candy Bank candy shop).
For water lovers, paddle the slow-moving and shallow Bogue Falaya River, where there are many sandy beaches to enjoy. For a guided experience, reach out to Canoe and Trail Adventures and be sure to meet them at the put-in at the Chimes Restaurant. That way, you can fuel up for (or re-fuel after) your adventures with chargrilled oysters, shrimp creole, crawfish etouffee, gumbo and other great local fare.
For an even more relaxing water experience, take a pontoon tour of the Tchefuncte River with the very knowledgeable staff of Louisiana Tours and Adventures. You'll putter past fantastic waterfront homes, the 1827 Tchefuncte River Lighthouse, and plenty of Louisiana flora and fauna.
The Northlake Nature Center is a 400-acre preserve located along the banks of the Bayou Castine. There are some seven miles of trails that take you past historic ruins and through three different ecosystems: hardwood forest, pine-hardwood forest and pond-swamp. Additionally, all five species of the Louisiana Iris can be found here.
To immerse yourself in local, bayou culture, be sure to sign up for the Bruce Mitchell Swamp Adventure. Bruce spent 13 seasons on the show Swamp People and now leads small group tours in the same boat he hunts gators in. He will guide you through the swamps, bayous and passes to regale you with his own stories and local legends, point out landmarks, and help you spot gators, snakes, turtles, nutria rats, birds, and plenty of other local wildlife.
Wrap up your tour with a mighty meal at Middendorf's Restaurant. The iconic restaurant has been in operation since 1934 and offers up gumbo, a wide array of seafood specialties, sandwiches, hefty desserts, and their signature thin fried catfish.
For a slightly milder wildlife experience, check out The Global Wildlife Center in Folsom, Louisiana. The nonprofit organization is one of the largest wildlife preserves of its kind in the country, with more than 3,500 exotic, endangered and threatened animals from all over the world. You'll bounce across their "savannah" in the back of a retired Pinzgauer military truck and feed the animals by hand, as they come right up to (and stick their heads inside of) the back of the truck.
For some absolutely pampering local accommodations, the Bienvenue Mon Ami bed & breakfast is absolutely the way to go. It's a posh basecamp and will keep you well-fueled, recharged and well-rested for all your local adventures.
So bypass the non-stop party of The Big Easy and explore the rolling rivers, elevated hiking trails, broad lakes and estuaries, and meandering rail-trails of Louisiana instead. "Laissez les bons temps rouler" ("Let the good times roll"), indeed.
---
'Chez' Chesak is an award-winning adventure travel writer, 20+ year veteran of the outdoor industry, Executive Director of the Outdoor Writers Association of America and chair of the Society of American Travel Writers' Central States Chapter.