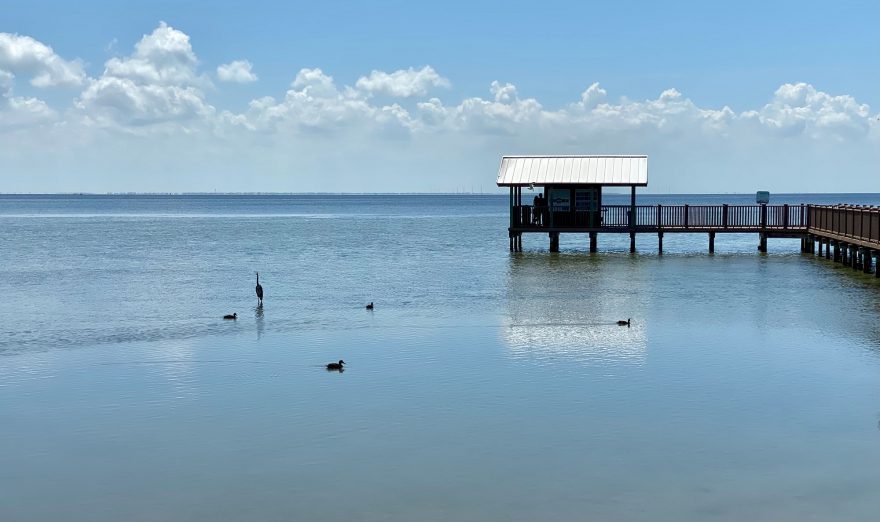 If you're visiting South Padre Island, between the beach, wildlife and activity opportunities, there is plenty to keep you busy 
---
When you think of Texas, you probably picture vast amounts of land filled with farms and ranches. After all, there are more than 120 million acres of land where crops, livestock and tumble weeds are the norm. But there's also a tropical paradise at the southernmost tip of Texas known as South Padre Island, a barrier island in the Gulf of Mexico. And you can easily drive there on State Road 100 — about 13 miles from the Texas mainland.
Most locals already know the lure of South Padre Island's white sandy beaches, calm waters and beautiful sunsets. But to others, the island is new territory with endless opportunities for exploration. With mild winters — rarely getting below 60 degrees — you can visit South Padre Island year-round, as there are so many things to do beyond going to the beach. The island also gets around 300 days of sunshine, so you're sure to get some vitamin D while you're visiting.
Spring is the busy season on South Padre Island as the college crowds fill the 34-mile stretch of beaches. If you want to beat the crowds, though, and experience a more mellow tropical atmosphere, fall would be the best time for you visit. Typically, in autumn — September through early December — you'll be able to experience the island during the off-peak season where lodging rates are lower, and beaches and restaurants are less crowded.
If you're planning to visit South Padre Island, there is plenty to do to keep you busy along with a variety of resorts, hotels and short-term rentals to choose from. There are also numerous boardwalks where you can watch the sunset, a variety of restaurants, golf cart rentals and endless sand for making sandcastles.
Here are five things to do on South Padre Island during your stay:
1. Hike and View Wildlife
If you want a quiet nature spot away from crowded beaches and you enjoy watching birds and other coastal wildlife, you'll appreciate the short walk along a wooded boardwalk over four acres of marshland on the Laguna Madre Nature Trail.
Wildlife managers have documented more than 300 bird species passing through the South Padre Island area. Hikers on the Laguna Madre Nature Trail commonly see pink flamingos, spoonbills and blue herons. This trail is the best place to view them comfortably in their natural habitat. The trail is free and open 24-hours a day.
Down the street from the Laguna Madre Nature Trail (on the same road) you'll find the South Padre Island Birding and Nature Center & Alligator Sanctuary. Included with admission is another (longer) nature trail where you can see a variety of species as well as alligators swimming below the boardwalk. In the outdoor alligator sanctuary, you'll find Big Padre and Lady Laguna — two alligators that were relocated by Texas Parks and Wildlife to live the rest of their lives in comfort under the care of sanctuary managers.
You can also sign up for a guided nature tour and have a naturalist accompany you on your hike. It's best to bring binoculars so you'll be able to see wildlife close up while maintaining your distance. The area is also designated as critical habitat for several species of threatened and engendered birds like the Aplomado falcon, wood stork and bald eagle.
---
2. Visit a Sea Turtle Hospital and View a Sea Turtle Release
Sea turtles on South Padre Island are one of the most iconic animals and draw people from all over the world. According to the National Park Service, all five of the sea turtle species found in the Gulf of Mexico rely on the National Seashore. And Kemp's ridley sea turtles nest there more than at any other location in the United States.
Juvenile green sea turtles live in the waters year-round. You'll also find loggerhead sea turtles, leatherback sea turtles and hawksbill sea turtles. These species are all federally listed as either endangered or threatened.
At Sea Turtle Inc., you can see turtles up close and personal and learn about sea turtle rehabilitation and conservation They are open year-round for visitors to see their rehabilitating patients in a turtle hospital. For more than 40 years, staff at Sea Turtle Inc. have rehabilitated injured and sick sea turtles for various reasons like boat strikes, predator attacks and entanglement. While visiting the sea turtle hospital, you'll see sea turtles swimming in outdoor tanks and learn about each patient during your visit.
If you want to see Sea Turtle Inc. staff release turtles back into the ocean, you can follow their social media pages, where they announce all their public releases.
---
3. Go Horseback Riding on the Beach
The island offers visitors access to guided horseback rides along white sandy beaches. You can schedule a ride with South Padre Island Adventures to enjoy a cool evening riding horses in the Gulf of Mexico to the Laguna Madre Bay. On the sunset ride, you'll ride a horse along the surf before crossing over sand dunes to the remote bay-side of the island.
If you'd like to go horseback riding at night, you can also schedule a ride four days before and during a full moon to see the moon glistening off the ocean waves and see the stars as you ride to the top of a large sand dune.
---
4. Go Bay or Deep-Sea Fishing
With several fishing guides and charters on South Padre Island, you can easily find a way to enjoy the island from the sea. Through Captain Murphy's fishing charters, you can choose from bay fishing or deep sea fishing with a group or on a private charter. Boats leave the docks daily all year. On the boat named Hard Bottom Too, you may catch whiting, sand trout or blue crab.
If deep sea fishing is of interest, you can book a deep-sea fishing trip with Playin Hooky Offshore and Tarpon Fishing Charters, where you'll have a chance to catch larger fish like red snappers, kingfish and cobia, blue marlin and mahi.
---
5. Walk or Jog Along the Beach
If you want to enjoy the sand beneath your toes, you can enjoy the powder-soft beaches by foot. The gulf waters are clearer, warmer and calmer than other beaches on the Gulf of Mexico, so you can walk or jog along the shore easily while dipping your toes in the water along the way or wading in the water as you walk. All South Padre Island beaches are easily accessible on foot with more than a dozen public access sites.
Known as the "Only Tropical Island Paradise in Texas," you'll find that the island is one of the most exquisite barrier islands. You can even check out the live beach camera — "Spadre Cam" — to see the beach from the comfort of your home and plan your visit.
Suzanne Downing is an outdoor writer and photographer in Montana with an environmental science journalism background. Her work can be found in Outdoors Unlimited, Bugle Magazine, Missoulian, Byline Magazine, Communique, MTPR online, UM Native News, National Wildlife Federation campaigns and more.