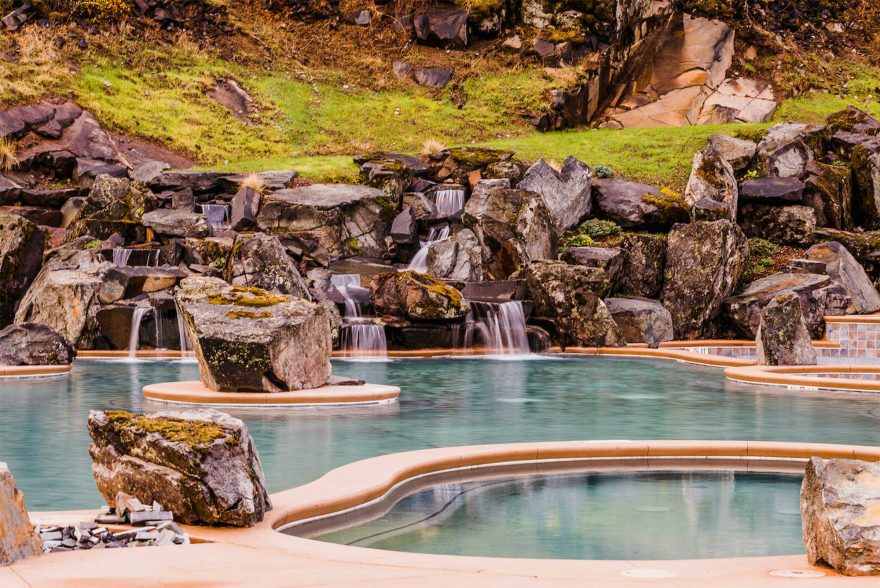 For centuries, people have enjoyed soaking in the earth's natural hot springs. And for tourists and locals alike, soaking in a hot spring like the ones at Quinn's Hot Springs Resort is at the top of their list when visiting Montana — especially after a day in the snow to rest their weary bones. But these hot springs are not just for soaking in during the winter. They are enjoyable all year long in the mountain states and are sure to help you relax and refresh.
These geological wonders we call hot springs are warmed by geothermal heat rising up from the earth. And these warm pools are inviting outdoor "hot tubs," ranging from warm to extremely hot water.
You can use a lot of America's hot springs for bathing and soaking, while others are so hot that they're extremely dangerous. For example, in Yellowstone National Park, you'll find hot springs in volcanic areas that are so hot that they're at or near the boiling point — making them unsafe for human soaking.
In most hot springs, scientists report high mineral counts. You'll find minerals such as calcium to benefit your bones, magnesium to strengthen your muscles and sulfate to help rid your body of toxins. Scientists also believe that natural hot springs have a variety of therapeutic and healing properties, which add to the popularity of soaking in hot springs.
In 1885, Martin and Fannie Quinn built a charming vacation destination in Paradise, Montana, around existing natural hot springs. Martin Quinn discovered the secluded springs in the early 1880s while traveling for his mining job on the Clark Fork River. He staked a claim and built a residence, bathhouses and sleeping accommodations for guests. Eventually word got out about Quinn's hot springs, and people flocked to soak in their waters.
Over the years, this "safari-style luxury" resort (as it was once dubbed by reporters) grew into a series of luxurious log cabins and fine dining. Although Quinn's Hot Springs Resort has changed owners a number of times, still today, you can soak in and enjoy the geothermal hot springs during your visit while taking in the surrounding mountain and river views.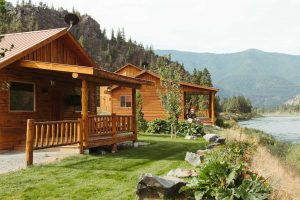 Resort Overview
Nestled in western Montana in the town of Paradise, Quinn's Hot Springs Resorts features two lodges and more than 25 canyon and river-side cabins. You can choose from a rustic experience to a more luxurious experience during your stay. Some cabins are pet friendly, and most are family friendly.
The scenic drive from Interstate 90 to get to the resort is an adventure on its own. The road winds around along the Clark Fork River and offers scenic mountain and canyon views.
Quinn's Hot Springs Resort has a tavern where you'll find local brews and staples like Quinn's Buffalo Burger or fish and chips. The tavern environment is inviting, and the food is affordable and delicious. You can even unwind by playing a game of pool or trying your luck in the small casino.
If you want to indulge in fine dining, the Harwood House Restaurant on site serves locally sourced steaks, prime rib, fresh seasonal seafood and hand-selected wine. Harwood House chefs pride themselves on continuing the culinary traditions of the West while also pursuing the frontiers of modern flavor.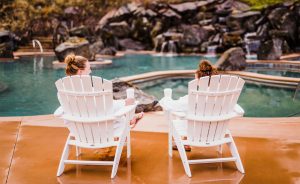 The Hot Springs
The draw for most people to Quinn's Hot Springs Resort is the natural hot springs themselves, which were remodeled and upgraded in the spring of 2020.
At the resort, you'll find five 100 percent natural-flow-through hot springs pools, which offer a variety of temperatures ranging from 100 to 106 degrees Fahrenheit — including a cold plunge pool at 55 degrees. In addition, you can soak in two additional pools filled with the natural hot springs water but also recirculated, treated and maintained by resort staff to maintain temperatures in the upper 90s to 100 degrees to allow swimmers of all ages to enjoy them.
In the water, you'll find minerals that have a variety of reported health benefits.
Here's a breakdown of minerals:
Calcium 4 mg/L: Benefits bone and teeth formation, heart rhythm and blood clotting, nerve transmission, foot/leg cramps and helps prevent osteoporosis.
Fluoride 2.27 mg/L: Helps strengthen bones, reduce teeth decay and is good for blood, skin, hair and nails.
Magnesium 0.3 mg/L: Strengthens muscles and is vital to the nervous system. Necessary for proper bone and teeth formation. Helps protect against cardiovascular disease and lowers high blood pressure.
Potassium 1.7 mg/L: Regulates blood pressure and heart function. Helps control convulsions, migraines, allergies and alcoholism. Promotes faster healing of burns, cuts and bruises.
Sodium 42.6 mg/L: Helps maintain blood pressure levels and assists in controlling mental apathy.
Sulfate 29.5 mg/L: Provides the "Signature Quinn's Aroma of Authenticity." Rids the body of toxins and helps with respiratory problems. Promotes healthy hair, nails and prevents skin inflammation and infection.
Silica – mounts vary greatly: Strengthens bones, boosts the immune system and promotes healthy nerves, hair and nails. It is also used in treating acne and migraines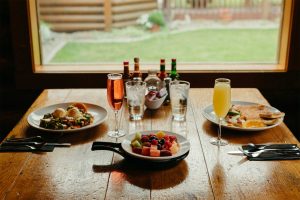 How to Book and What to Expect
You'll want to book far enough in advance to get a cabin as they fill up fast. Simply visit the resort website here and choose your accommodations.
The restaurant is open to anyone — not just guests of the resort. Prior to the pandemic, you could also walk in and buy a two-hour pass to soak in the hot springs, but that feature may not be available. Check ahead of time before you go if you're hoping to just spend the day at the hot springs.
During your stay, you'll find a warm and inviting staff and a true Montana experience. The lodges and cabins will keep you comfortable, and the view of Quinn's canyon and the Clark Fork River are breathtaking.
Suzanne Downing is an outdoor writer and photographer in Montana with an environmental science journalism background. Her work can be found in Outdoors Unlimited, Bugle Magazine, Missoulian, Byline Magazine, Communique, MTPR online, UM Native News, National Wildlife Federation campaigns and more.
Images courtesy of Quinn's Hot Springs Resort