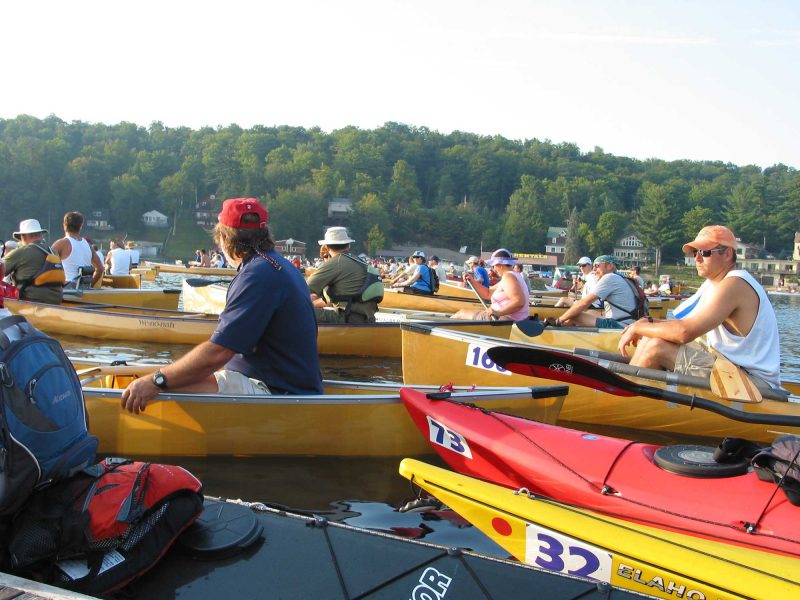 The Adirondack Canoe Classic is a three-day, 90-mile canoe, kayak, and guide boat event beginning in Old Forge and finishing in Saranac Lake.
---
My first experience to The Adirondack Canoe Classic — or what's simply known as The 90-Miler — happened by accident. My father and I had camped at the northern end of Long Lake in Adirondack Park one September weekend years ago. As we kayaked back to the boat launch, hordes of canoes were coming directly at us. It was surreal watching the paddlers in unison, gliding through the water, as many as six people in some of the boats — I was left wondering what was happening, that is, until we got back to the launch and overheard people talking.
The Adirondack Canoe Classic is a three-day, 90-mile canoe, kayak, and guide boat event beginning in Old Forge and finishing in Saranac Lake. The race started in the early 1980s by a group of people from Saranac Lake who were searching for an event that celebrated historical modes of transportation. The initial meeting wanted to showcase a concept of community through the Adirondack region — one that encompassed paddlers, volunteers, followers, residents of the towns and villages along the waterways and area businesses.
"The original organizer, Sue Dyer, was looking for something physically challenging, naturally gorgeous and positively memorable after the pain went away," Race Director Brian McDonnell said. "Bill Hulshoff, who paddled the Adirondack waterways as a camper, suggested following the route from Old Forge to Saranac Lake."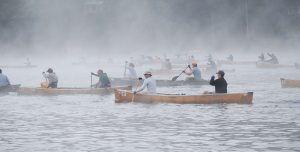 In the second year, Terry Healey and Bill White of the New York State Department of Environmental Conservation got involved, thinking about The 90-Miler as a New York Forest Preserve Centennial event. The DEC has played an integral role in safety and communications through the years — the event has brought with it its share of beautiful sunny days, occasional rain, gale force winds and even snow and hale. Adaptations have been made to the course numerous times to accommodate the increasing participation numbers, as well as the weather. The DEC has offered camping at Fish Creek for most of the 35 years, and at either Forked Lake or Lake Eaton near Long Lake on Friday night for participants.
"We've paddled in washing machine waves on Raquette Lake; started day two on a two-mile carry heading out of Forked Lake," said McDonnell, who is with the Adirondack Watershed Alliance, a paddling club that promotes a variety of on-water activities. "We've slogged up Stoney Creek, pulled out at Axton landing, fought wind and waves on Upper Saranac Lake."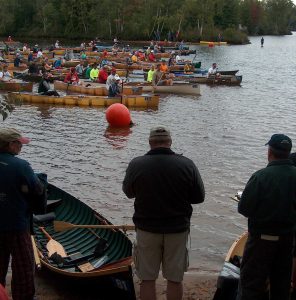 The event has inspired authors and artists. Countless photos, magazine articles, radio pieces and a two-hour video, as well as songs, poetry and a couple of books have attempted to capture the essence of what has been described by many as the highlight of their paddling year. It has been voted as the race of the year twice by The New York Marathon Canoe Racing Association. More than 50 people have completed at least  20 of The 90-Milers, earning admission into the Gold Canoe Club. Darrah Cooper Jewelers in Lake Placid provides gold canoes to the members.
McDonnell offers this advice for potential participants:
This backcountry race and includes mile-long portages, big open lakes, bendy beaver-dammed streams and shallow rivers with many twists and turns.
Race organizers attempt to plan for most contingencies, take your safety seriously. DEC, search and rescue groups and volunteers provide a safety net of boats and personnel on the course.
If you have never participated in a canoe race before — it is not recommended to start with The 90-Miler.
Go to some races, talk to people and paddle. The experience gained by seeing, listening and doing is invaluable, and you will meet people who are passionate about paddle sports.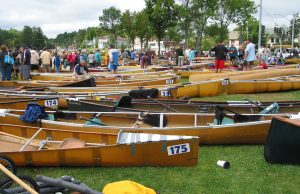 Finishing the contest requires both mental and physical stamina. Many competitors look at it as a personal challenge. It was started to inspire others with the Adirondack scenery from the seat of a human powered boat. The emphasis has always been on community, camaraderie and personal challenge, rather than competition. However, there are competitive classes in which you will find opportunities that nearly a third of the participants win awards if they place first second or third in one of the many boat categories and age classifications.
The event would not be possible without the volunteers, past and present, who have given their time to make the Adirondack Canoe Classic the memorable experience it has evolved into. For more information please visit The 90-Miler's website.
Joel M. Herrling is a freelance outdoors writer/photographer in central New York. He enjoys spending time in the outdoors with his family.
Images are courtesy of The Adirondack Canoe Classic