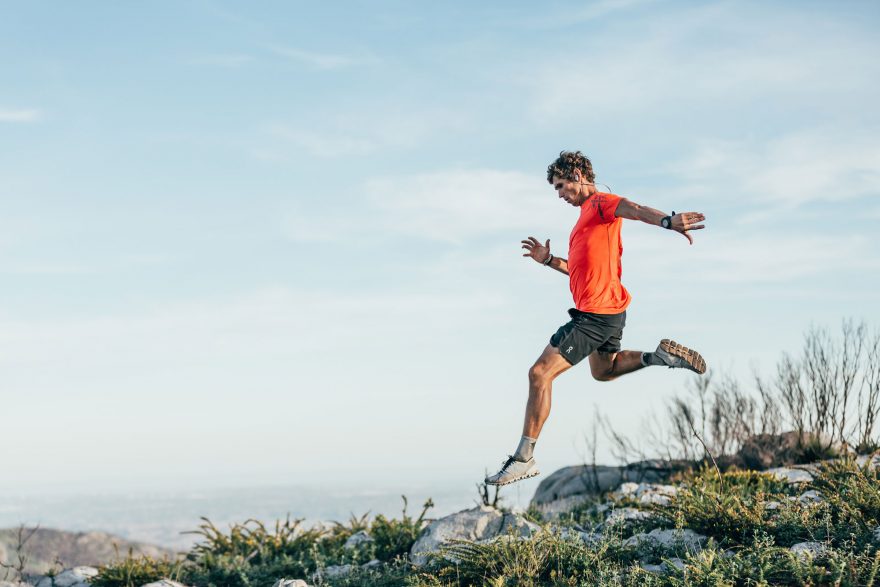 Few things energize me on an otherwise lazy morning like a great trail run — winding along a narrow dirt path on a chilly dawn, stirring up leaves, hopping over deadfall, and watching the fog slowly erode from the mountainsides around me. Much of my time as a runner had been spent on pavement, but discovering trailing running gave me a new and diverse outlook on my workouts and the environment around me. It also meant adding some different gear to my duffel bag, and the more I ran, the more I recognized that specialty items such as trail running socks are often far different than their road-focused counterparts.
So, what separates a trail running sock from a road running sock? We'll explore that, but first, some background.
As recently as 2018, the growth in trail running was being touted as one of the industry's most significant trends. And that's really no surprise. Think back, for example, a generation ago, when completing a marathon was often seen as something only the most elite runners could do — yet today, that feat is more accessible than ever. Trail running followed that same vein, emerging as another avenue for runners of all levels to pursue (and embrace) this sport.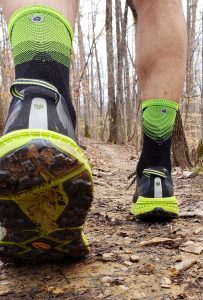 To better understand the differing sock needs of road vs. trail runners, we spoke with Vedrana Damjanovic from Denmark-based Rockay, a sustainable brand that has made a big impact quickly in the running market.
If you aren't familiar with Rockay, now is as good a time as ever to be introduced. The company is an online-only brand whose no-show Accelerate socks were chosen by Business Insider as the best overall running socks of 2019. They've also gotten lots of press from the likes of Runner's World and Forbes — not bad for a company that only began in early 2018. Rockay's product line includes no-show, quarter-length, trail and full compression socks, as well as calf and arm sleeves.
Foundational to Rockay's brand is its sustainability efforts. The company partners with Aquafil Italy to collect fishing nets and other ocean waste and turn it into socks that are 100 percent recycled (including packaging). The sorting and cleaning is done at a plant that fashions the waste products into Econyl regenerated nylon, making up half of the material in every pair of Rockay socks.
Beyond a brand's message, there are many practical and functional things to look for when comparing trail running socks vs. road running socks and when choosing the right sock for you. Factors include the quality of the material and its moisture-wicking qualities, the placement of seams, cushioning and stability characteristics, durability and, simply, their feel. And, depending on how chic you are, finding a cool design and color pattern may also be important (after all, who wouldn't want to coordinate their socks with their team shirts at the next Ragnar Relay or ultra race?).
Trail running socks and road running socks are definitely different, and here are some key reasons why, as well as what you should look for:
The Style
Right off the bat, you're going to notice that trail socks, which go a few inches up your leg, will be taller than typical running socks, which are usually either no-show (riding along the rim of the shoe) or quarter length.
Trail socks are intended to protect your feet from all the outside factors that you'll find off road, like rocks, dirt, or sand. Getting that kind of debris in your sock can hinder performance and create opportunities for hot spots to develop. So a trail sock will naturally be longer and rise above the ankle. Good trail socks will also have a tight elastic band at the top to further help keep those materials out.
With trails and sandy surfaces tending to be easier on your legs than harder, more jarring pavement, it's less likely to see trail runners wearing calf sleeves. Such sleeves, which come down to your ankles, are tougher to pair (though not impossible) with trail running socks since the taller socks would overlap with the sleeves. Calf sleeves are most commonly going to be found on runners wearing no-show socks on the road. If lower-leg compression is important to you on the trail, consider one-piece full-length compression socks.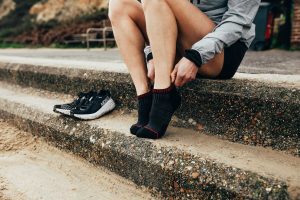 The Functionality
Because of the variety of terrain that a trail runner can encounter, it's important to have a sock that helps stabilize your feet — think snug, but certainly not so tight that it hinders circulation. Having some compression throughout will help give you the feeling of a secure fit, ensuring that the sock doesn't shift on your foot. Rockay and a few other brands have compression built into their socks throughout the arch, which helps to decrease foot fatigue. In my experience, the positioning of that compression has been a blessing at times I've run while battling a bout of plantar fasciitis.
A good sock, both for trails and roads, should have moisture-wicking capabilities. This, along with proper fitting, will help prevent blisters and other injuries. The goal of moisture-wicking is to avoid being impacted by sweat and external water (like rain or puddles) that could affect a run, especially during longer mileage.
Cushioning comes into play too. The bottom of the sock is going to be a common place to find added cushioning, but a good trail sock will see the cushioning extend above the heel. That's important for the more challenging terrain that trail runners encounter. Road socks, of course, won't have as extensive cushioning, since they don't come up as high.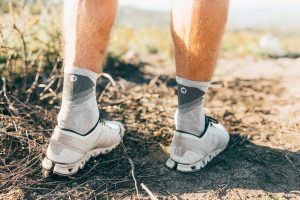 The Feel
If your socks aren't durable and feel good, then what's the point? This is one of the reasons I started turning to Rockay's socks so frequently — I simply loved the feel. And like anything else I'm wearing, from my shoes up to my shirt and headwear, I want to be comfortable as I put on the miles.
Many running-sock manufacturers will use blends of natural and synthetic fibers in their socks, and the specific comfort varies from company to company (not to mention how a sock may feel in winter vs. on a humid summer day). Rockay first launched its socks with Merino wool, which is a common material in lots of outdoor clothing, but the focus is largely now on its regenerated nylon (Rockay said it found its nylon to be more durable than wool).
Part of how a sock feels comes from how it is threaded. Rockay, for example, uses a 200-needle thread count to give the yarn a wonderfully buttery feel. It also brings a denser construction (aiding durability, especially in trail socks) and provides good stretch and recovery due to tighter tension.
Great running socks are also built to be seamless, including around the toes. That's something vital to look out for, as it's a key ingredient in anti-blister construction. I also like a lightweight, almost minimalist, approach to socks. A sock that's breathable (think: mesh) and has odor-fighting capabilities are things your feet will thank you for, too.
Find the right sock for you, and best of luck tackling your area's trails and roadways!
Ryan Tipps is Managing Editor for ActionHub and has experience in a variety of digital and print media. Ryan lives along the Blue Ridge Mountains, is an avid hiker, backpacker and runner and has been a part of the wilderness search and rescue community since 2005.
Images by Rockay and Ryan Tipps