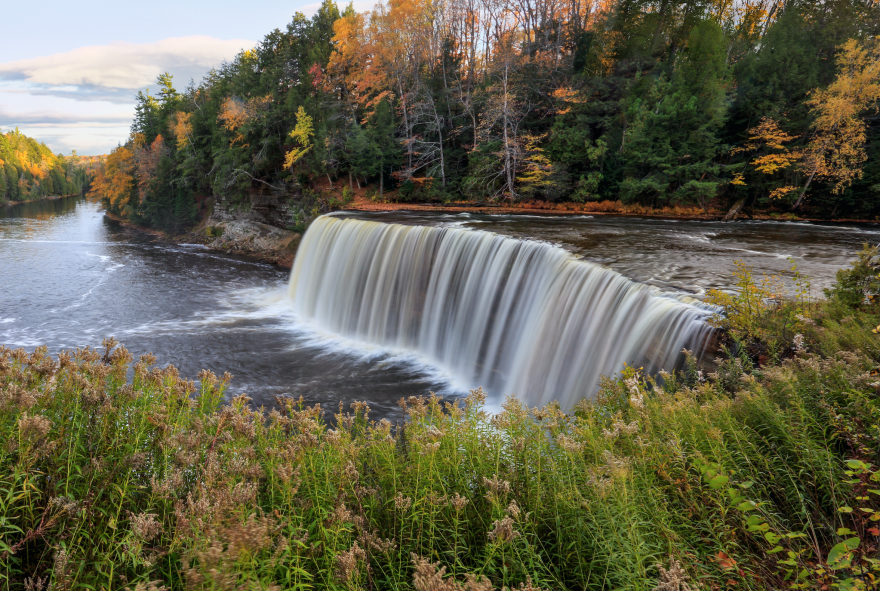 With its series of waterfalls, stunning rivers, and a total of 20,000 acres of natural area Tahquamenon Falls State Park is one of Michigan's most beautiful destinations. For outdoor lovers looking to take their visit to the next level, camping is available. With several camping areas, the park has something for every visitor.
Lower Falls Campground
The Lower Falls camping area has 90 sites, offering a more modern feel for campers. Visitors can enjoy electricity, a fire pit, and picnic table at each site, while also having access to hot shower and flush toilets. With its impressive amenities and access to recreation, this campground is perfect for families of all ages. In this area, there is also a playground, shelter, concession stand, and picnic area. This camping area is open all year around for your enjoyment.
Rivermouth Pines
For campers looking for semi-modern or rustic camping, the Rivermouth Pines camping area is an excellent choice. This series of 136 campsites are separated into a rustic and modern area. Without electricity, the rustic sites offer a more secluded camping experience. Visitors can still enjoy a fire pit and picnic table at each site. With campsites along the river, fishing opportunities are abundant. Guests looking to relax and immerse themselves in the outdoors may consider Rivermouth Pines for their next camping experience.
Cabins and a lodge are also available for guest use. You can find more information about the camping areas and rates in the Michigan Department of Natural Resources website.
Recreation at Tahquamenon Falls State Park
During your stay at the park, be sure to take advantage of the exciting outdoor recreation opportunities. With 40 miles of hiking trails altogether, the park will take you along the river, through the forest, and next to its breathtaking waterfalls. The River Trail and Great Pines Trail are two of the most popular options, taking you through the park's diverse landscape.
Visitors can also enjoy picnics, boating, or simply relaxing by the beautiful views. After soaking in Michigan's unique beauty, you will be sure to return.