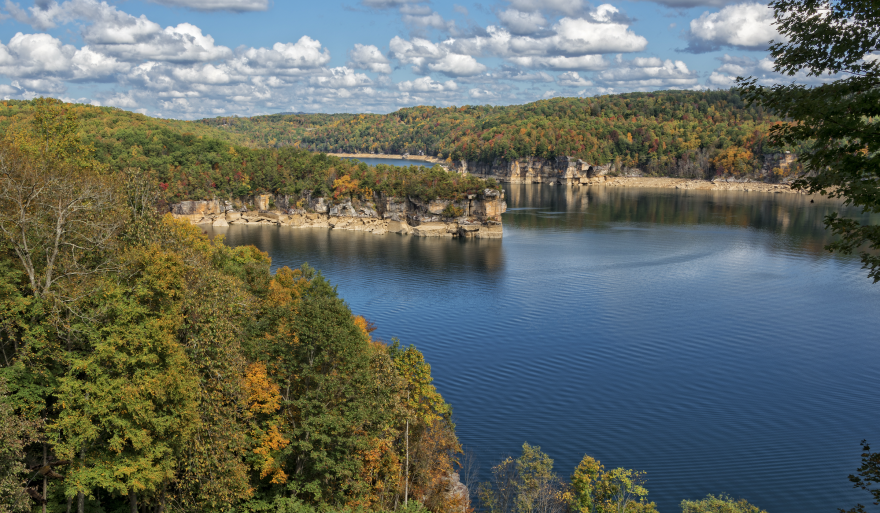 There's a reason John Denver sang that West Virginia is "almost heaven." With 1,500 campsites and 27 parks, West Virginia is any camper's dream, especially Summersville Lake camping.
At 2,790 acres and 60 miles of coastline, Summersville Lake is the largest lake in West Virginia. The U.S. Army Corps of Engineers built the Summersville Lake and Dam in 1966 to control flooding in the area.
Typically, dams are named after the town it is closest to. Summersville Dam was created on top of a former farming village named Gad, but engineers (rightfully so) decided against naming it "Gad Dam," so they went to the next-closest city, Summersville.
Although "Gad" is not in its name, you can still see parts of Gad's roadways and foundations underneath the water.
Summersville Lake has become a West Virginia haven for camping but is very popular, so it is recommended that campers book ahead of time, especially during summer weekends and holidays, when it is most popular.
There are several campgrounds for Summersville Lake camping:
Mountain Lake: Mountain Lake is right on the shores of Summersville Lake, which makes it an easy starting point for water activities. It has 250 campsites along with fire pits and picnic tables. It also has an outdoor theater, minigolf and a pizza shop.

Battle Run: The Battle Run campground is also on the shoreline and has 107 campsites. It has a beach area, playground, picnic tables and firepits.

Summersville Lake Retreat: The Summersville Lake Retreat is not directly on the lake but has just as beautiful views — some campsites are located with a backdrop of meadows or under a shady tree.
Summersville Lake campers can enjoy a wide range of outdoor activities, such as boating, fishing and even scuba diving.
For boating, there are public boat ramps available throughout the shoreline, making it easy to explore the lake and scenery.
The lake is filled with smallmouth and largemouth bass, trout, crappie, bluegill, walleye and channel catfish, so this is the perfect place for campers who are eager to fish. However, to fish, you need a West Virginia fishing license.
In addition, you don't have to visit the Caribbean for amazing scuba diving. Surprisingly, Skin Diver magazine called Summersville Lake the "little Bahamas of the east" for its beautiful scuba diving, including up to 45 feet of visibility and warm waters. There is even a ship that was purposely sunk below the surface to provide more entertainment for divers.
Summersville Lake camping certainly does not disappoint.