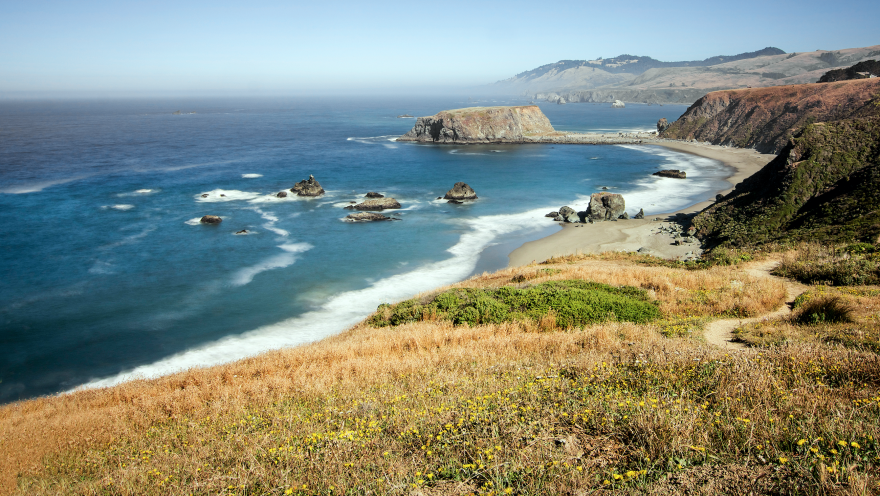 With its rocky coastline, sandy beaches, and curious coves,
Sonoma Coast State Park
is one of California's most breathtaking treasures. Take a cruise up Highway 1 to reach this series of beautiful seaside attractions, and be sure to prepare for a day of hiking, wildlife watching, and beach-combing. Coastal breezes and peaceful ocean sounds are sure to be the temporary escape you need.
Exploring The Jagged Coast
The stretches of beach that make up Sonoma Coast State Park are nothing like the warm sands of SoCal. When walking along the beaches of this northern park, you can expect a beautiful and harsh coastline. The waves are strong, as are the rip currents, and the beach gives way to jagged cliffs and drop-offs. While it's important to be careful while exploring and to keep away from the highest waterline, you are sure to enjoy the views along the way.
For beach-combing, visit Shell Beach. This area is known for its interesting tide pools and abundant marine life. During the summer especially, make a stop at Salmon Creek Beach. This beach stretches for two miles and is a great place to stop for a picnic or afternoon of fishing.
Hiking Options at Sonoma Coast
There are several hiking trails in the park, accommodating a variety of levels. Bodega Head is one of the most popular trails, stretching for a short distance and offering views of the Pacific, Bodega Harbor, and Bodega Bay. While hiking this trail, you might catch a glimpse of migrating wales between December and February. You may also see seals and their pups during the spring.
The Kortum Trail is another option, which starts at Blind Beach and continues on to Wright's Beach. Much like Bodega Head, this trail will take you along the headland and down to several beaches. If a short loop trail is more your style, check out Vista Point.
A Campground For Everyone
Sonoma Coast State Park has several campgrounds, all with varying levels of amenities. For those looking for the amenities, book a stay at Bodega Dunes Campground. While there are no RV hookups, you can enjoy bathrooms and showers. Wright's Beach Campground has bathrooms but no showers.
Adventurous campers looking for a more immersive experience should book a weekend at Willow Creek and Promo Canyon Campgrounds. These "environmental camps" are primitive-style sites with few amenities, according to the park's website. This includes pit toilets, fire rings, and tables.
Whether stopping during a road trip to enjoy the view or camping for the weekend, the nature-loving traveler is sure to enjoy Sonoma Coast State Park. This beautiful coastline has something for everyone and never fails to amaze.
Image is courtesy of Shutterstock