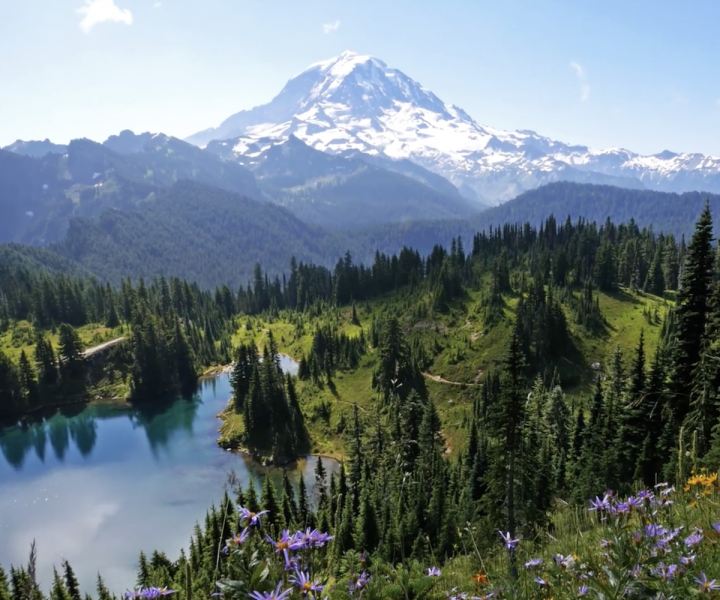 If you're planning a trip to Washington, then the one park you have to visit is Olympic. With four distinct and extraordinary ecosystems, you can experience everything from lush temperate rainforest to glacier-capped mountains and wildflower meadows. 
The national park has been designated a World Heritage Site thanks to its stunning and unique landscapes and relatively unspoiled condition, so it's not one to miss. If you have a couple of days to fit the park into your itinerary, then make sure you make the most of it.   
This guide is designed to help you see as much of the beautiful and diverse landscape as possible, assuming you are driving.  
Day 1: explore mountains and waterfalls
Start at Hurricane Ridge
If you visit Olympic National Park, then you don't want to miss Hurricane Ridge, located in the park's northeast corner. Start your day nice and early and get here before dawn, because two days really doesn't give you that much time to explore. 
During summer and spring, the meadows are full of wildflowers, and you get stunning views of the snow-covered mountains and the Olympic Peninsula coastline. There's skiing and snowshoeing in the winter, but you may not have much time for that during a short trip. 
There's also a visitor center here with an information desk, gift shop, snack bar, exhibits, and an observation deck. There are several hiking trails from here, including the short 1-mile High Ridge Trail, which takes you to Sunrise Point. While short, it's pretty steep with a 200+ elevation gain.  
Since there are several trails to choose from, it's a good idea to check in at the visitor center to get some advice before you head off, as you may find that some trails are closed or that your schedule won't leave you enough time for lengthier trails if you've arrived a little late.  
If you've got time, then another great trail is Hurricane Hill, which starts 1.5 miles past the visitor's center. There's a parking area by the trailhead, so we recommend driving over to save you some time. It's a 3.2-mile hike, roundtrip, and it's a fairly easy trek that's suitable for beginners, weather dependent. On a clear day, you'll get a 360-degree view, including of the Olympic Mountains on one side and the sound to Canada on the other. 
Head to the visitor center
Once you've had a chance to take in the stunning vistas at Hurricane Ridge, you can visit the Olympic National Park Visitor Center in Port Angeles, which offers excellent resources for those looking to explore the park. It's open year-round, except for Thanksgiving and Christmas Day, but the opening hours vary so be sure to check on the website.  
Enjoy Lake Crescent
About 18 miles west of Port Angeles is Lake Crescent, the second deepest lake in Washington made up of translucent, azure water. Here, you can go swimming, kayaking, and fishing, although fishing regulations are strictly 'catch and release.' 
A good place to spend the night is at the historic Lake Crescent Lodge, which was built in 1915 and forms a great base camp for your trip thanks to its ideal location on the shores of Lake Crescent. It's surrounded by Hoh Rainforest, one of the lushest and wettest temperate rainforests on earth.  
If you're here for camping, then there are several campsites at the Fairholme campground. Just be aware that there is no reservation system, so it may be difficult to secure a spot during the busy periods. Also, it's typically closed from early October to the Memorial Day weekend, so you should call the main visitor center to check their opening dates if you plan on traveling around that time. 
There are several day hikes around the lake, including Marymere Falls, which takes you to a 90 ft. waterfall and Moments in Time, which takes you through the forest and by the lake. These are relatively short hikes, but there are also longer trails if you decide to stay around the lake for the rest of the day and have enough time for something a little more challenging.  
Soak in the Sol Duc Hot Springs
If you've still got time at the end of your day, then why not finish off with a nice relaxing dip at Sol Duc hot springs? Enjoy the incredible scenery while you unwind after a long day on the move. It's great if you're traveling with kids, and there are cabins at the resort too if you prefer to spend the night here.   
If you've not quite had enough of hiking, then you can also hike to Sol Duc Falls. It's a 1.6-mile trail, roundtrip, and takes you beneath a dense forest canopy to the 50-foot falls. It's a great spot for avid photographers, particularly as there are various viewpoints of the fall.  
Day 2: discover rainforests and beaches
Marvel at the Hoh Rain Forest
One of the top hiking spots in Olympic is Hoh Rain Forest, which is about an hour's drive from the west end of Lake Crescent. Again, make sure you start your day nice and early so that you get a chance to make the most of your trip.   
There is a good reason Hoh Rain Forest is one of the park's most popular destinations. The rain falls frequently here, with annual rainfall ranging from 140 to 170 inches total, which has allowed carpets of moss and ferns to flourish and create a green wonderland that looks almost otherworldly.  
A great way to explore this magical location is to do the Hall of Mosses Nature Loop trail, which is a short 0.8-mile loop that won't take very long to complete, so is well worth taking the time to do. It's suitable for all skill levels, so it tends to get quite busy, but it will allow you the chance to soak in some of the beautiful lush scenery before heading to the next location.  
If you'd like to spend a bit more time here, then consider taking the Hoh Rain Forest trail to Tom's Creek. While the full trail runs 17.3 miles long, this easy trail takes you to the first landmark on that trail and is roughly 2.9 miles long, one way. You'll get to see the Hoh River, which is a milky blue color due to the fact that it's a glacial river. It'll take up more of your time, but you'll get to see some beautiful scenery that you would miss if you only took one of the shorter trails.  
Finish off at the Pacific Ocean beaches
What better way to end your trip then to explore some of the beaches? From the rainforest, you will need to head west. The natural coastline stretches 65 miles, so there are plenty of beaches to choose from.   
A great option is Rialto Beach, a rocky beach with giant drift logs, which is great when tides are low as you can explore the tidal pools. It's a beautiful beach and a great place to relax or go for a lovely walk. If you want to go hiking, then you can try the Hole-in-the-Wall trail, which is about four miles roundtrip. It takes you to a sea-carved arch, a perfect place to get some beautiful pictures. 
No matter which beach you choose to visit, it's always a good idea to get more information about the tides and pick up a tide chart at one of the visitor centers. The last thing you want is to get trapped when the tides come up.   
Ideally, you would have more than two days to visit this fantastic national park, as there is just so much to do and see here. We've tried to fit quite a lot into 48 hours to give you the chance to see as much as possible, but don't be afraid to cut some things out and spend more time in one location if you would rather take part in longer hikes or other activities.   
No matter where you intend on going, you need to have a good plan in place if you want to make the most of your visit. Even if you only have 24 hours to see this stunning location, you can still visit all four ecosystem zones the park has to offer, as long as you plan your day well.