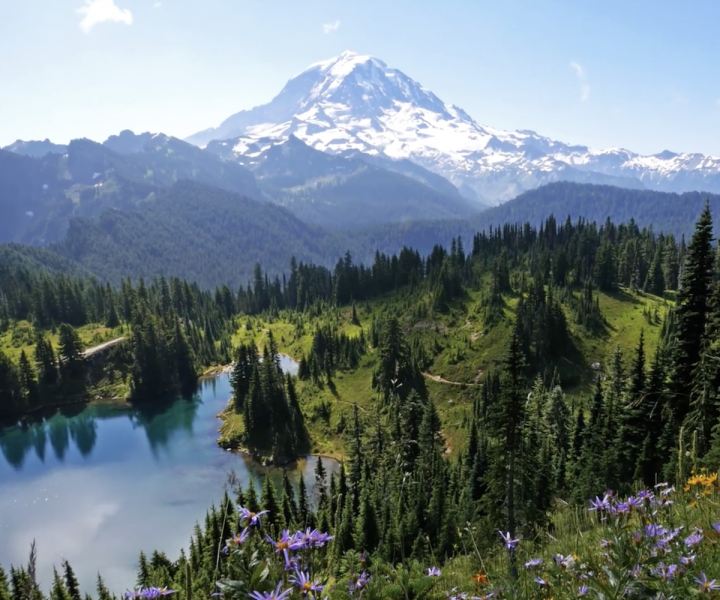 Mount Rainier National Park, located just 60 miles south of Seattle in Washington state, has been ranked the 10

th

 best national park in the world. So, if you're planning to visit, we don't blame you. 
Whether you're planning a wilderness camping trip, looking forward to marveling at the sight of the 14,410-foot-tall active volcano or organizing an epic hike through seemingly endless subalpine wildflower meadows, you won't be short of things to do in this truly stunning location. 
We offer some tips on how you can plan your trip to visit one of the earth's biggest volcanoes.  
When to go
You can go year-round, with every season offering different sights and experiences. However, the best time to go is from July through August, as the weather tends to be beautiful this time of year.   
Not only will the wildflowers be at their best, but the warm, dry weather provides perfect hiking conditions. That being said, always be prepared and bring your rain gear, as rain is common no matter the season.   
Of course, if you go then, you wouldn't be the only person to do so, so be prepared for crowds. To avoid the worst of the delays and long lines, try going on a weekday and arrive either early in the morning or later in the afternoon.  
If you want to avoid the summer rush, then consider heading there between April and June. Just be sure to check the status of the campgrounds, roads, and trails, as what you can do at the park will depend on the conditions.  
If you're more interested in snowboarding, skiing, or snowshoe walks, then you will have to wait for winter. The park sees vast amounts of snow, so you'll definitely get the chance to enjoy some winter sports. Head there between November and March, but keep in mind that only the Carbon River Entrance and Nisqually Entrance will be open during this time. The plus side? The crowds won't be as bad.   
Planning your trip
There are five developed areas in Mount Rainier, including Paradise, Longmire, Sunrise, Carbon & Mowich, and Ohanapecosh. From picnic areas and a campground to a hotel and visitor center, the level of development can range from basic to extensive.  
Lonely Planet offers a money and cost guide for the area, which indicates that daily costs can range from less than $100 for a budget trip to $100-250 for midrange and over $250 for a top end visit. So, keep costs in mind when deciding where to go.   
If you're thinking of going wilderness camping, then be sure to get a permit. You will need a one to camp overnight in any part of the park's backcountry, any time of year. Avoid disappointment by reserving a permit early on, as these are in high demand.   
There are many different things to do in the park, from ranger-led programs to climbing, hiking, fishing, bicycling, and wildflower viewing. Of course, depending on the time of year, there may be other activities on offer.  
Remember, the park can get really busy during the summer, so be sure to plan ahead and have an alternate plan and destination in mind in case the lines and waits are much longer than you were expecting.