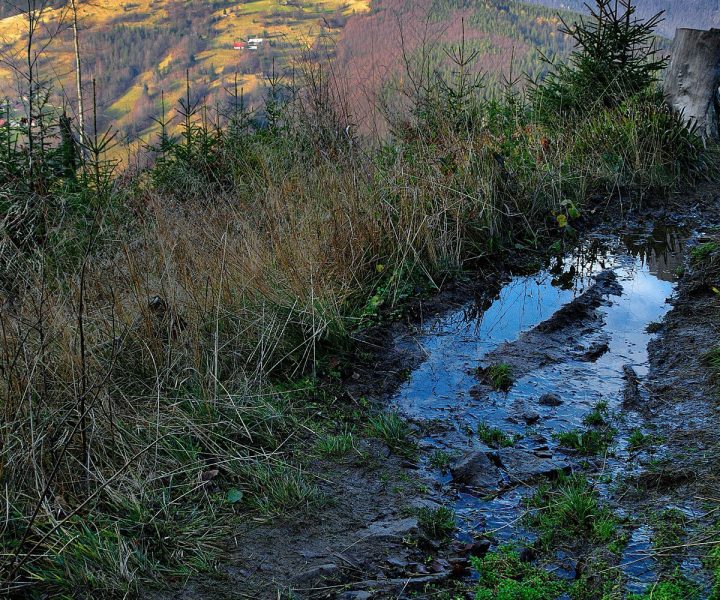 Spring is finally here. Though, perhaps not according to the weather in some areas of the country where it could be 55° and sunny one day, and a storm warning the next. Unfortunately, this back and forth can wreak havoc on mountain trails, and hikers desperate for a spring hike can make it even worse.
As soon as the snow melts in the trailheads, you may be tempted to think that the entire trail will be dry, but we've been taught by past experience that ice and snow can hang on for a few more months, particularly at higher elevations, leaving the area between the trailhead and the summit slippery and muddy.
We take a look at some of the reasons hikers should stay away from the mud.
Hiking muddy trails creates soil compaction and erosion
This time of year has been named Mud Season in some areas, and that is why trails, particularly high elevations ones, remain closed. Rain and snowmelt means the trails are still muddy, wet, and prone to erosion as the ground can only hold so much water. Getting dirty or the chance of slipping and falling – while definitely not things to look forward to – are only a small part of why hikers are asked to avoid muddy trails.
Oversaturated trails are more vulnerable to damage from soil erosion and compaction with every step you take. When the soil is compacted, the quality of the trail is decreased as its water absorption ability is reduced, which causes an increase in flooding water and makes it harder for plants to regrow. The soil is then carried away by erosion, leaving roots and rocks exposed.
"Aha! I'll just walk around those annoying mud puddles!" is what you may be thinking, but think again. You may stay drier and cleaner walking around the edges of trails, but you will also be widening the trail and trampling vegetation, which at the end of the day will cause more damage to the environment and the trail itself.
"It can take hours for a volunteer or trail crew to fix what takes just moments to damage by hiking on muddy trails," states Jessica Savage, Recreation Program Manager for the Department of Forests, Parks and Recreation (FPR). "In a way, each footstep on a muddy trail makes extra work for people who are needed for other major projects on trails. We know the sunshine makes getting outside a priority, but saving your mountain hikes until the trails are dried out will ensure a better, longer hiking season for all."
Explore other spring activities
We understand that you may be itching to go for a hike after what seems like an endless winter, but it's advisable to hold back your enthusiasm, as the weather further up the trail may not be the same as the weather on the trailhead. Therefore, think of early spring as a good time to give some other activities a try, such as road walking, paddling, and cycling.
If you really are unable to resist temptation, then avoid muddy trails as much as possible by hiking in south-facing slopes and low elevations, which tend to be dry during spring. Even so, if the trail suddenly gets muddy, turn around. Remember the Leave No Trace ethics, and only travel on durable surfaces, such as dry, hard soil or rocks.
It may be hard, but allow the trails to dry out a bit more so everyone can have a fantastic summer hiking season. Thank you for taking care of our trails!