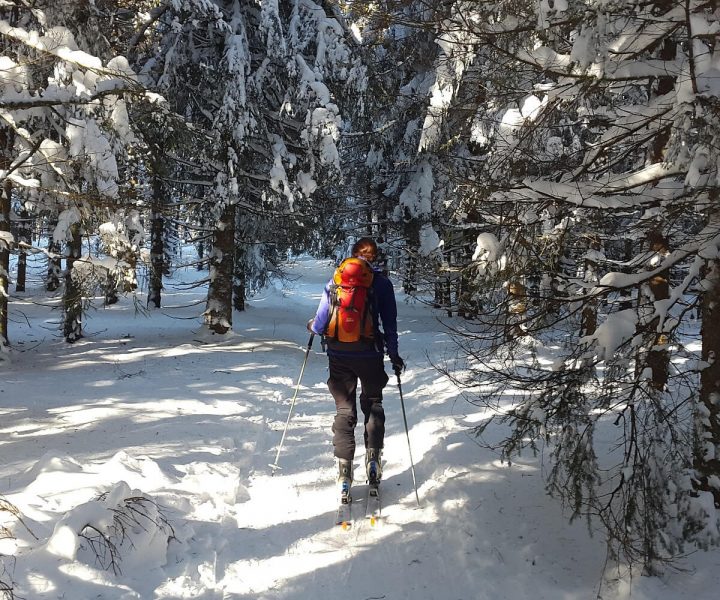 A lot of us love to ski, but sometimes we can't handle the high prices and crowds that accompany most ski resorts. So, if you're a fiend for fresh powder, love exploring what nature has to offer, and have perhaps heard your friends raving about their awesome backcountry skiing trips, backcountry skiing may be for you.  
 If you've never tried it, you're missing out on a world of opportunity that will broaden your horizons when it comes to winter activities. Here are our top reasons to try out backcountry skiing. 
It's not as hard as you'd think 
The amount of people that believe you can only ski downhill is somewhat surprising. You may not be aware of the latest innovations when it comes to equipment, meaning you can now climb uphill.  
Backcountry skiing only requires you to purchase a special touring binding that will unlock your heel, along with a skin that sticks to the ski, allowing it to grip the snow and you to go uphill. Trust us – it's not as hard as it sounds! 
More open spaces than you can imagine 
There are virtually limitless options in the backcountry, compared with a few runs at your local ski resort. Don't limit yourself to the same mountain as everybody else, and head out to the backcountry to explore the whole area before you, providing you with a lifetime of exploring.  
Unlimited snow 
In this day and age, ski resorts are so populated that they are tracked out incredibly fast, leaving you with a sense of urgency to get there before the crowds. The backcountry is an entirely different scenario, as there are loads of open spaces for everyone. Even though this is weather dependent, if the snowfall has been average you can still typically find fresh snow long after it's snowed.  
Experience solitude and silence  
You'll never entirely experience how small you can feel as you will when in the backcountry. Without all the crowds, you can gain a new perspective of nature which can't happen in a ski resort. Relaxing in the middle of the hustle and bustle can be next to impossible, so heading into nature is a great way to connect with the silence around you.  
Improve your endurance and fitness  
Backcountry skiing is not easy on your body, and it can take hours of physical exertion to reach the top. It can feel a bit overwhelming when you're starting out and not in the best shape, but slowly and surely, your body begins to adapt, and you begin to crave that endorphin release. Your muscles, lungs, and heart are active, and your brain is filled with dopamine, both from the exercise and the satisfaction of reaching the summit.  
So what are you waiting for? Head out to the backcountry to experience this incredible sport, which can turn into a lifelong passion. There's nothing to lose and everything to gain, including a renewed connection to nature, deep powder, and good health.