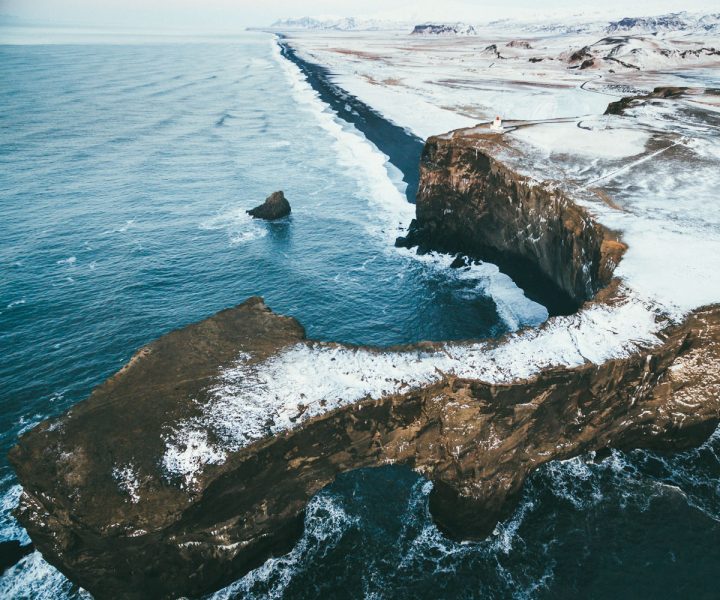 Iceland, the land of fire and ice, as it is sometimes known, is one of the most fascinating countries on the planet. For such a small country (a population of just over 300,000) it sure does have limitless potential for the outdoor adventurer. The incredibly diverse and beautiful Icelandic landscape is a result of its volcanic and icy past. From barren lava fields to glaciers, volcanoes, craters, and geysers – you'll not run dry for adventure inspiration on this magical Atlantic island.
Settlement in Iceland began in 874 AD when a Norwegian chief became the first person to live there permanently. Over time, many more Norwegians and Scandinavians chose to settle on the beautiful island. The main island is just south of the Arctic Circle with lakes and glaciers covering over 14% of its surface, while only 23% of the land is vegetated. An incredible of Iceland is simply tundra which is largely as a result of some devastating eruptions.
I was lucky enough to spend a week in Iceland with a photography focus, based mainly around the south of the island, in the middle of January. I learned a lot about what the country has to offer, as well as valuable lessons in planning a trip here at that time of year. In hindsight, there are many things I would do differently but also some things I did well. In this article, I'm going to share what I have learned about planning the ultimate Icelandic getaway.
Decide when you want to go
One of the main reasons you need to give careful thought to the time of year you visit is because of Iceland's climate and another is its popularity. I went in the middle of winter, which can be tough going yet stunning nonetheless.
Winter in Iceland
Winter in Iceland runs from the middle of October through to April. It is the quietest time of year to visit but that certainly doesn't mean you'll avoid the crowds of tourists and tour buses at the main attractions. If you're after chasing the northern lights, then winter should be a consideration because of the short hours of daylight. In December and January, you should expect to see no more than 6 hours of daylight. This makes for some tight scheduling so you can fit in the day activities but it also means that there is a near-permanent golden hour style light throughout the day.
In the winter, the weather can be incredibly unpredictable and even checking the forecast the night before, you can't guarantee the weather will do what it's supposed to in the morning. Roads can become inaccessible if there is sudden snowfall and driving can be nerve-racking in the icy conditions.
However, this time of year often leaves the landscapes with a beautiful layer of snow which makes the special country even more magical. Furthermore, the temperatures don't venture much below freezing, although the cold winds can make it feel much chillier.
Fall and Spring in Iceland
Visiting Iceland in April or late September/early October can be rewarding because the days are much longer and you avoid the icy chills you experience in the winter months. The chance of snowfall minimizes which means that all of the roads should be accessible and it won't hinder your plans to see the favorite sights. Due to the longer daylight hours, you are less likely to spot the northern lights but you'll be rewarded with greener landscapes and a more comfortable experience.
Summer in Iceland
For obvious reason, summer is the busiest time of year to go to Iceland. The weather is warmer, roads don't get closed because of the snow, and there are sometimes endless daylight hours. Yes, that's right, at the height of summer it doesn't actually really get dark. This rules out the chance of northern lights but means you'll see a lush, green side to Iceland. Since it is the most popular time of year to visit, prices will be at their most expensive and there will be hordes of tourists.
How long will you stay?
It's safe to say that there's enough in Iceland to keep you satisfied for weeks. Now for most, taking weeks out the schedule is unrealistic and often not desired. I don't think there's any sweet spot for time away in Iceland – it will always leave you wanting more. I was there for 7 days and with the limited daylight hours (11am-4pm), I am pleased with how much I managed to fit in. Even if you can only squeeze in 3-4 days in the country, you will still have plenty of time to see many of the beautiful scenes it has to offer.
Try to figure out how long you can realistically travel for and then from there, do your research on the locations you really want to visit. This will help you get an idea of how long it will take to get to each destination and therefore, how much you can fit in one day. Personally, I made a day by day plan before I went of the locations I wanted to see and although it got tweaked as I was there, having that sort of planning was ideal for helping me to not miss out on what I wanted.
Getting around Iceland
I rented a 4×4 (Dacia Duster) since I knew that the weather could be unpredictable and the roads may be icy/snowy. Having a car also allowed me to have complete flexibility each day. I would highly recommend renting a car for your time there as many of the locations can be fairly spread about the island. Each day, I spent around four to five hours driving in total and because of the short days, this meant that a lot of it was in darkness.
Of course, there are organized tours you can book. These are good because you have peace of mind that you'll heading in the right direction and will see some amazing spots. However, the tour buses can be packed and they'll go to the most popular destinations so you won't really be able to escape the crowds if you want to do so.
Valuable winter resource: www.road.is gives you up-to-date information on road conditions, informs of closures, and even tells you how many vehicles have passed certain routes. Check this before heading out if the weather is look unpredictable.
Where to be based
This will largely depend on what you want to see when you're there. For me, most of my favored locations were on the south coast or not far from it. Therefore, I rented an Airbnb on the south coast for a week which served me well. If I were to do the trip again, I would actually rent two or three different places to be closer to the places I was seeing and save on the hours of driving – possibly one in the south-west and one further east along the south coast.
Many people choose to stay in Reykjavik, the capital city. There is a lot to see here and many spots are within driving distance. Again, it's down to researching where you want to go in order to find the most practical base for you.
Finally, for inspiration for my trip, I actually mainly used Instagram. Since I was doing a photography-based trip, I knew that they'd all end up on Instagram. I route-planned through the geotags which proved a very easy way to do it. Another useful resource for planning is https://guidetoiceland.is which can give detailed instructions on how to find certain places.