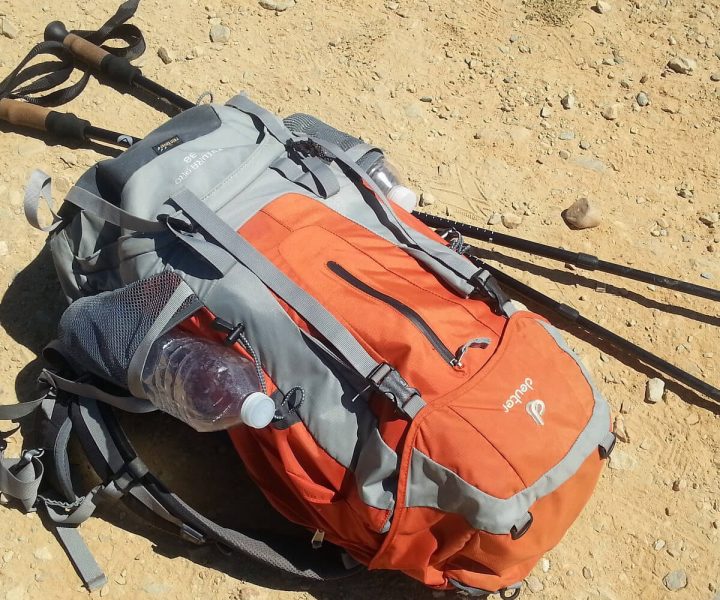 Hikers and thru-hikers worldwide are now rediscovering the Camino de Santiago in Spain, which some consider to be the original thru-hike. Packing the right gear and clothes will make your Camino experience that much more enjoyable, so if you're thinking of taking off for a few weeks to head out on this 490-mile walk, read on for tips on what to bring.
We cover the essentials and a few more items, but the rest is up to you. Just remember, the lighter your pack, the more your back and feet will thank you.
Essential gear items
No matter what, you won't want to leave without packing these essentials.
Footwear
The footwear you decide to bring is one the most critical decisions you'll make, as you can be grateful for it–or regret it–every step you take. Some of the key things you need to look for are the following:
Fit and comfort: Comfort is an essential factor, and remember that what works for someone else may not work for you. Therefore, if you have a pair of shoes or boots that have done you right on other hiking adventures, then stick with them. If this is your first thru-hike, then look for a pair of shoes that allow your foot to swell a bit and have some room at the front for downhill movement. The heel needs to have a secure fit, as you are guaranteed blisters if there is a lot of feet movement on the rear of your shoe.
Versatility: You may have the idea that El Camino de Santiago is mostly trails, but you will actually be walking on long stretches of asphalt and concrete. No sections of the trail can be considered technical, and very few of them are even rocky. However, you will be going up a lot of hills, so it's essential that your shoes have proper traction, especially if you're going during spring or fall.
Experience: As we previously mentioned, go with the type of shoe that works for you. Some people prefer hiking boots, while others prefer running shoes. It's all a matter of personal preference, just make sure you train for months beforehand using your chosen pair of shoes.
Backpack
It's critical that you get the right backpack for your Camino thru-hike, especially if you don't have much hiking or backpacking experience. If your pack is too heavy or uncomfortable, it will lead to a very sore body at the end of each day. The recommended pack is somewhere in the range of 30-40 liters, and even that may be too much.
As with your footwear, if you have a large pack that you've taken on other hikes, and it works for you, go for it. No need to purchase a new one, just make sure that you're packing lightly and not tempted to overfill it.
If you're purchasing a new backpack, make sure you get one that comes with hip straps so that you can distribute the weight of the pack, and your shoulders are not the ones doing all the work. Speaking of shoulders, the straps need to be comfortable and make sure that the length of them is suitable for your height.
Hat and Sunglasses
Spanish weather means bright sun, especially during the summer months. It's essential that you protect your head, face, and eyes and avoid sunburn. You will be walking in an East to West direction daily, so there will be no avoiding the sun in your eyes. Get a good pair of sunglasses that fit correctly, so they don't slip off every few minutes. And don't forget the sunscreen!
Microfiber towel
This may seem like an optional piece of gear for some, but it's a must for us. While some of the albergues you'll be staying at will provide towels, most won't, and a microfiber towel will not take up much space in your bag, and it dries super quickly. You won't regret packing one–trust us on this.
Clothing
While some people wear cotton on the Camino, we recommend a technical shirt that is designed to wick away moisture. Days can be hot and humid, so look for something that dries quickly, especially as you'll be washing your clothes at night, so you want them to be dry by the morning. Bringing a technical shirt means you can cut down on the amount of clothing you need to pack.
If you are walking the Camino during summer, you can get by with three technical shirts, a pair of long pants, and a fleece for when it gets a bit colder during the evenings. Most of the time, the day will start out warm and cool off at night, so while you'll never be freezing. It's better to know that you won't be unprepared in case of a change in weather.
Poncho or waterproof jacket
The closer you get to Santiago, the more rainy and wet the weather is, so be prepared. A lightweight rain jacket or poncho can be a lifesaver if the sky suddenly opens up and rain starts pouring down. You may also want to consider some plastic garbage bags or a pack cover, to make sure not just you–but also your gear–stay dry.
Additional gear items
Water bottle or hydration bladder: Which one you choose will again depend on your preference. You don't need a hydration bladder in the Camino, as there will be places to fill it up. Whichever ends up being your choice, just make sure that you stay hydrated. Water will benefit your overall health, prevent heat stroke and blisters, and it will also help your muscles.
Headlamp: If you plan on getting an early start or ending your day late, a headlamp is critical. You can use it to set up your gear and clothing for the day without waking up other pilgrims, while also helping you see during any dark periods of time when you'll be walking.
Bed sheets: A few albergues or hostels will give you a disposable bed sheet, but most of them don't. This item is optional, as you may feel comfortable sleeping on an uncovered mattress, or your sleeping bag. If you're paranoid about bed bugs, consider treating your bed sheet with permethrin.
Earplugs: Most (if not all) nights, you'll be sleeping surrounded by strangers. It's almost certain that at least one of them will be a loud snorer, so a good pair of earplugs will help you to get a decent night's sleep.
Camera: You're going to want to share your experiences with friends and family, as well as have some photos to remind you of this adventure. If you don't want the extra weight of a camera, then take advantage of the fact that most cell phones can take fantastic pictures. Remember that your phone can also do the duty of a journal, computer, video camera, and a communication device. Just make sure you pack your charger and an adapter!
The above list is just a guideline, and you can decide to take more–or less–items, just make sure that your backpack weight doesn't exceed 15% of your body weight. One good thing to remember is to carry your essentials (cash, cards, passport) in a secure bag, as while most other pilgrims are friendly and helpful, it's better to be safe than sorry. Most of all, enjoy this once-in-a-lifetime experience!