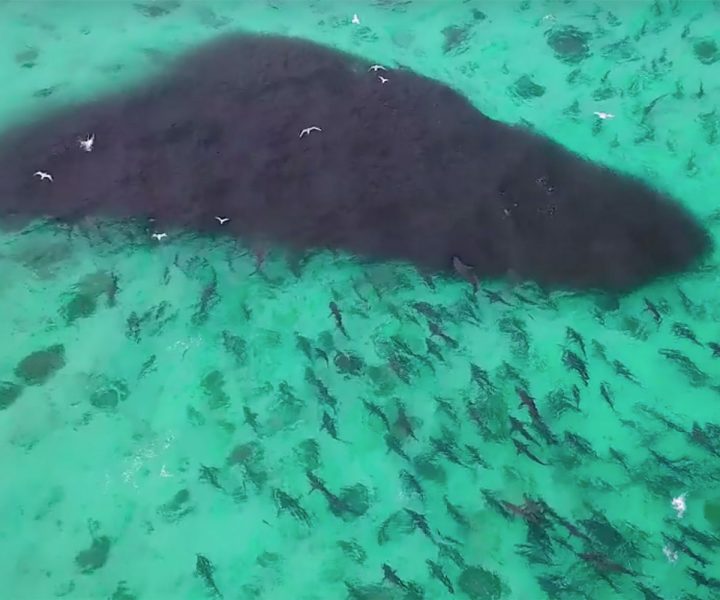 Andre Rerekura is an Australian diver and owner of an underwater production company. This combination of passions and talents has meant that he has witnessed lots of impressive underwater sights, but the one he experienced last week was certainly the one of the most unique.
Rerekura was in Coral Bay in Western Australia when he noticed a flock of birds feeding about a quarter mile offshore. With his curiosity peaked, he sent a drone in the air to figure out what they were feeding on. What he saw was an impressive amount of bronze whaler and sandbar whaler sharks feeding on a massive bait-ball.
Doing the exact opposite of what most of us would choose to do, he put on his diving gear and jumped into the water as his colleague and friend Ryan Chatfield filmed him underwater to produce a short video for their company Terra Australis.
Rerekura told The West Australian newspaper: "It was a little bit daunting when you couldn't see much, but it felt pretty safe. "We noticed the sharks weren't really curious about us at all, they were probably more scared of us."
"There were a couple of big bull sharks and a couple of really big whalers, probably around 10 foot," Rerekura said. "Some of those were a bit curious, but most of the time it was just mesmerizing and beautiful. "There were a few times when we were surrounded by sharks so you're kind of looking over your shoulder, but they weren't really paying much attention to us."
The duo also told the newspapers that they could have been injured by the sharks if they choose to see them as their prey. "It's a calculated risk and he spends a lot of time in the water with sharks learning their behavior," Chatfield told The West Australian. "He's an experienced filmmaker, but it's always a risk, there's never a guarantee."
Rerekura ended up spending around four hours in the bait-ball, and he learned that the movement of the sharks is smooth and slow as they enclose the fish before they charge to the surface to eat. They work as a team, as they all do it at the same time.