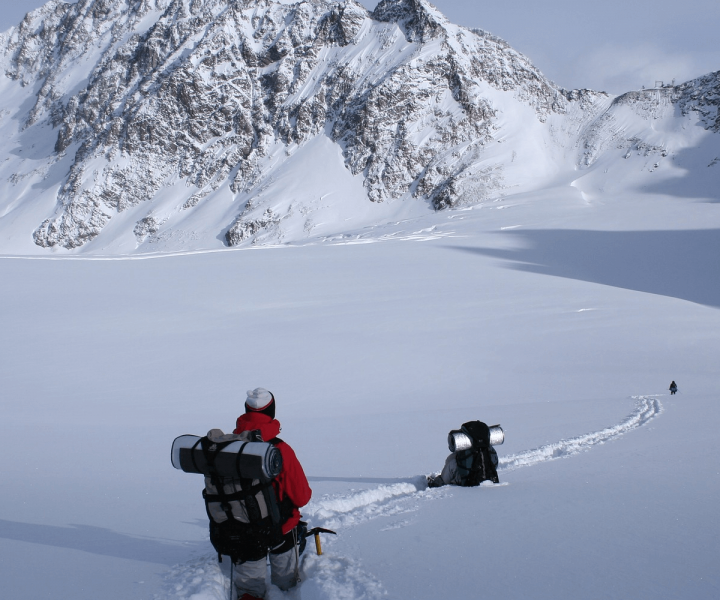 Winter may conjure up images of sitting by the fire nursing a hot drink and lounging around in your pajamas. However, there's no need to stay inside when there's a whole world out there to explore, and that cup of hot cocoa will taste a lot better after you've spent a day in the snow.
No matter the thrills you're seeking, be they hiking, ice-climbing, cross-country skiing or snowmobiling, there's a winter adventure out there waiting for you and here's where you should go and what gear and clothing you should bring.
Popular Winter Adventure Destinations
Ouray Ice Park – Colorado
Winter Adventure: Ice Climbing
You can find more than 200 ice and mixed climbs in Ouray Ice Park, and they are all within walking distance from the town. Champion ice climber Will Gadd thinks that this place is "the most accessible, fun and user-friendly place to get really good at vertical ice climbing." Ouray Ice Park has become one of the most renowned ice climbing destinations in the world. While not everything is down to nature, as the park was created and maintained by men, who feed 150,000 gallons of water to re-ice the park nightly. This park is free for all guests, making it a must if you're in the area.
Michigan Upper Peninsula – Michigan
Winter Adventure: Snowmobiling
This area is home to some of the greatest snowmobiling in the country, with more than 6,500 miles of interconnected snowmobile trails. Their difficulty level varies, but you'll be able to explore this northern region and all its beauty as they all cut over frozen lakes and through incredible national parks.
South Rim Loop, Big Bend National Park – Texas
Winter Adventure: Hiking
Texas is not widely known for its mountains, but this 11.6-mile loop is the exception. Explore Boot Canyon and reach the summit of Emory Peak at 7,832-feet. While you're up there, take in the Chihuahuan Desert view, which is on the U.S.-Mexico border. While you most likely won't encounter much snow, we recommend this hike during winter, as the heat is not excessive and the threat of a thunderstorm is at an all-time low.
Portneuf Range Yurt System – Idaho
Winter Adventure: Backcountry and cross-country skiing
In this remote part of southeastern Idaho, you'll find a cluster of yurts, which are dome structures which originated in Mongolia. The best part of these yurts are the skylights, which will be perfect for viewing the night sky. In this remote wilderness, you'll have some of the best-untouched trails, and open powder runs in the U.S., making it the perfect spot to not only relax but to cross-country and back-ski.
Teton Pass – Wyoming
Winter Adventure: Backcountry skiing
There are no trails, just routes or lines in Teton Pass, which is the way it should be for backcountry skiing. You can find powder here all season long, making it a hotspot for the locals. There are loads of routes to take down, with some favorites being Unskiabowl, Glory Bowl, and Avalanche Bowl, making it a backcountry skiing paradise and one of the best ways to experience the northern Rockies.
Grafton Notch State Park – Maine
Winter Adventure: Snowshoeing
Numerous snowshoeing trails weave throughout the 3,192 acres of Grafton Notch State Park. The trails mostly follow the part Appalachian Trail located in Maine are known for receiving considerable amounts of snow. The most popular path is Table Rock, which features an elevation of 4,180 feet and rewards you with fantastic views of the park.
Mazama Ridge, Mount Rainier National Park – Washington
Winter Adventure: Hiking, Snowshoeing
Mazama Ridge is beautiful year round, but nothing compares to the freedom offered to snowshoers to roam around in a winter wonderland. There's not much elevation on the trail, you only gain 900 feet in three miles, but this means you'll be able to trudge on your own through the deep snow. You'll get to experience some of the best views the park has to offer, which include views of Tatoosh Range and Mount Rainier.
Death Valley National Park – California
Winter Adventure: Camping
Death Valley is not only the hottest and driest area in North America, but it's also the lowest-elevated, at 282 feet below sea level. It enjoys mild and brisk winters, so it's no surprise that backcountry campers flock to this backcountry camping paradise. Some wonderful campgrounds include Furnace Creek, Panamint Springs, Mesquite Springs, and Stovepipe Wells.
Winter Gear You Need
No two packing lists will ever be the same, and what you pack will depend on the adventure you're embarking on. However, there is some essential gear that winter adventurers need to have. It might be tempting to go second-hand or with a subpar quality when purchasing these items as they can be expensive, but we recommend either buying them off-season or when they go on sale. It's important that all of your items are good quality, as they could be the difference between life and death.
According to REI, the ten essentials you need for your safety and comfort during winter are the following:
Navigation
Sun protection
Insulation (extra clothing)
Illumination
First-aid supplies
Fire
Repair kit and tools
Nutrition (extra food)
Emergency shelter
Winter Clothing
When you're outdoors during winter, be it skiing, hiking or camping, it's important that you stay warm and dry. Your clothing layers should dry quickly, wick moisture, be breathable and waterproof and insulate. Layering is essential, as you can regulate the amount of warmth you need by adjusting your layers.
Your first or base layer is the layer next to your skin, so basically your underwear. Avoid cotton, and look for merino or synthetic wool fabrics, as they wick perspiration away from your skin. These fabrics are quick-drying, so you don't have to spend much time in wet clothing. If you are going to be camping in the snow, look for two base layers, which could be a lightweight jacket under another heavier jacket.
Your middle layer is your insulating layer, and it should help you retain body heat. Some clothing items to keep in mind are microfleece shirts, jacket and pants and a goose down jacket.
Your outer layer is your breathable/windproof/waterproof layer. Look for laminates that offer the best protection, such as Gore-Tex. Your outer layer should have underarm and core vents that allow excess heat and moisture to be expelled.
Winter Boots
Depending on your activity, you could still get away with wearing traditional hiking boots. However, most snow activities including hiking and camping are enhanced by mountaineering or winter boots that are insulating and waterproof. If you are going to be snowboarding or skiing, then you need a particular pair of boots compatible with the bindings of your skis or snowboard.
Accessories
Winter Hats: A beanie may be your hat of choice, but it's worth considering switching to a windproof model such as those made of Gore Windstopper fabric.
Mittens and gloves: Always carry an extra pair, in case yours get wet.
Glasses and goggles: Your eyes should always be protected from the wind and sun. Look for a pair that has a lens tint designed for the weather conditions you'll experience.
Socks: Two pairs of socks are best. Your first layer should be thin and snug and made from a synthetic fabric or merino wool, same as your thicker second layer.
Winter Gear
Backpack: Outdoor winter adventures require more gear, so consider upgrading your pack to a high-volume one. Don't overpack, but make sure you're prepared for winter conditions.
Sled: If you're going for a longer trip or an expedition, pulling a sled is common as it reduces the weight on your back and allows you to carry more gear. Do some research on trail conditions and route beforehand, as a sled might not be practical for the terrain.
Sleeping bag: Your bag should be rated at least 10°F than the lowest temperature you believe you'll encounter. The most popular insulation material is down, as it has a better warmth-to-weight ration, just make sure that it stays dry, as it loses most of its insulating ability when wet.
Sleeping pads: A sleeping pad will increase both your insulation and cushioning. For camping during the winter, you should use at least two pads, so you don't lose body heat on the snowy surface. Sleeping pads are rated using an R-value, which is the insulation measurement. The higher the R-value, the more insulation you'll receive.
Batteries and Lighting: Winter days are short and the nights are long, so make sure to have new or fully charged batteries for your flashlight and headlamp, along with some extras.
Safety on the Mountain
Hiking or camping in the backcountry can be a dangerous activity during winter, but with proper preparation and planning, you can have a safe and enjoyable winter experience. To make the most out of your outing, keep the following in mind, and never hike alone during winter.
Safety Gear
In case of emergency, there are a few essential items you should always carry in your pack. These include a first aid kit, swiss-army knives, a headlamp, hand warming packets, a compass, a map, and a compass.
Even if you're planning a day hike, you should be prepared to spend the night in case of emergency. Frank Gibbons, who backpacks and hikes year-round and is an avid outdoorsman has the following advice "Every member of the group usually carries some emergency gear like a bivy sack or sleeping bag, down parka, cell phone, sleeping pad (for laying someone down if he is hurt), etc." This may mean a slightly heavier backpack, but you will also avoid frostbite and hypothermia.
Start Small and Early
Be reasonable about the trail difficulty and distance, especially if it's the first time you're hiking in winter. Changing conditions may mean that a trailhead or access point is closed, which can add significant mileage to your hike.
Be prepared for a very early start, as there are not many daylight hours during winter. You should plan to be off the trail before it gets dark, to avoid any accidents or getting lost.
Check the Weather
We recommend doing this before heading out no matter the time of year, but it's especially important during winter. You need to get a complete picture of your trips conditions, including weather forecast, wind speed, daylight hours and avalanche reports. Make sure that conditions are manageable on the day you're planning your outing, and postpone it if the weather conditions are not ideal.
Be Prepared to Turn Around
Ed Viesturs, legendary mountaineer who has climbed every 8,000-meter peak in the world once said: "Getting to the top is optional, getting down is mandatory." The mountains are still going to be there tomorrow and the day after that, so if you run into dangerous conditions, don't hesitate to turn around. If you don't manage to reach a summit, then so be it. Your life is more important than that sense of accomplishment.