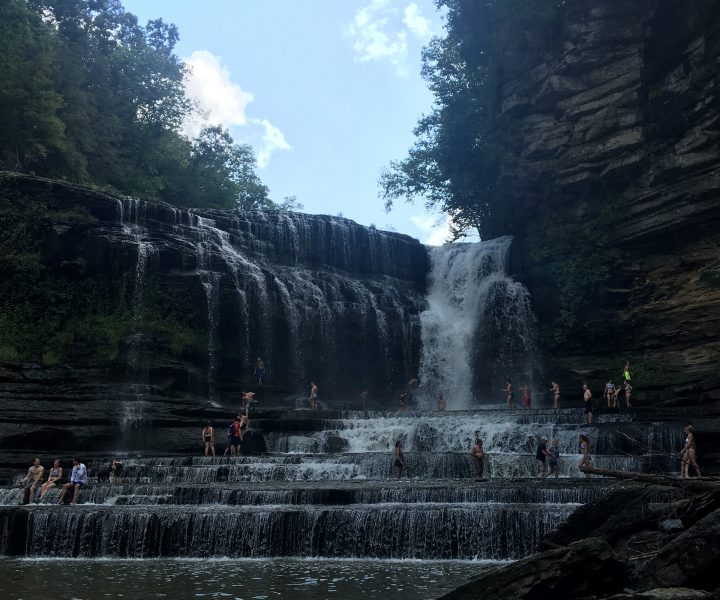 We were lucky to be able to make the trip down to Nashville in August to be in the path of totality for the solar eclipse, however after our car's A.C. decided to take some time off (in 95 degree weather), we were dying to get out of the city and into some shade… We found the perfect escape in the hike down to Cummins Falls in Cookeville, Tennessee–a popular summer hangout an hour and a half outside of Nashville.
I recommend, as with most popular trails, getting an early start to your day. Not only will you benefit from lower temperatures, but you'll also beat more of the crowd to the trailhead. If you know you're headed to the base of the falls, pack light, bring water and sunscreen and don't forget your water shoes (if you do though, Old Mill General Store may have some cheap ones for you). Hiking boots will not cut it to wade through the water to Cummins Falls and, if it's a hot day, it could be a luxury to make your way to the falls in with your feet in the water.
The trail quickly comes to a fork and visitors can choose their adventure by going left to the overlook or right down a steep decline to the water. (The view from the overlook is stunning, so if you're set on going to the bottom of the falls, save some energy for your way out.) For those headed down to the falls, the water's edge comes after a set of steep stairs and there will be a lot of wading through the creek, especially if you'd like to dodge slower groups.
Once you make it to the falls, the views are stunning and there are plenty of places to sit and watch the falls or climb up behind the falling water. We ended up crossing at the base of the falls and climbing up behind the water to look back out on all the visitors.
Whether you decide to go all of the way down to the base of the falls or veer off just to the overlook, the trail stays mostly shaded and the views are phenomenal. Cummins Falls is well worth the trip and a great way to get out of the city and we can't wait to go back explore more of Tennessee's waterfalls!