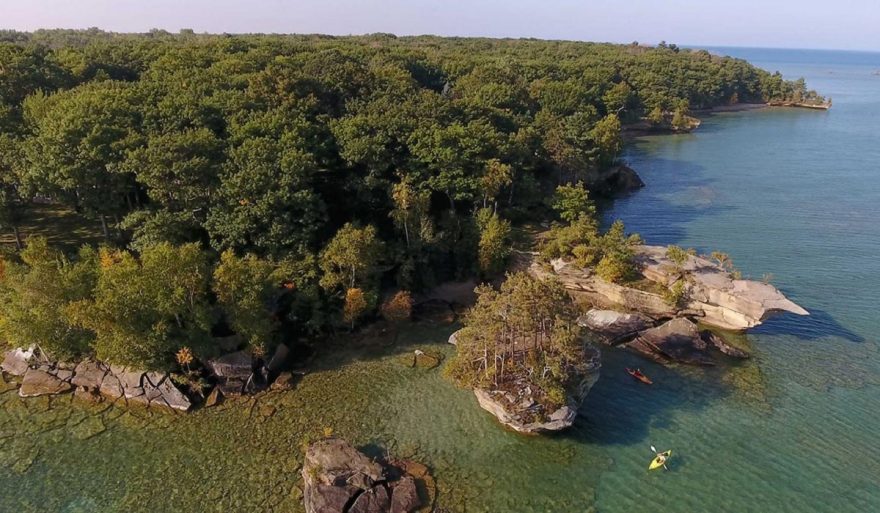 To millions of hikers, cyclists, runners, ATV riders and equestrians, Michigan is known first and foremost as the "Trails State." But the Magnificent Mitten is also rich in another important and valuable recreational resource — water! The state is practically surrounded by liquid, and in fact, no spot in Michigan is farther than 6 miles from a lake, river, stream or Great Lake.
It's no wonder then, that so many of the thousands of miles of recreational trails that crisscross the state like a web either encircle, skirt or lead to a body of water, and countless opportunities for even more fun in the outdoors.
Hike or bike on most any trail and you're likely to end up somewhere you can go swimming, fishing or canoeing. Here are three special spots at the end of a Michigan bike trail, however, that can ratchet your outdoor experience to the next level.
Around the Thumb
Road bicyclists who tackle the 150-mile loop on Highway M-25 around Michigan's Thumb are in store for many grand experiences, but perhaps none so grand as what they can find at the digit's northern most tip.
The road from Bay City to Port Huron, featuring a wide shoulder designated for pedal-powered vehicles, runs through quaint bike-friendly villages and past historic landmarks, and offers sweeping vistas of Lake Huron and Saginaw Bay.
Any cyclist who maps out a multi-day trip, however, should definitely build in at least a half-day stop in Port Austin to visit Turnip Rock, one of the state's most unique natural wonders. Formed over millions of years by wind and wave action, the tiny island seems to defy gravity. Because shoreline property is privately owned, though, you'll have to trade your pedals for a paddle to see it. But the 7-mile round trip paddle from Port Austin Kayak rental to Turnip Rock and back is well worth the time and effort.
If a day-trip is more your style, ride the 6½ miles down the Saginaw Bay shoreline from Port Austin to Port Crescent State Park. The park offers excellent hiking trails, miles of sand beaches, canoe rentals and more.
Paddle Little Traverse
Stand Up Paddle Boarding is America's fastest growing recreational activity, with more than a million new people giving it a go annually, according to the latest records. What's more, paddle boarders — more than 40 percent of them female — engage in almost 10 million outings each year.
And in Michigan, there are few better places to take up paddle boarding than the beautiful Little Traverse Bay, home of the Little Traverse Wheelway. Located in Emmet and Charlevoix counties in the Lower Peninsula's northwest corner, Little Traverse is small as Great Lakes bays go, which means it's often protected from winds and weather that can whip the big lake into a froth.
The 26-mile wheelway is a historic path that runs from Harbor Springs on the bay's north side to beyond Petoskey on the south shore. The flat, paved corridor offers cyclists and hikers stunning views of the bay, bluffs and nearby wetlands as they travel. And for those who care to stop and partake, swimming, boating and fishing are all part of the culture here, too. If you're up to the challenge of learning a new skill, though, you can rent a paddle board in either city.
Kitch-iti-kipi
Palms Book State Park in the Upper Peninsula's Schoolcraft County is miles off Michigan's famous Iron Belle Trail, but seeing Kitch-iti-kipi, the park's featured natural attraction, in person far outweighs the extra pedaling.
In the English language, it's called "The Big Spring," a name that falls embarrassingly short of describing the actual beauty of this place. Here, an incredible 10,000 gallons of water surge from fissures in the limestone substrate every minute, and the result is a crystal-clear pool 40 feet deep and 200 feet in diameter.
From platforms built on the tamarack-lined shoreline, or from a self-guided observation raft, visitors can see clearly the mineral-encrusted trees, fat trout, and the ever-undulating plumes of sand through transparent water that stays at a constant 45 degrees. It's truly a one-of-a-kind natural feature that shouldn't be missed.
Even if water oriented fun doesn't stir your outdoor juices, there's still so much the state's trail system has to offer. Whether you're a newcomer, or a veteran with miles of experience, there's no better time to celebrate this wonderful resource than Michigan Trails Week, Sept. 24-30.
It's a time set aside to reflect on the value and magnitude of Michigan's trails program, and recognize the thousands of dedicated volunteers who've helped make it happen. Honor them both by hitting the trail!