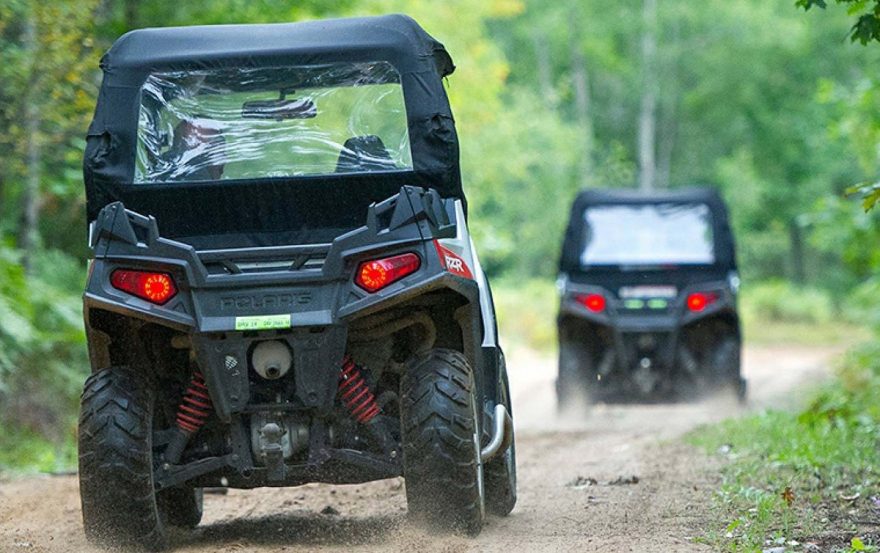 Those who find cruising asphalt and pavement . . . well . . . just plain boring, might want to plan a trip to Michigan. Featuring more than 3,000 miles of hilly, sandy and rocky trails dedicated to off-road vehicles, it's the ideal place for folks who like dirt-in-your-teeth type riding.
The list of state-sponsored off-roading sites is lengthy. Much too lengthy to highlight them all. So here are a half-dozen hotspots that'll get your wheels turning. Just be sure you have the proper ORV license and trail permits before hitting the throttle, and pick up a trail map from any of the local businesses that cater to trail riders. Be safe and have fun!
St. Helen, in Roscommon County, is considered by many to be Michigan's unofficial hub of off-road motorsports. Not only because of the many miles of ORV (off-road vehicle) routes and trails that offer plenty of opportunities for ATV, off-road motorcycle and side-by-side operators alike, but also because the city itself has embraced its role as the state's off-road recreation capital.
Local businesses cater to trail riders with numerous options for lodging or camping, easy access to food and fuel, as well as the availability of ORV parts and service if the need arises.
The trails are a series of long loops mostly connected by routes, maintained in part by the local St. Helen DirtPackers ORV Club. A portion is open to ORVs up to 72 inches wide, while some trails are restricted to ORVs that are 50 inches wide or less, and still others are motorcycle-only trails. A Motorsport Area, with moderate hill climbs, and a rock crawl add extra dimensions to the experience.
Among Michigan's great destinations for off-road excitement is Cheboygan County's Black Lake Trail & Route, which connects with Bummers Roost Trail in Presque Isle County.
Much of the 75-mile complex, running from near the city of Cheboygan southeast through the Atlanta State Forest Management Unit, is open only to off-road motorcycles and ORVs 50 inches wide or less, though some routes accommodate larger ORVs. Its northern section is fairly flat and sandy, while the southern end is more hilly, and features a scramble area.
Drummond Island Trail and Route
Perhaps the most recognized of Michigan's islands, Drummond Island lies at the top of Lake Huron on the eastern tip of the Upper Peninsula. And while this unique landmass is known as a top destination for anglers, campers, boaters and hunters, it also offers some of the most scenic—and challenging—off-road trails in the state.
The system offers more than 100 miles of trail, many of which are maintained with help from members of the Drummond Island Off Road Club. And though largely navigable by ATVs, off-road motorcycles, and side-by-side rigs, the trails running through deep, lush forests and over rugged, rocky ridges provide the perfect opportunity for full-size ORV drivers to test their skills.
Extending into Lake Superior like an outstretched index finger, Michigan's Keweenaw Peninsula is among the state's most popular vacation spots. Offering a rich blend of history, culture, organic and manmade attractions, and unmatched natural beauty, it draws visitors all year.
While most people hike, bike or auto-tour the state's northernmost territory, those who want to see this nature's wonder from a unique perspective should tackle the Keweenaw Trail via ATV or side-by-side (motorcycles and full-size ORVs are prohibited on the upper stretch of trail).
Open from May 1 to Nov. 1, the trail extends from the Houghton/Hancock urban complex all the way to Copper Harbor near the peninsula's tip. It's largely forested, but numerous connecting trails, supported by the Keweenaw ATV Club, allow side excursions to areas that feature spectacular scenic views and lakeshore vistas.
Okay, so it's not a trail, but no discussion of off-roading in Michigan can be made without mentioning one the state's most famous spots for exhaust fume-infused thrills. The dunes at Silver Lake State Park in Oceana County have long been a magnet for adrenaline junkies who like to play in the sand with full-size toys—motorcycles, ATVs, and side-by-sides.
This place is popular, so make no mistake; you won't enjoy a "solitary ride" type of experience here. It's redline-level excitement with many fellow dune riders. Park officials, however, have established a comprehensive set of rules that maximize both the fun and safety factors for all. To keep the process running smoothly, first-time visitors should become familiar with all regulations before they arrive.
After a day in the sand, be sure to check out the many other attractions the area offers, inside the park and out.
Trail riders who prefer to get dirty on two wheels instead of four, should head to Michigan's Gaylord State Forest, roughly bounded by the towns of Wolverine, Indian River and Petoskey, and the Tomahawk Motorcycle trail.
The system consists of three loops, with Loop A (17 miles) open to off-road motorcycles and ORVs 50 inches wide or less. Loops B (40 miles) and C (39 miles) are reserved for two-wheelers only. The wooded terrain ranges from rolling to hilly, with generally sand, rocky and hard-packed surfaces, offering hours and hours of kidney-jarring fun.