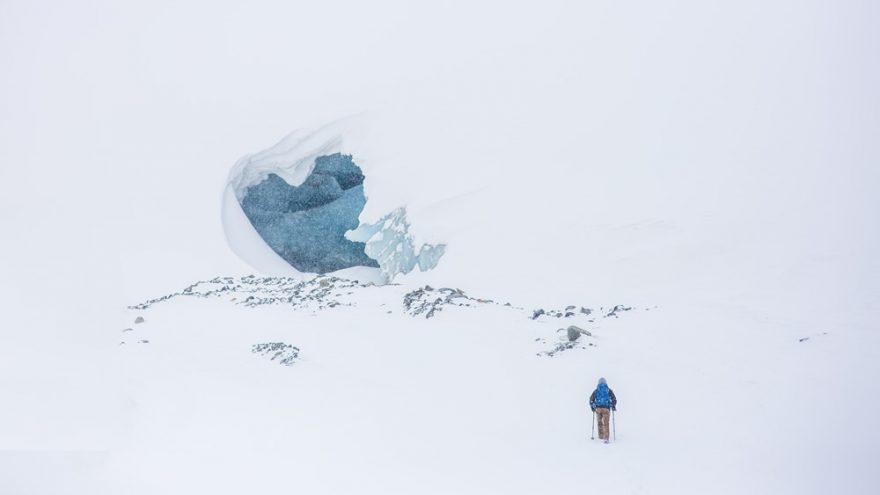 Ice caves are a fantastic part of the wonders of nature, hiding in plain sight just underneath the glaciers. When you're exploring one, you can experience the unique frozen in time feeling about having been transported to another world being amongst the icicles. Ice caves are commonly formed in two ways. They can be created by summer melting the openings in ice rivers, where the filtering light bathes everything in a spectral glow, or by the temperature underground remaining frozen year-round due to some geological fluke. When this happens, the seeping water accumulates forming incredible natural ice sculptures.
Below we present the top ice caves to explore, and you don't need to wait until next winter to visit some of them! Before you bundle up and start exploring, we need to give you a word of warning – ice caves can be unstable and dangerous, so be aware of the risks and your skill level. If you're a beginner, then it's always best to book these tours with an experienced tour guide.
Ice Grotto of Mittelallalin – Switzerland
Located at an imposing altitude of 3,500 meters, the ice pavilion is hiding ice that is thousands of years old, as well as an ice sculpture gallery. You can have an interactive experience while exploring the grotto, as well as see incredible views from their revolving restaurant. It also boasts an excellent ski resort, making it a great place to visit. You can go all year round, and its just a short cable car ride from the Mittelallain train stop.
Dobšinská Ice Cave – Slovakia
This ice cave has long been a tourist attraction, open since the 1800s. It was named a World Heritage site by UNESCO in the year 2000, and feature domes, stalagmites, and columns made entirely out of ice. It's easier to explore since it has stairs and is lit electronically, so it's ideal for beginners. The ice thickness can reach up to 26.5 meters wide, therefore being one of the most significant ice caves in the weather. It's open for late Spring and Summer from May to September, but its temperatures hover around 20 degrees Fahrenheit, so make sure to bring a jacket!
Big Four Ice Caves – Seattle, USA
These caves are a popular tourist attraction of the northwest USA, located in Washingtons Cascade Range. There are a lot of ice caves to explore, as well as a hiking trail to get your nature fix. As well as the ice caves formed by melting water, the shadow of the mountains keep the ice from melting, so there's a perennial pile of avalanche debris to admire. You can visit the Big Four Ice Caves during summer and fall, and take the opportunity to explore the Paradise Glacier and Mount Rainer caves which are located nearby.
Mendenhall Glacier Ice Caves – Alaska, USA
Underneath the 19km long glacier, you'll find some of the most spectacular ice caves. The melting ice forms springs, adding an extra level of beauty. Be aware that it takes a lot of skill to find these caves, so we highly recommend booking a professional tour or guide. The hike to reach the cave takes about six to eight hours, and bringing the necessary equipment is a must so expect to pack an ice ax and crampons. You can also book a tour company, which will provide you with the necessary equipment. These caves are open year-round.
Kamchatka's Ice Cave – Russia
This region experiences a lot of rough climates and experiences fewer visitors than other places, with the upside being that most of its nature is unspoiled. It's hard to beat the breath-taking beauty of this ice cave, which is surrounded by active volcanoes. In certain parts of the cave, the thin ice creates a colorful light spectacle when it's illuminated by the sun. If you are seeking an adventure, this is a fantastic and truly unique place to visit. Tours are only available from July to September, so plan ahead.
Eisriesenwelt – Austria
Eisriesenwelt is the biggest ice cave in the world, at 42 kilometers long. It's a popular tourist destination, as its readily accessible. There are many exciting sites to visit when making your way across the ice cave, and as a bonus, the trip from Salzburg boasts very scenic views. The tour guides are very knowledgeable and will be able to give you great information about how the ice cave was formed. It's open from May 1st – October 26th.
Booming Ice Chasm – Canada
This ice cave is reserved for experienced climbers only, as its smooth walls made out of ice can be very dangerous and risky. If you're serious about ice climbing, you will get to experience crystal clear ice and incredible acoustics. You can visit the chasm year-round, as it is perennially frozen.