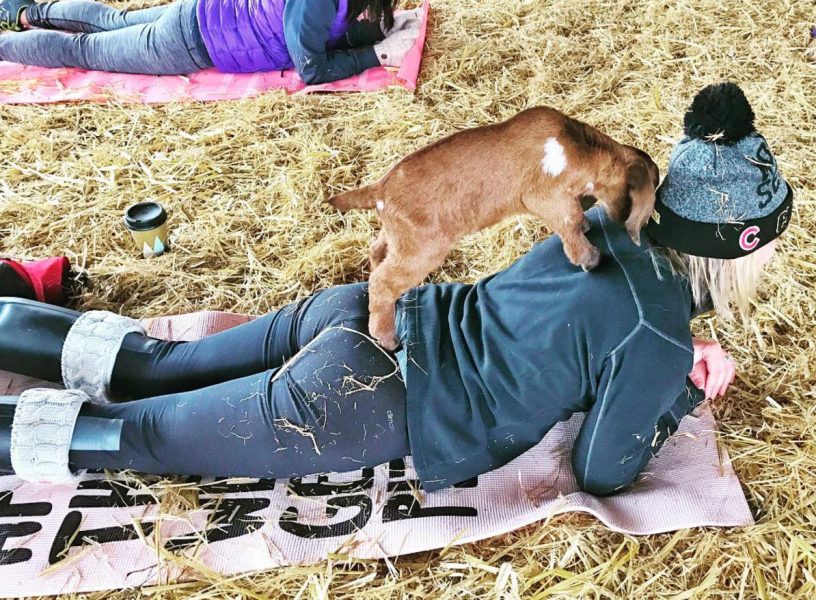 Downward dog? Well, you could soon know it as downward goat. That's if you ever get to the front of the 1200+ person waiting list for Lainey Morse's goat yoga classes in Portland.
After a divorce and being diagnosed with illness, Morse decided to look after the goats as a form of therapy. This sparked an idea from a friend yoga teacher to begin 'goat yoga'.
Long Waiting List
Before even six classes had been completed, there was a waiting list of over 600 people, with thanks to viral media coverage. Their goat yoga saw people and couples from all over the world wanting to come and take part.
The unusual yoga classes take place at Morse's farm in Oregon, in which goats are welcome to roam freely among the participants. The fun to be had from taking part in goat yoga could be down to the relaxing benefits of yoga and the therapeutic qualities of laughter when the goats do something silly. What better way to relieve some stress?
The aim of the class? To relieve depression and stress and to focus on fun. While soaking up the stunning landscape of the farm and its surroundings, you'll be snuggling up with goats.
Goat Yoga has been featured by some major online news networks, including the BBC, Vice and The New York Times. This has certainly helped its popularity and we're sure that it won't be long before we see classes of this kind popping up all over the place. Is it simply a fad or will this stick around? Only time will tell.