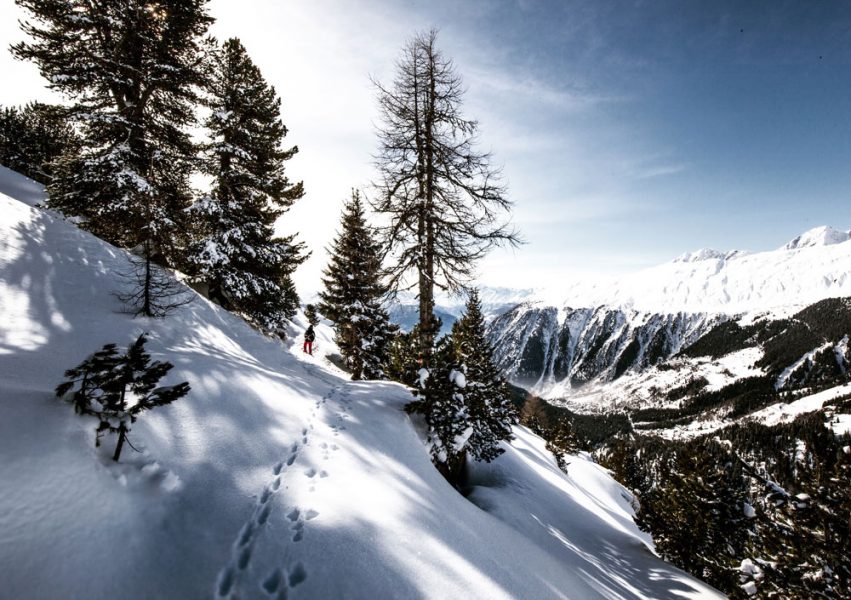 If you're looking for adventure and have been itching to travel, you'll find everything you want in Switzerland this winter. The perfect place for winter sports of all kinds and breath-taking scenery, there's no shortage of things to discover.
Skiing is the most popular and well-known winter sport, however, if you're traveling abroad to find new challenges this is something you've probably tried many times before.
Find the best winter sports activities in Switzerland with our guide to the season's top Swiss adventures.
Ice Diving
Many sports activities are more extreme in winter and diving is no exception. The beautiful Lake Lioson is home to stunningly clear waters, which you can experience from underneath the thick layer of snow-covered ice.
The lake itself is located at a mountainous altitude of 1850m, where clubs and other organizations can arrange a weekend of ice diving.
Life under the ice is made possible by the three permanent ice holes that are kept clear throughout the season. This unique excursion will open up a new world to experienced divers. You will be given snowshoes for the trek up to the lake, while you make the descent on a sled.
All those wishing to dive under the ice at Lake Lioson must hold a valid driver's license.
Glacier Trekking (or even Bungee Jumping!)

Set off on a hike with a difference and try your hand at glacier trekking. A more extreme and colder terrain than you have experienced before, combined with the chance to walk across an actual Swiss glacier. The awe-inspiring views alone will make your trip worthwhile.
You can take part in this once in a lifetime trek from the traditional town of Interlaken, which attracts winter sports fans throughout the year. Encounter ice streams and crevasses as you make your way across the glacier.
Alternatively, you can accept a more adventurous challenge and try glacier bungee jumping. Bungee jumping is an extreme sport in itself, but the addition of freezing temperatures, fantastic views, and natural ice formations make it even more exciting for a thrill-seeker.
Dive 85m into the glacier, including Grindelwald Glacier near the town of Interlaken, for an extreme winter sport that you'll always remember.
The Snow Bike Festival
If you're a fan of cycling, take part in the Snow Bike Festival, held at the beginning of every year in January across the Swiss Alps. Visitors are welcome to get involved, with bike rental available throughout Gstaad, where the festival takes place.
The 'snow bike' has wider tires to provide more traction, which allows cyclists to take on snow-covered routes. Participants can also use a mountain bike and choose the type of bike they wish to use.

Over four days, you will be able to take part in a range of events across the different snow-covered routes, including the main race. The festival splits into an initial trial course and three main race stages, including the Eliminator Night race. Competitors will cycle over a short, but intense, course lit by floodlights, which will eventually culminate in the crowning of the Snow Bike Festival Eliminator Champion.
Vertical Rush
While there are some extreme sports that you would love to try but may consider a little bit too dangerous, you can always find an alternative when visiting Switzerland.
The Vertical Rush Highline is a BASE jump simulator in Interlaken that allows you to safely free fall from a 70ft distance into the forest. You will be strapped into a full body harness at all times and will be caught using a 3m long loop before you reach the ground.
The jump will provide you with the unimaginable thrill (and fear) of BASE jumping while knowing that you are completely safe at all times.
As well as experiencing the BASE jump simulation, you can also take on the giant swing, zip line and speed line through the treetops on the same day.
Toboggan Run
Try out Europe's longest Toboggan run for a real winter experience. You will first climb to the summit of Faulhorn through Bussalp. During this enjoyable walk, participants must pull their toboggans, leading up to the great descent of 1600m into Grindelwald.
The ascent will take approximately 2.5 hours, giving you enough time to build up plenty of excitement.
You will reach an altitude of 1132m at the highest point, where you should stop to take in the view before getting ready for the main event – your adrenaline filled descent.
Toboggans and sleds are available to hire at the start of the route for all participants.