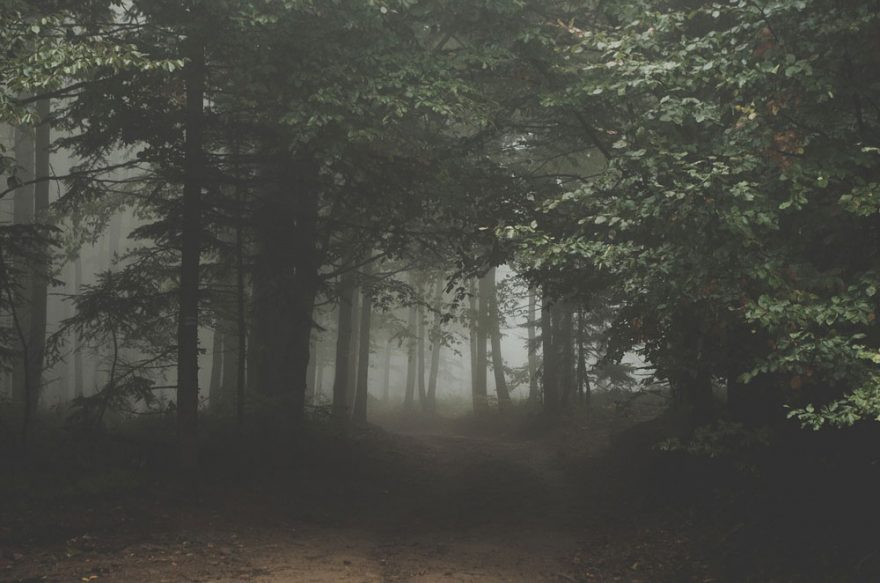 Getting ready to plan your next hiking trip? Rather than go for the same tired trails, why not add a bit of mystery to your trek by visiting one of the top haunted hiking trails in the country?
Some of these trails are rumored to house restless spirits, while others are infamous for their dark histories. Either way, they are sure to provide you with the adrenaline rush that comes with a good scare.
Whether it's the creepy creatures, eerie silence, or local legends that help to create a terrifying atmosphere, these places are only for the bravest of trekkers.
Don't say we didn't warn you.
Spruce Railroad Trail, Washington

Distance: 8 miles, round trip
Location: Olympic National Park, Lake Crescent
The Spruce Railroad Trail is located in Olympic National Park and takes you along the shore of long Lake Crescent. While the place would appear to be quite tranquil and scenic, it does have a bit of a dark history. The hike offers creepy abandoned railroad tunnels and is reportedly home to at least two ghosts.
One famous ghost is that of Hallie Latham Illingworth, a woman who was brutally murdered in 1937 by her husband. It wasn't until 1940 that they found her body in the lake, remarkably well preserved. Hallie is said to have been spotted by hikers in the past, crying out for help. If you don't want to get dragged into the lake, then we suggest you ignore her moans.
Another ghost said to haunt the area is that of Calvin Putvin, who froze to death during a snowstorm. Little else is known, but we advise you to take care while out on the trail.
Norton Creek Trail, North Carolina

Distance: 6 miles
Location: The Great Smoky Mountains
The Great Smoky Mountains is said to be haunted by more ghosts than any other national park, and the scariest trail it has to offer is the Norton Creek Trail. The trail itself is spooky enough, taking you past several cemeteries.
What really makes this trail so scary, however, is the local legend of Spearfinger; an old witch with a long finger, sharp as a knife, made of obsidian. She is said to have lured wandering children away from their village, while disguised as an innocent elderly grandmother. She would sing them to sleep while holding them, and then cut out their livers using her stone finger, which she would then eat.
Chilnualna Falls Trail, California

Distance: 8.4 miles
Location: Yosemite National Park, Grouse Lake
The Chilnualna Falls Trail attracts plenty of hikers thanks to the beautiful views the Falls have to offer. However, it's the tragic history and supposed hauntings that earn the trail a spot on this list.
On the hike, you will go past Grouse Lake, where local legend has it that a young boy from the area's Native American tribe drowned. Those who hear his whimpers and cries may be tempted to help him, but beware, those that try are said to suffer the same fate.
Transept Trail, Arizona

Distance: 3.4 miles
Location: Grand Canyon National Park, North Rim
Within Grand Canyon National Park, you find the Transept Trail, which runs from the North Rim Campground to the Grand Canyon Lodge. A spirit known as the Wailing Woman is said to haunt the area, although, depending on who you hear it from, her story seems to vary.
The lodge itself was rebuilt after burning down in 1932. One story tells of the face of a woman being seen in the flames while the lodge was on fire, the face of the Wailing Woman, also known as the Wandering Woman.
However, a more local legend tells a different tale. In this story, the woman is said to have lost her husband and their child in a hiking accident. This tragedy led to her taking her life in that very lodge. She is said to haunt the area still, wearing a white dress and blue flowers, weeping for the tragic loss of her family.
Appalachian Trail, Virginia

Location: Bluff Mountain, Punchbowl Shelter
Back in 1891, four-year-old Ottie Powel vanished from the mountains after wandering away from the schoolhouse. His body was recovered near Bluff Mountain five months later. It is here that you will find a memorial in his name.
Hikers on the Appalachian Trail regularly report encounters, filling the Punch Bowl's registry with stories of their experience. Most are said to have witnessed hauntings while sleeping in the shelter, so it's the place for a rest if you're looking for a scare.