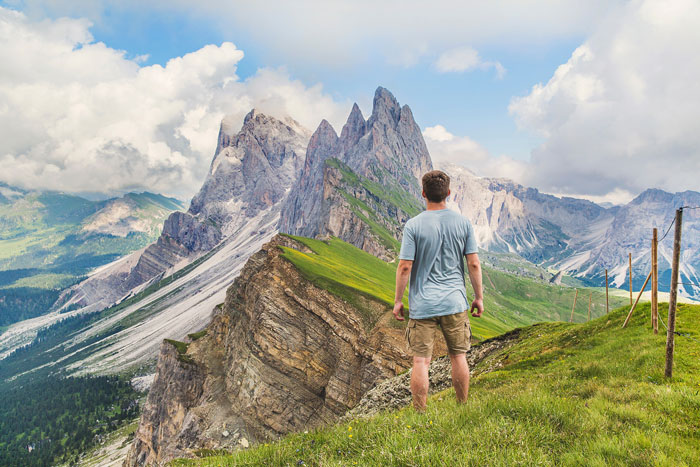 Europe is blessed with breathtaking scenery, rugged mountain landscapes, sleepy coastal villages and winding, curving roads that are perfect for riding your bike whilst taking in the awe-inspiring views.
If you're planning a cycling trip to Europe, it can be difficult to decide where's best to go as there are so many different routes to choose from. To make life a little easier, we've put together a list of the 5 European bike rides destinations that we think should definitely be on your shortlist. Read on to be inspired.
Lands End to John O'Groats
If you're a fitness fanatic and are planning a long-distance cycling trip then why not attempt to cycle the length of Britain? Starting at Lands End on the South-Westerly tip of England and ending in John O'Groats at the most Northern point of mainland Scotland, you'll pass through some of the most stunning countryside in Britain.
During the trip, you'll be sure to cover the picturesque fishing villages of Cornwall, the rural Somerset countryside, the stunning Lake District in the North of England, magnificent castles and the infamous Loch Ness in Scotland along with some of the most stunning beaches on your way up through the Highlands before reaching John O'Groats.
The whole trip takes around 12-14 days to complete and covers a distance of around 1000 miles. A good level of fitness and stamina will definitely be required on this trip as there are various ascents and sharp climbs throughout! There are various companies who run the tours so if you'd feel better going with an organized group, why not check out Skedaddle for more information!
The Pyrenees, France & Spain 
The Pyrenees is a magnificent Mountain range tucked in between the border of France and Spain. Boasting the Mediterranean Sea on the one side and the Atlantic Ocean on the other, you're bound to see some of the most beautiful scenery in Europe. The roads sometimes bare, there are various breathtaking routes that can only be described as a cyclist's heaven.
Routes such as the Col du Tourmalet reach a staggering 2,115 meters and feature as one of the bucket-list top spots time and time again for cyclists visiting the region. If you're looking for something a bit less demanding, there are several other routes such as the Col des Ares and the Col de Coupe, which have even gradients and smooth, quiet roads along with some striking mountain views.
The River Danube
If you've tired yourself out just by reading the previous two points and are looking for something a bit less strenuous then why not try cycling the Danube. The Danube is one of the longest rivers in Europe and flows through various countries including Austria, Slovakia, Croatia, Serbia, Romania, Bulgaria, Moldova and Ukraine before reaching the Black Sea.
Most of the routes are flat and will lead you on a journey through beautiful towns and villages and past historic attractions. Besides, as you'll be cycling along the river, there's also the opportunity to sleep on boats each night.  Why not start in Austria's capital Vienna – a world heritage site and finish in Budapest, one of the largest cities in the European Union. If you would like to find out more, there's a wealth of information to be found online. Try Mac's Adventure to find out more information about this route.
The Dolomites, Italy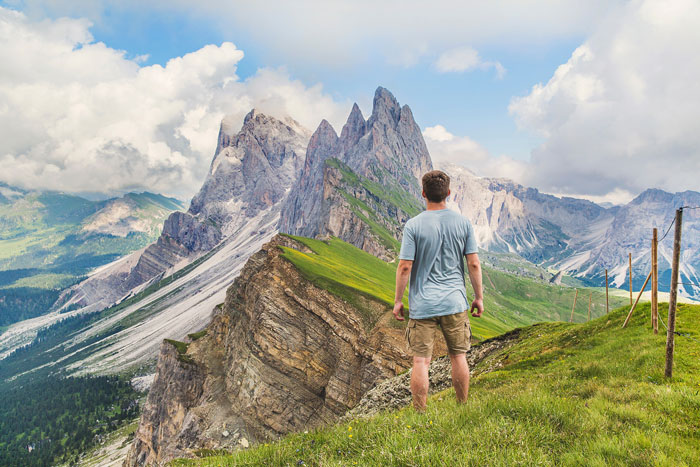 Like the Pyrenees, the Dolomites are another mountain range full of jaw-dropping scenery and spectacular cycling routes but this time in Italy. Take a cycling trip here and you'll be sure to be mentally and physically challenged yet satisfied and content when you have reached the peak and realize the beautiful downward descent that lies ahead of you.
The Dolomites offers various routes through stunning mountain terrain. If you're up for a challenge, try the Passo Giau, reaching an elevation of 2,236 meters with 29 upward hairpin bends and an average gradient of 9.4%, you have to be brave to tackle this! If this is not your thing and you prefer a more leisurely cycling experience, then there are many other routes which you can take at your own pace, stopping along the way to admire the views.
Bay of Kotor & Mount Lovcen, Montenegro 
Not often heard of, Montenegro is a small territory just below Croatia that shares its border with Albania. If you want to be dazzled by striking views and steep, winding roads then start your cycle at the Bay of Kotor and head up the Kotor Serpentine, one of the most hair-pinned roads in the world. This road is definitely not for the fainthearted but is probably one of the most breathtaking and rewarding roads to tackle.
Once at the top, you'll be able to visit the mausoleum whilst taking in the views spanning Montenegro and the Bay of Kotor. Besides, there's a pretty awesome restaurant at the very top where you can take some time out before tackling the mighty downhill descent.