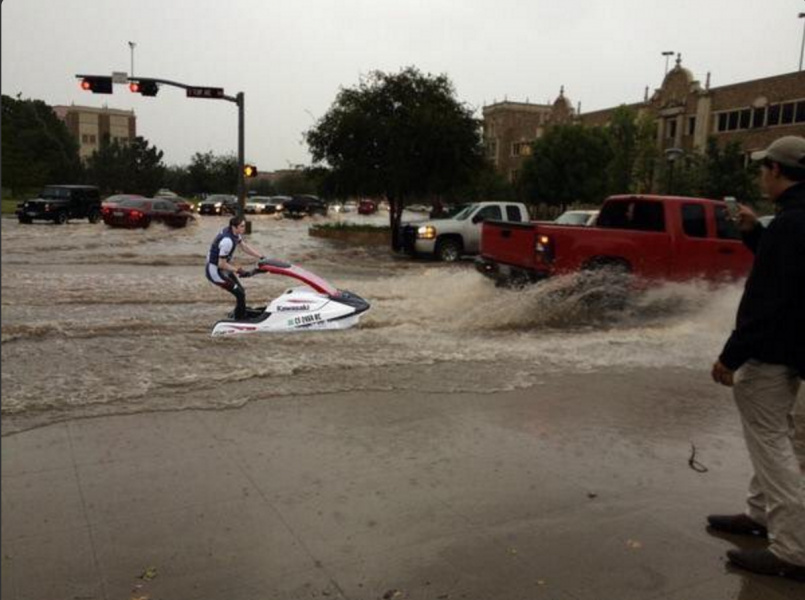 Caution, kids: don't try this at home.
Lubbock, a small town in Texas, has been temporarily transformed from a small town to a water sports theme park. Residents have been spotted kayaking, water skiing, swimming, and one Texas Tech student was even spotted jet skiing!
While we're not saying you should try and emulate them, we can sure appreciate their ingenuity
Texas Tech: school of innovators pic.twitter.com/uBE6SXhja6

— Leah Doherty (@LeahGraceD) 31 August 2016
This wouldn't pass a Health and Safety inspection, but who's checking?
Join the Texas Tech water sports team. pic.twitter.com/ayNotCsEqZ

— Nan Poole (@NanMarie12) 31 August 2016
Hmm… this Texan seems to know how to use Photoshop! 😉
People were literally floating down the street because of the flooding in Lubbock, TX! Lol! #WUTV @weatherchannel pic.twitter.com/SDOv7JWCMD

— Lexi Carden (@Real_Lexi_Leigh) 31 August 2016
Those not too keen on active sports took advantage and chilled on the water.